Nestled into a valley in the heart of Victoria's spa country is a series of interlocking duplexes clad in black-stained timber with interiors by David Hicks.
A country escape is a great way to get away from it all. We love the idea of swapping Saturday morning errands and queuing for a table at our favourite breakfast establishment for a walk in the countryside and a home-cooked start to the day. But there are some things we don't want to leave behind when we head for the hills. A lack of mobile phone reception can be liberating, but spending the night amid an explosion of chintz and doilies takes many of us far outside of our comfort zone. The patterned-cell interiors of country hotels are often terrifying. Hepburn at Hepburn by 8Hotels is a country hotel that eschews the cloying sentimentality of the country bed and breakfast.
Nestled into the valley site, the accommodation at Hepburn at Hepburn is configured as a series of interlocking duplexes clad in black-stained timber. In their arrangement and orientation these self-contained pods respond to the cultivated and natural qualities of the landscape setting. David Hicks has brought his deft touch and attention to detail to the interiors of these simple box-like pavilions, creating a luxurious hybrid between hotel room and private villa.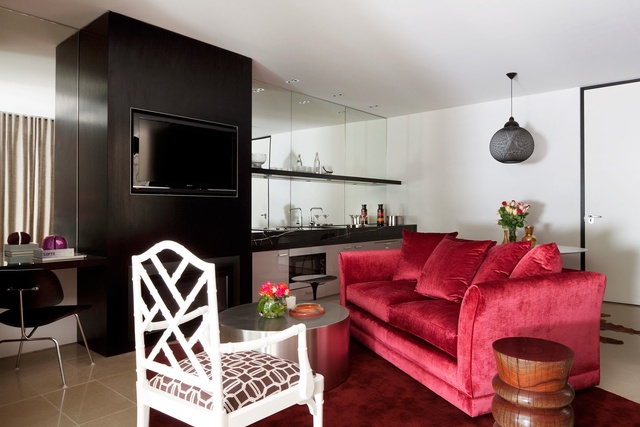 This sanctuary is a refined home away from home. Finely detailed built-in elements do all the hard work; the living space is edged by a wall of joinery neatly containing the kitchen, fireplace, television and desk. This strategy conceals the everyday, celebrating the more pleasurable aspects of the experience. Woven curtains bring a sense of intimacy to the bedroom and bathroom, wrapping them to create an elegant cocoon for relaxation. After five, a dramatic lighting arrangement animates and defines the space. A deep red and a deep green colour scheme alternate across the villas. The rich red palette features Nero Marquina marble, burgundy soft furnishings, black gloss furniture and dark-stained timber joinery. Crisp white and natural oak is teamed with deep green to create a calming palette in the alternate scheme. Hicks has applied his astute sense of juxtaposition and contrast to the furnishings selection.
Hepburn at Hepburn is a sophisticated version of the country experience. If you enjoy the sound of birds chirping in the landscape just outside the window, but don't want to view this scene through a fright of patterned curtains, this is your kind of place.