A historic Adelaide theatre has re-opened after a major redevelopment designed by Cox Architecture.
Her Majesty's Theatre, located on Grote Street, is Adelaide's oldest continually operating performance venue. Originally designed by Adelaide architects David Williams and Charles Good, it was described when it opened in 1913 as "the most luxuriously appointed theatre in Australia." The theatre is the last surviving example of the Tivoli chain of theatres in Australia.
Successive redevelopments in the 1960s and 1970s had removed some of its original architectural features and halved the seating capacity to 900.
Cox Architecture was appointed by the South Australian government in 2017 to design the $66 million redevelopment which included increasing the seat capacity, a new entrance, improved back of house facilities, universal access and better integration with the surrounding arts precinct.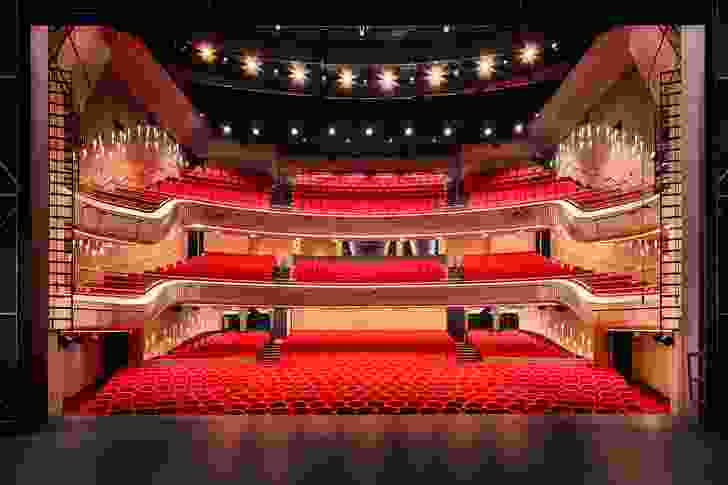 The theatre now features 1467-seat auditorium over three levels and the return of the grand circle after it was removed more than 50 years ago. The heritage facade and eastern wall have been preserved. Original Edwardian elements, including a pressed metal ceiling and architraves and moldings, have also been reinstated.
The redevelopment also includes a new west wing with a glass facade, two sweeping staircases in an expanded main foyer and custom-built curved timber balcony fronts in the auditorium, foyer bars on all three levels, and a larger backstage rehearsal room.
A famous signature wall covered with signatures from visiting stars was deconstructed and reconstructed back stage brick by brick.
The redevelopment allows the theatre to host an extra 50 performances a year, with the first performance set to take place on 23 June to a limited audience.
"This redevelopment will attract world-class productions and provide a massive boost for our arts sector," said South Australian premier Steven Marshall. "Her Majesty's has served the city well for more than a century, and it will continue to be a cornerstone of our creative industries for many years to come."
Related topics