Stacked over thirteen floors of the recently completed ANZ Tower in the Sydney CBD, the offices of the legal monolith Herbert Smith Freehills are afforded spectacular vistas of the city and the harbour. However, these views have not been used as an excuse to mitigate design excellence. Instead, design firm BVN Donovan Hill has used the panoramas and the building's complex floor plate as structuring devices to address the law firm's brief for client-centred business and greater staff collaboration. Project designer Bill Dowzer says the firm's previous occupancy over multiple, unconnected floors suffered from the "iceberg principle" where it "was impossible for clients to get a [picture of the] size of the firm."
A central void and staircase cores it way through the entirety of the thirteen levels, allowing for visual, physical and symbolic connection between all floors and "putting interaction back into the public zones." The reception, the client floor and the staff floor are sandwiched in the middle three levels of the stack. It is at this point that the void works most effectively and with the greatest drama. Instead of one large vertical opening, the void is split and staggered, creating glimpses between levels and, of course, towards the harbour and horizon. Despite the spatial gymnastics of void and view, the overall feel of the design is, as Dowzer comments, "classic and timeless."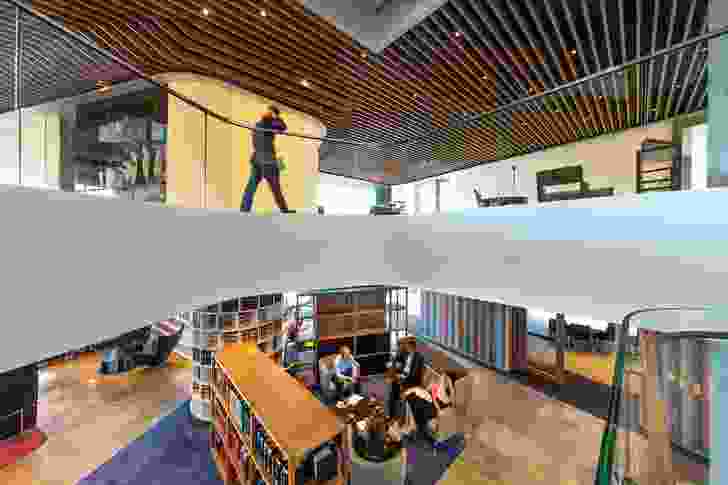 The reception is coolly formed by a floor of honed marble and curved, backlit glass panels. The glowing white is opposed by a stucco Venezia wall where paintings of cherry blossoms burst in some colour. The cherry theme is extended through the timber work used in the ceiling treatments and handrails. Deference is given to the view through a large, black portal that extends the threshold of the glass curtain skin, creating an over-scaled picture frame. While the dedicated client floor on the level above accommodates the need for high-level service and confidentiality, the design of the three-level core allows the firm's clients to interact with different aspects of the practice should they wish. As Dowzer notes of the configuration: "there are different spaces for different client needs." The client level is marked by a predominance of black and soft grey, carried through in the upholstery of the plush Grand Repos armchair by Antonio Citterio and Wing Chair by Hans Wegner.
The staff level below reception is accessed via the central staircase and is used for informal meetings with clients. On this level the feel is less legal and more colourful, the grey replaced by walls upholstered in vibrant Missoni fabric. The cafe has views equally as expansive as the client floor, flattening out the pointy pyramid of spatial hierarchies. The leather-bound tomes often associated with the dusty practice of law are relegated to decorative elements in the cafe, while the contemporary reality of global legal firms like Herbert Smith Freehills is manifest in the all-black high-tech "knowledge centre" located adjacent to the communal cafe. A hexagon-tiled wall of leather and aluminium encloses the Alcove high-back sofas and Joyn workstations – both designed by Ronan and Erwan Bouroullec – creating private study bays overlooking the city.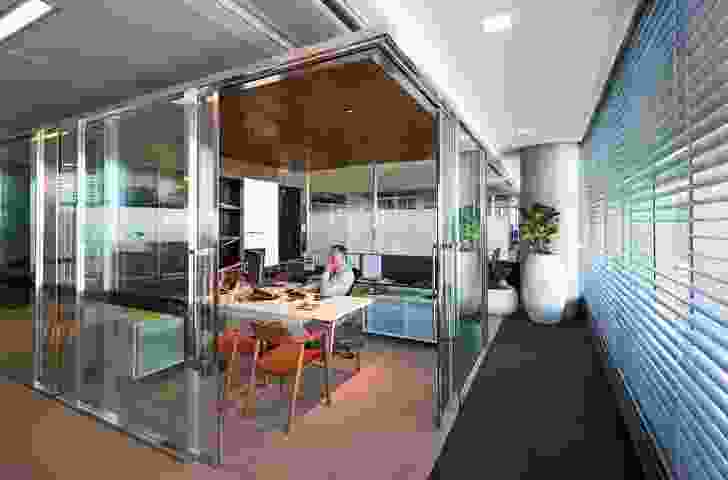 The office levels' attempts at spatial and view democratization are clearly evident. The most hallowed ground of legal firms – the private office – has been rationalized to become reconfigurable "pavilions." These finely detailed chrome-framed three-by-three-metre glass boxes don't cram the perimeter of the floor hogging light and views. Instead, they are pulled back from the edge, allowing everyone to have access to these assets. The pavilions can be used either as an office – if needed – a meeting room or as a general workspace. The perimeter is populated by hubs formed by clusters of armchairs, coffee tables and sofas that act as breakout spaces or informal meeting points. The pavilions occupy 30 percent of the workspace on typical floors; the bulk of the area is given over to the workstations where staff sit together irrespective of rank or role. The useable desk space in the workstation area is the same as that provided in the pavilions and as such reduces the aspiration for isolation.
The whole of the design speaks of exceptional quality, detail and finish. The law firm's previous tenancy had been held for over thirty years and the new fitout clearly opted for a higher up-front investment in design in return for a longer life cycle. BVN Donovan Hill has successfully avoided the cliches associated with some contemporary activity-based workplace design where a splash of colour and a couple of beanbags is seen to equate to innovation. The Herbert Smith Freehills offices bear the mark of careful consideration, a thorough understanding of client and context and a sophisticated approach to workplace design, resulting in an interior that is as elegant as it is intelligent.
Peter Dunne, partner at Herbert Smith Freehills, talks about the changes in their workplace culture that informed the design.
Products and materials
Walls and ceilings

Wall panelling from Glass Design Concepts. Colourback Glass from Grosvenor. Walls and ceiling painted in Dulux 'Lexicon'. Walls painted in Dulux 'Deep Onyx.' Lithos Design wall cladding in cafe from Artedomus. Missoni upholstery to main wall from Spence & Lyda. Niche wallcovering by Kvadrat. Eco Panel wallcovering by Woven Image.
Flooring

Striation carpet tiles by Interface. Bentley Prince Street carpet from Whitecliffe Imports. Carpet from Tretford. Leading Edge carpet from Victoria Carpets. Custom-designed carpet from Tappeti. Furniture linoleum and marmoleum from Forbo. Comcork flooring from Safety Flooring. Bolon flooring from The Andrews Group. Marble in dark grey from Artedomus. Granite from WK Marble & Granite. Calacatta marble from Nefiko. Tune rug by Paola Lenti from Dedece.
Lighting

Torch light by Established & Sons from Living Edge. Half Moon floor light by Karboxx from Hub. PH3 floor light by Louis Poulsen. Kaiser Idell floor lamp by Fritz Hansen from Corporate Culture. Caravaggi floor light from Corporate Culture. Wind floor light by Vibia from Hub. Twiggy floor light by Foscarini from Space. Tab floor lamp by Flos from Euroluce.
Furniture

On chair, Graph conference chair, Logon table and Timetable Smart table all by Wilkhahn. Hiroshima chair by Maruni from Seeho Su. Meda chair, Sofshell chair, Suita club armchair, Grand Repos armchair, Hal stool, Tabouret Haut bar stool, Alcove sofa all by Vitra from Unifor. Saari armchair by Arper from Stylecraft. Fjord armchair, dining chair and bar stool, and Bloomy chair, all by Moroso from Hub. Cherner chair, lounge, stool and armchair by Norman Cherner from FY2K. Bertoia chair, ottoman, stool and diamond chair by Knoll Studio, and Paperclip table, Saarinen coffee table by Knoll Studio, all from Dedece. Lox chair by Walter Knoll. Jelly armchair and coffee table, Frog armchair, Chromatic sofa, all by Living Divani from Space. Mantis chair, Tractor stool and Tray Rack all by Bassam Fellows from Living Edge. Series 7 chair and bar stool and Series 3300 sofa all by Fritz Hansen, Wing chair by Carl Hansen & Son, and Gubi sled stool, all from Corporate Culture. Midori lounge, high stool and chair by Sancal from Zenith Interiors. Classic armchair and ottoman from Koskela. Uki chair, sofa and ottoman, Coast ottoman, Nook chair, Olba table, Iko coffee table, and Fred table all by Jardan. 406 chair and 44 armchair by Artek from Anibou. Florinda chair by De Padova from Dedece. Musa armchair, Clio armchair, Fat Fat side tables, Nix coffee table, all by B&B Italia from Space. Last Minute bar stool by Viccarbe from Hub. Pantonova sofa by Verner Panton from Vampt. Simpliciter ottoman by Maxalto from Space. MDL desk by Unifor. Custom tables by A+B Furniture. Container table by Moooi from Space. Kew and Claremont collection cushions and poufs by Missoni Home from Spence & Lyda.
Joinery

Laminate from Formica and Laminex. Solid timber in American black cherry from Britton Timbers.
Other

Coda, Divina, Remix, Vale, Colline, Ripple, Steelcut 2 and Sunniva upholstery by Kvadrat. Sense upholstery by Instyle. Vintage linen upholstery by Westbury Textiles and Fabrics. Leather upholstery by Pelle Leathers. Herringbone and hexagon leather tiles by Spinneybeck. Tatami upholstery by Mokum.
Credits
Design practice

BVN Donovan Hill
Australia
Project Team

Bill Dowzer, Todd Hammond, Domino Risch, Susanne Myer, Judy Lee, Andrea Fink, Alexander Suen, Jessica Williams, Olivia Giangrasso, Thomas Butler, William McNaughton
Consultants

Acoustics Acoustic Logic
Art consultant Barbara Flynn
Builder Lend Lease
Catering consultant Cini Little
Communications and security Norman Disney Young
Fire and hydraulic consultant LHO Group Pty Ltd
Fire engineering Rawfire
Landscaping 360 Degrees Landscape Architects
Lighting Norman Disney Young
Mechanical and electrical engineer Norman Disney Young
Project manager Lend Lease
Signage and wayfinding Cato Partners
Storage consultant Space Smart Systems
Structural Aurecon

Site Details

Location Sydney, NSW, Australia

Project Details

Status Built
Design, documentation 24 months
Construction 7 months
Category Interiors
Type Workplace

Client

Client Herbert Smith Freehills
Website herbertsmithfreehills.com

Source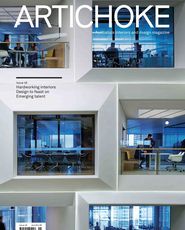 Issue
Artichoke, March 2014
Related topics