Lachlan MacQuarie Award for Heritage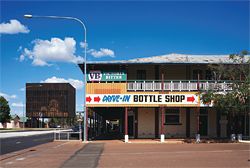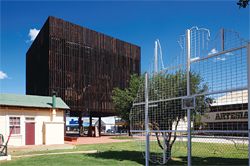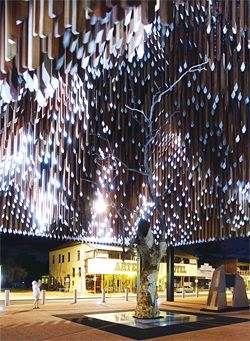 Barcaldine Tree of Knowledge Memorial by Brian Hooper Architect and m3architecture, architects in association
Jury Citation
In 1891, a small outback Queensland town was the site of an event that shaped Australian history – the great shearers strike which ultimately gave rise to the formation of the ALP. The shearers met under a huge ghost gum in the main street of Barcaldine, the so-called Tree of Knowledge, which became a symbol of the workers' struggle.
Over time the tree had suffered and in 2006 was poisoned. Although the tree is dead, the history lives.
Thanks to the remarkable efforts and advocacy of the architects and the support of a small community and three levels of government, Barcaldine now hosts the Tree of Knowledge Memorial.
Here architecture rescues the object and preserves, explains and honours the memory in a powerful, haunting, enigmatic structure. From twenty kilometres out on the Longreach road, a mysterious form appears, locating Barcaldine in the seemingly endless flat landscape and drawing the traveller to the town.
Gradually revealed is a huge cube, a sheath of suspended timber shards, each chamfered end like a leaf, which carves out in negative the ghost of the tree.
This remarkable structure may not have existed and the tree been lost if not for the compelling vision, intelligence and tenacity of the architects and their collaborative relationship with mayor Rob Chandler, who supported, promoted and carried this project through many difficulties.
This important work demonstrates the transformative power of architecture and the pivotal role good architects can play in public advocacy and community contribution. Barcaldine has a source of great civic pride and an attractant to the town, and Australia is richer for the preservation of an historic icon of national significance.
For full coverage see Architecture Australia vol 99 no 2, March/April 2010.
Images: Jon Linkins
National Award for Heritage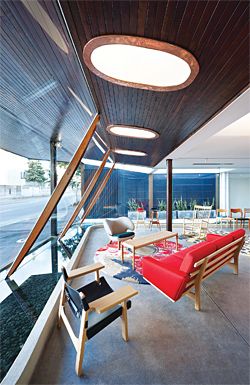 Former Wests Furniture Showroom by Riddel Architecture
Jury Citation
This exemplary project is a rare example of the restoration of a mid-century modernist commercial building. It was designed for Laurie West in 1953 by Karl Langer, the influential Viennese émigré who could be credited for introducing modernism to the subtropical city. The building showcased Langer's innovative architectural approach and played an important role in the history of contemporary design in Queensland.
Robert Riddel had schoolboy memories of this building, with its cambered glass walls, jaunty upswept awning, ovoid skylights and fish pond. Over time, original fabric had been lost and the memory of the building had disappeared under layers of low-grade commercial infrastructure, tat and signage.
When it came up for sale, Riddel bought it and embarked on a rigorous process of research and uncovering. Reinterpretation and rebuilding were painstaking but practical and economical. The architects have helped to demonstrate the economic and environmental benefits of preservation over new build. This is not a museum frozen in time. The spirit is faithfully captured; details restored with rigour, energy, affection and wit; and the building revitalized as viable commercial premises now housing the architects themselves.
Very few of Langer's works survive in a recognizable form, so we are grateful to Riddel Architecture for their energy and personal investment in salvaging, preserving, interpreting and adapting this important example of architectural and cultural history.
For full coverage see Architecture Australia vol 99 no 1, Jan/Feb 2010.
Image: Christopher Frederick Jones
National Award for Heritage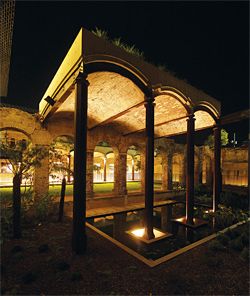 Paddington Reservoir Gardens by Tonkin Zulaikha Greer with JMD Design and the City of Sydney
Jury Citation
Paddington Reservoir Gardens are quite unique in Australia – inhabited "ruins" as public space.
The original damaged reservoir structures have been stabilized and re-imagined as a much needed and clearly loved urban park and community venue in inner-city Paddington. When the jury visited on a sunny Sunday, the gardens were being enjoyed in myriad ways – as adventure playground, meeting place, retreat.
The architects changed the original reservoir structures only "as much as necessary but as little as possible" in very appropriate and successful accord with Burra Charter principles. Rather than, as briefed, capping and sealing the remnant historical reservoir structures, the architects made the inspired move of dropping the main park level below street to the original base levels of the western chamber, and adapting the columns and walls as space-making devices around the sunken gardens and pond. The eastern chamber has been conserved as a flexible new community space. New lightweight roofs are visible from street level, announcing the presence of the gardens and guiding visitors to the main entry points and into the accessible boardwalk system.
Paddington Reservoir Gardens are a great example of an inspired approach to heritage, architectural originality, advocacy and collaboration with a supportive Sydney City Council, also to be congratulated for supporting great design and thereby public education and amenity.
Image: Brett Boardman
Credits
Architect

Brian Hooper Architect
Yeppoon, Qld, Australia
Project Team

Michael Lavery, Ben Vielle, Helder Pereira, Emma Healy, Angela Winkle, Brian Hooper, John Angel, Allen Dwyer
Architect

m3architecture
Qld, Australia
Consultants

Builder McNab Constructions
Building surveyor Philip Chun & Associates, Michael Moran
Council engineer Barcaldine Shire Council
Electrical Hawkins Jenkins Ross, Virendra Khatri
Heritage Gordon Grimwade & Associates, Martin Rowney
Hydraulic services Thomson Kane Hydraulic, Mark Kane
Landscape Gamble McKinnon Green Brisbane
Landscape consultant Ross Gamble
Project manager Angel Consulting, Barcaldine Shire Council
Structural Bligh Tanner, Paul Callum
Town planning John Gaskell Planning Consultants, John Gaskell
Traffic consultant Viney Traffic Engineering Pty Ltd, Neil Viney

Site Details

Location Barcaldine, Qld, Australia
Site type Rural

Project Details

Status Built
Category Landscape / urban
Type Culture / arts, Installations

Credits
Design and project manager

City of Sydney
Sydney, NSW, Australia
Project Team

Tim Greer, Julie Mackenzie, Trina Day, Roger O'Sullivan, Wolfgang Ripberger, Tamara Frangelli.
Consultants

Architect Tonkin Zulaikha Greer Architects, JMD Design
BCA consultant Blackett Maguire + Goldsmith
Builder Brisland
Certifier Advanced Building Approvals
Electrical consultant Haron Robson
Graphic design Jelly Design
Heritage consultant Warren Smith & Partners
Landscape JMD Design
Planner City Plan
Remediation consultant MPL Health Safety Environment
Structural consultant SDA Structures

Site Details

Location Oxford Street, Paddington, Sydney, NSW, Australia
Site type Urban

Project Details

Status Built
Category Landscape / urban
Type Culture / arts, Outdoor / gardens, Public / civic

Related topics