Lachlan Macquarie Award for Heritage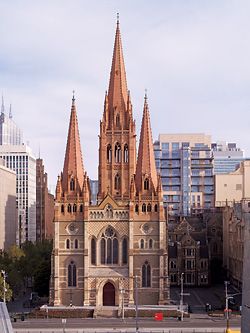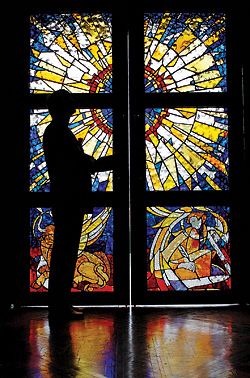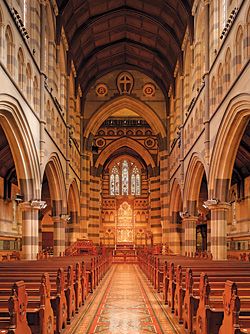 St Paul's Cathedral, Melbourne,
Conservation of the Fabric
Falkinger Andronas, Architects,
Heritage Consultants

JURY CITATION
Marvellous Melbourne, like Chicago, was one of the most rapid and amazing urban phenomena of the late nineteenth century, punctuated by a range of grand public buildings.
St Paul's Cathedral is prominently located at a key intersection overlooking the Yarra River and St Kilda Road. Construction began in 1880 to designs prepared by English Gothicist William Butterfield and realized by a number of very competent Melbourne architects, with final completion in 1933.
The design reveals Butterfield's love of complex patterning and materials, though tempered by John Barr's thoughtfully resolved twentieth-century sandstone spires.
Gothic cathedrals are complex structures, requiring careful management and maintenance if they are to survive in good order and serve changing patterns of use.
Falkinger Andronas has been responsible for the conservation of both Melbourne's major cathedrals, and at St Paul's has been involved for over nine years, with the life of the cathedral ongoing throughout the project. Their work began with the preparation of a conservation management plan and involved stone and spire repairs, roof and stormwater works, mosaic and stained glass conservation, and the provision of new wiring and lighting. Disabled access to the front door has been discreetly introduced and a new glazed storm porch created, allowing a more open entry and the formation of a rich modern glazed panel, which extends the character of the historic west window to the floor of the nave.
Priority has been given to major works in difficult and inaccessible areas, in particular the towers, spires and roof, as other parts can be attended to more readily. The decay of the building has been slowed, stormwater failures have been addressed (and the water tanked on site) and the building surfaces (in particular the interior) cleansed, so that we can more readily appreciate the visual qualities of the cathedral as its designers intended.

Architect
Falkinger Andronas, Architects, Heritage Consultants—project architect Richard Falkinger; director and project architect Arthur Andronas; architect Gabrielle Moylan; graduate architect Andrew Sypkens

Original architect
William Butterfield, Joseph Reed, John Barr and other local architects

Structural consultant
Bonacci Group

Structural consultant, glazed screen
Arup Facade Engineering

Lighting consultant
Vision Design Studio

Services consultant
Lincolne Scott Australia

Landscape consultant
City of Melbourne

Acoustic consultant
Acoustic Directions

Photogrammetry
Cassissi and Associates

Cost consultant and podium and glazed screen contractor
Contract Management Systems

Restoration contractor
James Charlwood t.a Cathedral Stone

Electrical contractor
Rely-on

Sound system
Rutledge Engineering (Aust.)

Glass artists
Janusz and Magda Kuzbicki

Photographer
Jo Daniell (top and bottom), Herald and Weekly Times (middle)
National Award for Heritage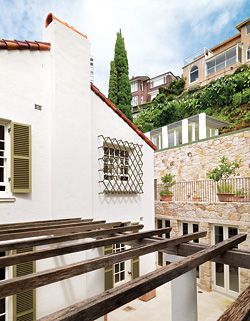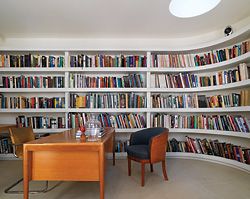 4 Wiston Gardens
Luigi Rosselli

JURY CITATION
Professor Leslie Wilkinson designed this house in 1936, along with its original neighbour to the south. Both were celebrated in the late 30s as civilized models of compact domestic architecture for Sydney. Wilkinson's architecture, which abstracted Mediterranean and Georgian influences for Modern purpose, is an endless source of surprises and idiosyncrasies; his houses are complex and full of unexpected twists and turns.
The owners loved this house but could barely fit in it. Luigi Rosselli worked with them over a number of years to extend the accommodation and to provide a further layer of interest and intrigue. Rosselli brings European sensibilities to his projects: he has an eye for proportion, materiality and detail.
Throughout the house the historic detail and fabric have been retained and conserved, original tallowwood and concrete floors uncovered and restored, and changes subtly and cleverly alluded to. Windows have been unobtrusively amended, joinery rearranged and a skylight introduced to fill the house with light. The original service areas, designed for a resident cook/maid, have been revised to serve family life and the kitchen opened up, with an addition provided as a family room. The addition is connected to the old house by a glazed link which clearly explains what is new and what is old.
The most inventive move has been the partial excavation and reworking of the cliff at the rear of the site. Rosselli's characteristic dimpled stonework replicates the cliff face, which now incorporates a study/library and a winding stair providing access to terraces, lush rooftop gardens and finally a lap pool and guest pavilion.
Rosselli's work will be seen as an important part of the house's evolution and heritage. It clearly shows that we need to move beyond the frozen heritage position of "do nothing" or "match the adjoining detail" to put such projects into the hands of skilled designers.

Architect
Luigi Rosselli—design architect Luigi Rosselli; project architect Candace Christensen

Structural consultant
Matthew O'Hearn

Heritage consultant
John Oultram and Howard Tanner

Interior designer
Louise Bell and Shane Gogan

Landscape consultant
Andrew Pfeiffer

Builder
Hugh Rhodes-White (SydCon)

Photographer
Justin Alexander