A historic reservoir in Sydney's inner-west will be transformed into a childcare centre for 159 children, according to plans submitted to council by Little Lane Early Learning and Milton Architects.
The Drummoyne Reservoir has been a distinctive feature on the suburb's skyline since 1913 and is listed on the state heritage register for its technological and historical significance, as well as for its "fine, well-designed Federation Free Classical structure."
It consists of a large utilitarian tank, supported by a colonnaded tank stand in the classical style, with a seven-storey concrete tower rising on the southern side.
Milton Architects' scheme for the site involves the adaptive reuse of the heritage structure and the construction of a new two-storey building along with three levels of basement car parking.
The childcare centre will be spread across five levels within the reservoir tank itself, with an outdoor play area and garden on the rooftop.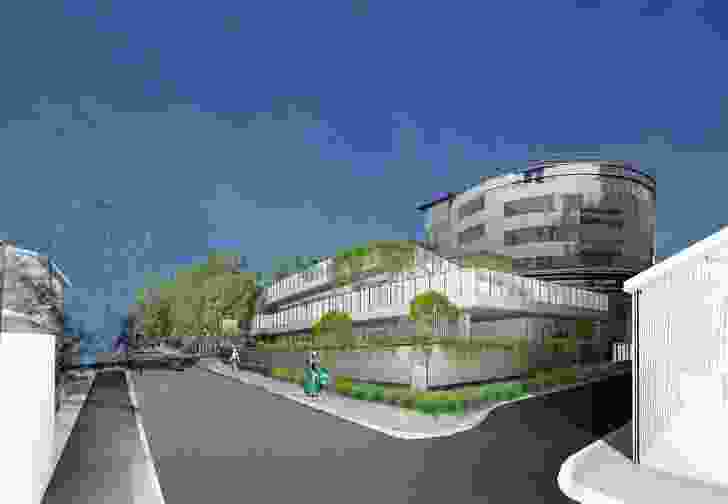 In all, there will be more than 1,700 square metres of unencumbered outdoor play areas spilling out across the ground and upper levels, with the centre of the site proposed as a "soft landscaped area" between built forms.
"We want to focus on creating a community-based centre that encourages children to participate," Little Lane owner Shan Kuo told The Daily Telegraph. "The design is focused on what is best for the children and how the children can learn to become part of the community."
Entry to the childcare centre will be through the ground floor of the reservoir tank where two indoor playrooms will open directly to an outdoor play area along the south-western boundary of the site.
More play area will be spread across levels three to five, with an outdoor play area with a northern orientation is located within the unenclosed portion of these levels.
The project will involve the demolition of some heritage fabric but heritage architect Lucas Stapleton Johnson found that "given the robustness of the overall form and design of the Reservoir, the proposed changes will result in minimal visual impacts and the Reservoir will continue to be clearly understood as a former water reservoir and its original form and configuration will continue to be appreciated."
Related topics