Photographs Hannah Lewi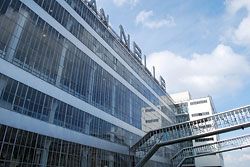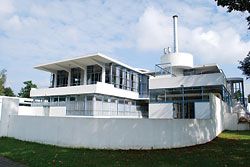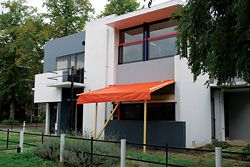 What happens when conservation and Modernism intersect? Hannah Lewi reports on the activities and ambitions of Docomomo internationally and in Australia.
The Tenth International Conference of Docomomo recently held in Rotterdam marks the twentieth anniversary of this organization devoted to the documentation and conservation of Modern Movement sites, buildings and landscapes. Docomomo is international in outlook and currently includes around forty member countries. There is a strong South American and Asian representation and an increasingly urgent concern to document African Modernism. Core activities are: the documentation of sites published in listing fiches, the Docomomo Journal and biennial conferences; the advancement of conservation techniques; and advocacy for Modern sites under threat. Much has been done to reappraise familiar and canonical Modern sites and to understand Modernism's international inflections. Docomomo has also recently forged working partnerships with other international architecture and conservation bodies including UNESCO, the UIA and ICOMOS.
Many members believe that the birth of Docomomo, in the mid-1980s, coincided with the end of Modernism's supposed refusal of history; its strident attempts at ever-present newness were inevitably slipping backwards into the longer duration of historical continuity. There are some who deeply mourn this crossing into historicity, while most recognize the inevitability of growing old and are more interested in the practicalities of how to document and conserve some examples of iconic and everyday Momo sites before they disappear. Concern for the fate of twentieth-century buildings gained momentum in the 1990s, and crucial advances were made in the listing of post-WWII sites. However, the documentation and conservation of some twentieth-century architecture still generates charged debate, in particular when sites reflect political ideologies, from the welfare state to fascism. There were, for example, special debates at this conference surrounding the fate of the Robin Hood Gardens (Alison and Peter Smithson) and Byker Wall (Ralph Erskine) public housing estates in England.
Docomomo's strength also lies in its wide variety of contributors, ranging from historians to architects and conservationists. They have been grappling with the implications of conservation for long enough now to precipitate the most recent conference's driving theme, "The Challenge of Change", which explored shifting attitudes towards Modernism's preservation and interpretation since the organization began. There were also hints about forthcoming debates on postmodernism. An encouraging revision present in this conference was the concern to bring conservation squarely into the ambit of contemporary design, rather than re-walking the well-trodden path of separation between the two.
Other perennial themes of Docomomo's research encompass detailed examinations of experimental modern materials and technologies, and how new techniques can be applied to conservation in the face of serious failures. There was particular focus in this conference on the possibilities of retro-fitting more sustainable services and materials into typically thin and transparent envelopes. And while the legacy of blind faith in mechanization and a wholesale reshaping of the environment is hard to square with current preoccupations with sustainability, some advocated that valuable lessons could still be learned from Modernism's original intention to bring natural light and air into buildings. Herman Hertzberger, one of the conference keynote speakers, lamented the current obsession with safety and risk aversion, which he argued has destroyed many good features of Modern design's spatial freedom and responsive external skins.
The need for bold approaches to adaptive reuse to increase the life span of Modern buildings is another ongoing discussion. A successful example of this was the conference venue itself, in the Van Nelle Factory designed by Johannes Brinkman (1926–30). This vast, glazed, curtain-wall factory once housed the processing and packaging of tea and coffee. In its reincarnation as a "design factory" and incubator for new creative industries, it is a fascinating index of the changing nature of work environments from the twentieth to the twentieth-first century. Many other examples of adaptation and conservation were showcased in the conference tours, including the gradual rebuilding of the Sanatorium Zonnestraal, designed by Jan Duiker in Hilversum; the sensitive additions to Gerrit Rietveld's public housing scheme in Utrecht; the transformation of the orphanage designed by Aldo van Eyck in Amsterdam into private offices; and the Amsterdam Olympic Stadium for the 1928 Games, which is now again a working sports facility. Most of these sites had fallen into complete disrepair and were the focus of community action that led to a new lease of life.
There are very few comparable Australian examples of such sensitive renewal of modern sports complexes and hospitals, or of public housing given a sustainable future. This emphasis on reuse goes hand in hand with a vibrant and serious commitment to new architecture in the Netherlands, as shown by the impressive NAi architecture museum in Rotterdam devoted to the display of new work, and the collection of a national library and archive on the history of Dutch architecture. Perhaps this is a good model for an architecture museum in Australia?
Aside from participation in the international organization, the Australian Docomomo Working Party has active groups in Sydney and Melbourne and has undertaken a number of activities to document and promote awareness of Modernism in Australia. For example, a successful series of "Meet the Architect" talks and tours was hosted in Sydney. Over the course of this year interesting houses are also being opened to view in Melbourne, including a number of Robin Boyd houses, John Kenny's own house and Roy Grounds' Hill Street house. The Melbourne group is currently planning an exhibition and creating a database of significant modern buildings in Victoria. It will be published on the Docomomo Australia website as a first-step reference for architects, local councils, heritage bodies and researchers. When this documentation is extended nationally, it will provide the basis for a more lasting publication on Australian Modernism, along the lines of the recently published Long Live the Modern: New Zealand's New Architecture 1904–1984, edited by Julia Gatley and published by Auckland University Press. This is a handsome and comprehensive book, whose opening essay by Gatley frames a number of readings of the many sites that follow and elaborates on how the documentation and conservation aims of Docomomo have structured the project.
Most importantly, perhaps, Docomomo maintains a small and enthusiastic network of people interested in Modern design. It has advocated against demolitions or major alterations to a number of sites around Australia. For instance, Docomomo had a voice in the recent debate over the potentially insensitive renovations of the Harold Holt Pool in Melbourne, designed by Borland and Jackson.
Two major events in 2009 in Australia will continue to generate momentum for Modern Movement documentation and conservation – an international symposium, "Keeping the Past Public", at the University of Melbourne in February; and an international conference, "(Un)loved Modern", in July in Sydney, jointly hosted by Docomomo, ICOMOS, the UIA and the Australian Institute of Architects. The next international Docomomo conference will be held in Mexico City in 2010. If it is anything like previous events in Ankara, Bratislava, Brasilia and New York, it will greatly further understanding about the complexities and durability of the Modern Movement, and offer further direction on how its legacy may be allowed to age gracefully.

Hannah Lewi is a senior lecturer in architecture at the University of Melbourne. For more information see: www.docomomoaustralia.com.au and www.docomomo.com