High-rise tower to soar above Gold Coast's low-rise Mermaid Beach
Plans for a 44-storey apartment building that would tower over its immediate neighbours have been submitted to the Gold Coast Council.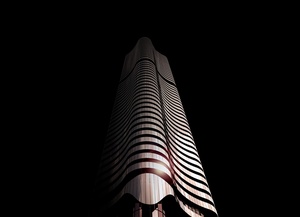 The tower will be situated in what is currently a predominately low-to-medium-rise area. The site, 272 Hedges Avenue, Mermaid Beach, is on the southern edge of the unlimited-height development precinct of Broadbeach.
Designed by BDA Architecture, with landscape architecture by Form Landscape Architecture the tower will house 99 two-, three- and four-bedroom apartments.
The managing director of the developer Sundland Group, Sahba Abedian, said the proposed design would complement the scale of neighbouring towers while introducing a new architectural language to the skyline.
"272 Hedges Avenue is designed to present as an elegant, curvilinear landmark providing a sculptural marker at the southern edge of the expanding Broadbeach precinct," Abedian said. "The design represents an organic curvilinear form, encased in reflective glass, providing the tower a fluid, shimmering appearance from all angles."
The first two floors of the 44-storey building will be given over to communal facilities, while there will be three apartments per level up to floor 26, two apartments per level from floor 27 to 42 and two full-level penthouses on the top floors.
Other resident facilities will include a dedicated concierge service, swimming pool, spa, gym, sauna, steam room, and treatment rooms.

Abedian said the proposed height of the tower is responsive to the existing and future high-rises within its immediate urban surrounds, including approved 43- and 50-storey developments on Mermaid Avenue, and a 54-storey development on Casino Drive.
Mermaid Beach-based practice BDA Architecture received a commendation at the 2017 Queensland Regional Architecture Awards for the Coomera Sports and Leisure Centre, designed in collaboration with Peddle Thorp Architects.
Should the development application be successful Sunland Group intends for construction to begin in 2018.