Cafe owners and barpreneurs are still finding old buildings tucked away in Melbourne's CBD to reclaim, reinvent and re-monetize. And global economic moribundity be damned, people keep on lining up to buy food and drinks from them! It's fantastic, really, and it makes modern Melbourne what it is today. But as with all situations where a particular kind of creativity and a particular kind of experience move from niche to mainstream, the risk is that the creativity and experience become predictable, the buzz of originality dulled; creative decisions are kept within known parameters, and less confident operators cling to safe reference points on the zeitgeist checklist to ensure that patrons read their offering as being, dare we say it, hip. "This place has white horizontal-format tiles with dark grout. They must do great coffee!"
To be fair, most of those places in Melbourne do make great coffee, and they're generally quite pleasant to visit. But the lack of diversity makes it all the more obvious when a hospitality client and designers have the confidence to ditch the checklist and create a place that's just great to be in.
The owners of Higher Ground can't be too short of confi dence, given their recent track record of wildly successful ventures, including Top Paddock and The Kettle Black. Nonethe- less, choosing a cavernous former power station at the Spencer Street-end of Little Bourke Street for their next project was a bold move. Their brief, to Mark Simpson and Damien Mulvihill of DesignOffice, was for an all-day destination that retained the volumetric impact of the building's brick shell but introduced a range of intimate settings for eating and drinking. What they've received in return is undoubtedly one of the most refined and welcoming hospitality fitouts in the whole of Melbourne.
Where so many larger dining spaces in the city become dining halls, Higher Ground is characterized by a series of smaller platforms that wrap around the space, taking the visitor on a journey through six different levels and myriad seating environments. No matter whether you like being tucked away on a couch, perched at a bar or sat at a table out in the middle of the floor, you will find that particular spot where you feel most comfortable. Every seat in the house enjoys a range of views – up to the vaulting white timber-lined ceiling, out through the enormous old arched windows, up to the balcony- like top level, down to the open kitchen and central bar – and all around is the warmth and texture of the old brick shell. The designers' leaping-off point was a suggestion from the owners that the space be like a hotel lobby, and Higher Ground does certainly have that feeling – Daniel Craig wouldn't look entirely out of place stepping down through the different levels, surveying the crowd below and pausing here and there to use a pot plant as cover.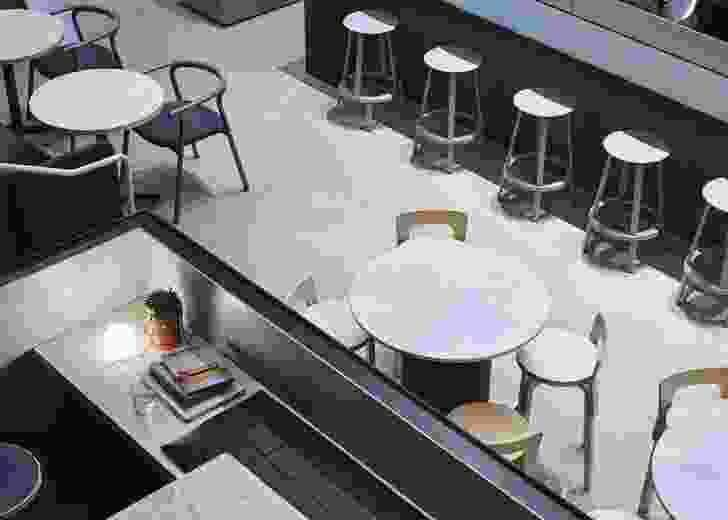 Apart from the brilliant green of the vast assortment of plants, the only other strong colour element is the geometrical staircase, fabricated from steel and painted midnight blue. The stair also plays a critical role as a structural element, sitting in tension between the massive concrete pillars that rise through the space and support the multi-level residential tower that rises, out of sight, above. The relationship between the steel elements and the pillars reinforces the perception of Higher Ground as an insertion into the building shell, not a contemporary pop-up within the large volume or a cosmetic layer applied to the existing brick and concrete. As a result, visitors experience a complete, cohesive environment that makes the most of old and new elements.
Apart from the steel, the materials palette is subdued and textural, with mostly natural finishes – terrazzo, cork, solid timbers and black fibreboard. A mix of furniture and rugs is used to define smaller areas within the space, and lighting has been designed for each zone, to heighten the sense of intimacy. Ultimately, it's this creation of a genuine sense of intimacy and human scale within such a massive volume, without having physically divided the space with walls and ceilings, that is Higher Ground's success. Sitting with a group of friends, sharing food and a few drinks, the crowd and the power station are all around and ever-present, and yet it's no stretch to feel like you're in someone's lounge room or sitting at their dining table. This is especially so after dark; by day, the natural light from the huge windows brings with it a breezier feeling and a greater sense of openness; as this fades, the lights take effect, bringing highlight and shadow, and illuminating individual tables and settings.
Outside the brick shell is gritty Little Bourke Street and the busy Spencer Street traffic, but – and it's fitting that this sounds like the sales pitch of a luxury hotel – as long as you're cosseted safe and warm in Higher Ground, it's all too easy to suspend disbelief and pretend that you're home.
Products and materials
Walls and ceilings

Ceilings painted in Dulux 'Natural White.' Window frames painted in Dulux Aquanamel 'Bottle Green.' Stair, lift cladding and pass canopy in Wattyl paint, matched to Dulux 'Dark Door.'
Windows and doors

Existing windows and doors.
Flooring

Concrete floor, honed . Cork tiles to all raised floors from Market Timbers.
Joinery

Joinery powdercoated in Dulux Duralloy 'Oyster Matt.' VFloat Superclear glass to balustrades and joinery from Viridian Glass. Desktop linoleum to joinery in 'Jeans' and 'Ash' from Forbo. Elba marble from Artedomus. Terrazzo stone in 'Alpine' to balustrade lining and joinery from Fibonacci Stone. American white ash timber to indoor furniture and joinery. Valchromat boards from Polytec.
Lighting

Ella floor lamp by Anta from Hub Furniture. Solid downlight in Carrara marble from Temperature Design. VIP floor and wall lights by Pandul from Tryde. Glo-Ball basic light, Mod 607 light and Tab table lamp, all by Flos; and Chipperfield light by W ä stberg, all from Euroluce. Akari 3A lamp by Herman Miller from Living Edge. Whiteline surface-mounted LEDs from Light Project. Par pendant by Zero from Great Dane. Volume table lamp by Light Years from Cult. Custom-made uplights.
Furniture

Mayor sofa in Kvadrat Remix upholstery by & Tradition from Great Dane. Vitra Suita chaise lounge and three-seat sofa in Kvadrat Rime upholstery from Space Furniture. Pepe two-seater by Bolia from Kelektiv. S22 industrial chair by Galvanitas from Modern Times. Luna chair and Splinter chair by Nendo, both from Apato. K65 stool, Lukki stool and Stool 60, all by Artek from Anibou. Revolver stool by Hay and Low Pad chair by Cappelini, both from Cult. Parawood high stool in custom colours from Dessein. Cork stools by Vitra, Audrey chair by Kartell and Button table by B & B Italia, all from Space Furniture. Eames lounge from Smith Street Bazaar. Key side table by Hem from District. Large 621 table from Vitsoe. Other: Coffee cart canvas is Sunbrella acrylic in 'Olive Green.' Rugs from RC + D.
Credits
Design

DesignOffice
Melbourne, Vic, Australia
Project Team

Mark Simpson, Damien Mulvihill, Matthew Vrettas, Tara McDonough, David Smith
Consultants

Builder Basis Builders
Electrician BREC
Graphic design Pop & Pac
Joinery JB Elliott, Profile Furniture
Metalwork Ivanoff Design Consultants

Site Details

Location Melbourne, Vic, Australia
Site type Urban

Project Details

Status Built
Completion date 2016
Design, documentation 6 months
Construction 6 months
Category Hospitality, Interiors
Type Bars and cafes, Restaurants

Source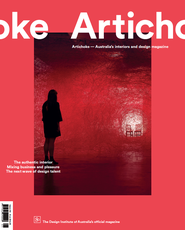 Issue
Artichoke, March 2017
Related topics