Dolce & Gabbana fridges for Smeg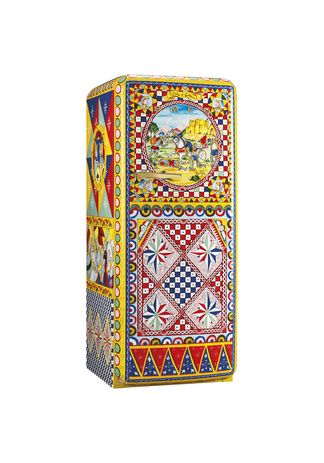 Continuing their trend of bringing fashion to the kitchen, this year's limited edition collection of hand-painted Dolce & Gabbana FAB28 fridges are certainly not designed to fade into the background. Featuring artwork based on Sicilian folklore and mythology, the illustrated elements include sacred objects such as cart wheels, lemons, medieval knights and the tricanaria symbol, linked together with floral garlands. These appliances bring the colourful and fantastic world of Dolce & Gabbana right into your home.
Visit the Smeg website for more information.
Varenna Arthena kitchen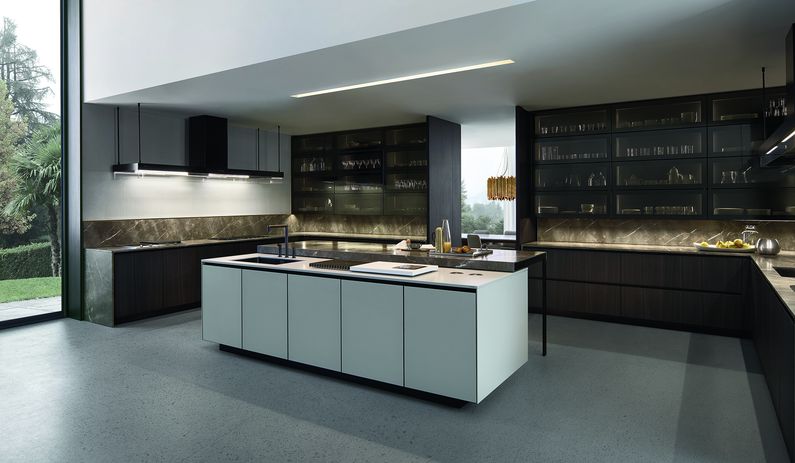 The Arthena kitchen is now part of Varenna's entirely modular range. Its distinguishing feature is the clean lines afforded by its handle-less door systems, and special processing of door edges. Offered in wood or metal finishes and varnishes, this is elegantly simple cabinetry with a sleek, modern feel.
Visit the Poliform website for more information.
Elica Summilux hood
Known for innovation in kitchen hoods, Elica released several new models at EuroCucina, including Summilux, a combination light and hood that comes apart easily for cleaning in the dishwasher. The hood can be wall-mounted but also exists in an 'island' pendant version, the frosted glass and copper trim forming a striking addition to contemporary kitchens.
Visit the Elica website for more information.
Miele Blackboard Edition fridge-freezer combination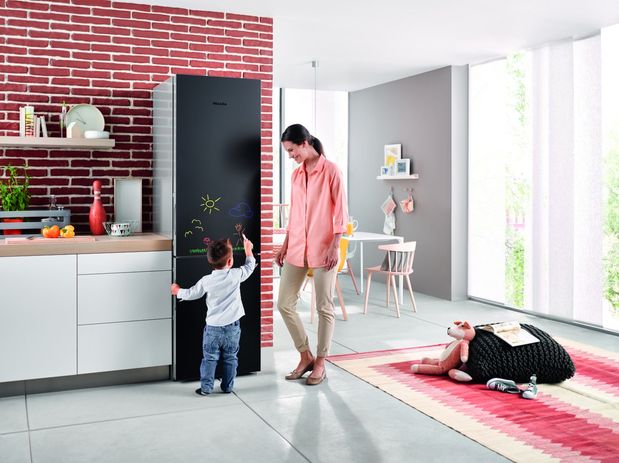 Despite advances in technology, sometimes the most enduring forms of communication rest resolutely analogue. In acknowledging this, Miele has created a new blackboard finish for their kitchen suites, adding a playful and functional touch to these high quality applicances. Scrawl messages, drawings or reminders over the easy-to-clean surfaces – something the whole family can play with.
Visit the Miele website for more information.
Tulér kitchen by Offmat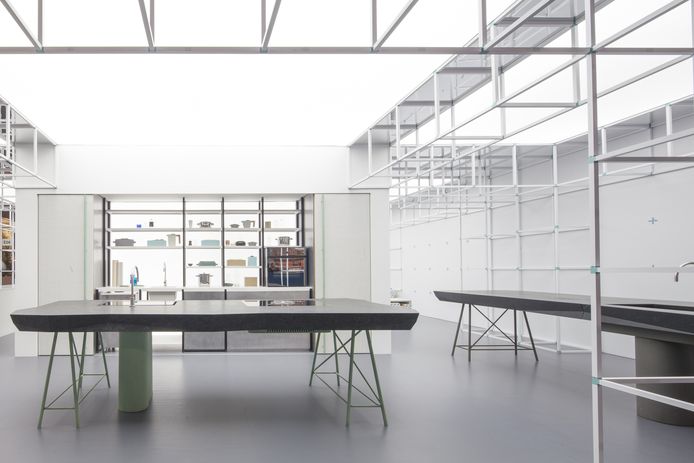 Launched in 2016, Offmat is a design research laboratory positioned at the intersection of substance and technology, developed by Marmo Arredo with Tommaso Corà and Paolo Festa of Tipic. Tulèr is their first 'concrete' integrated kitchen, the centrepiece of which is the multi-function island bench. A solid stone slap resting on a lightweight aluminium frame, the counter includes a water tap, which also houses electrical wiring, as well as a movable sink that can sit raised as part of the bench or lowered to house water. Surface inductors, an in-built scale and kitchen drawer are also part of this unit, which can be enhanced by other complementary pieces.
Visit the Offmat website for more information.
Gourmet system from Valcucine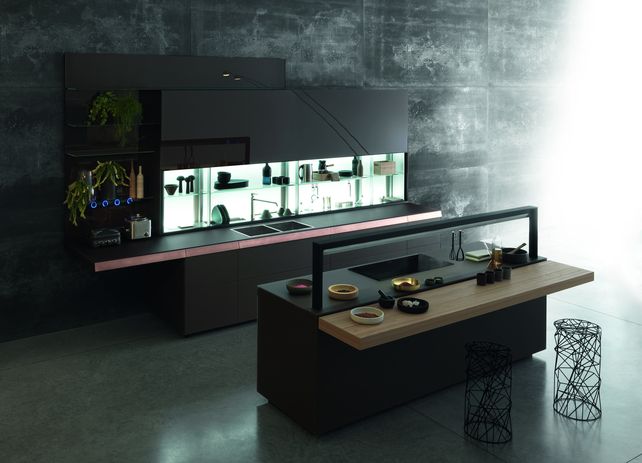 Designed as a semi-professional kitchen system, the Gourmet system offers a plethora of extra functions and features for those for whom cooking is more than a daily obligation. Built-in steel topped storage wells in the benches and a ceramic induction cooktop that sits completely flush with the counter surface are two highlights of this high quality kitchen.
Visit the Valcucine website for more information. Rogerseller is an Australian stockist of Valcucine.
Miele compact wine cooler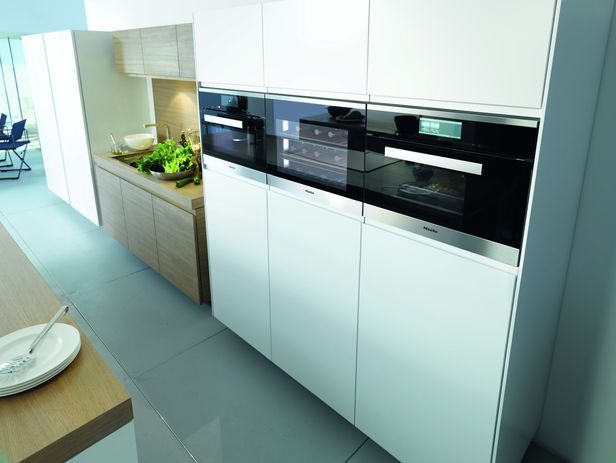 The luxury of space is no longer required for cellar-standard wine storage with Miele's new compact wine cooler, perfect for small spaces. At 45cm high it's no larger than a microwave and it can store up to 18 Bordeaux bottles. With its trademark FlexiFrame Plus shelf system, even magnum-sized bottles will fit in this temperature-controlled mini-cellar, which can easily be housed in kitchens or living spaces. LED lighting and magnetic label strips help make this the urban wine connoisseur's dream.
Visit the Miele website for more information.
Smeg Dolce Stil Novo gas cooktop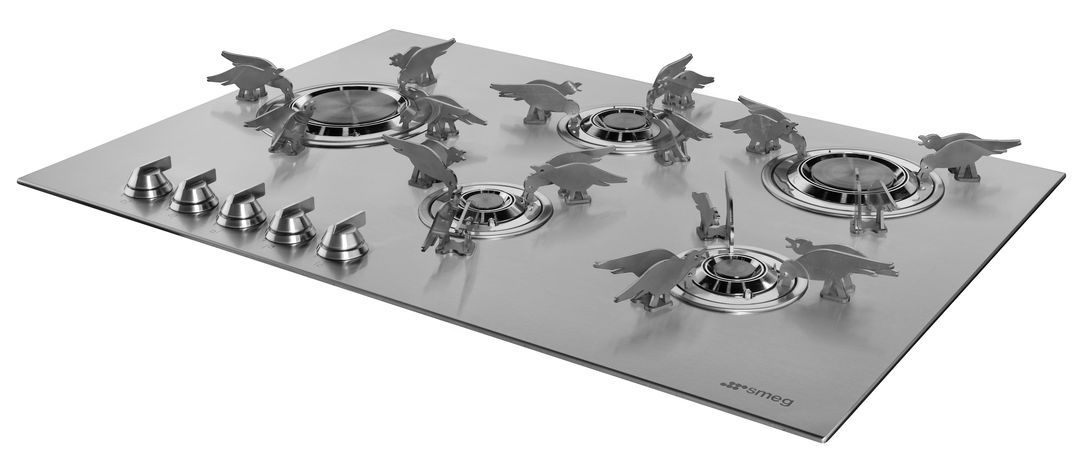 Shown as a prototype in 2014, this Guido Canali cooktop system was officially launched as part of the Smeg range at EuroCucina 2016. The new technology means that the gas flame is captured in a single ring, rather than naked jets of flame, meaning a 30% reduction in energy use and more constant and controllable heat to pans. Traditional pot stands are replaced by whimsical creations of birds, leaves, butterflies and fruit.
Visit the Smeg website for more information.