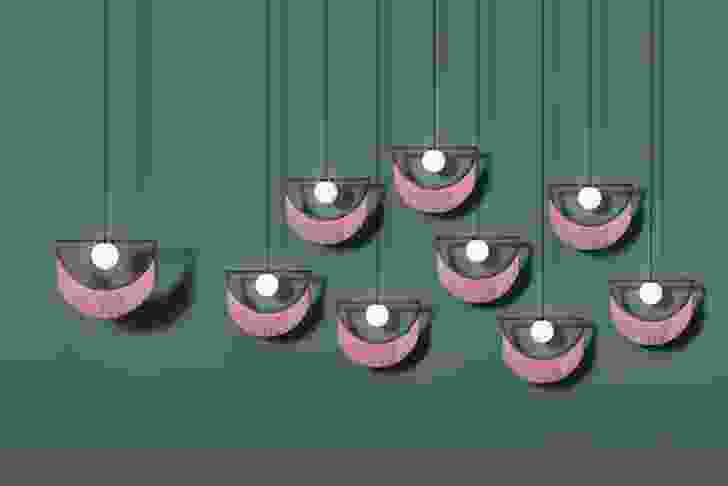 Arco and Wink by Masquespacio for Houtique
Created by Valencia-based multidisciplinary design studio Masquespacio, the Arco furniture collection and Wink ceiling light for new Spanish brand Houtique are fun plays on the post-modernist style. Inspired by the 1970s, Arco is characterized by different rounded arcs, soft forms and vivid colours. The collection includes a sofa, chairs, tables and high stools, made of metal and upholstered in velvet. Wink is a flirty eye-shaped ceiling lamp with a detachable fringe that appears to bat its eyelashes "in the most elegant way." In the words of its creators, "Wink is composed of elements that remind us of the past and future."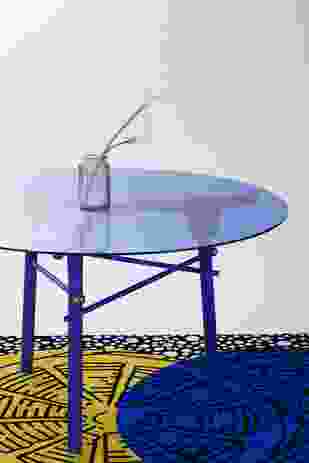 Paris Ming by Arik Levy for Maison Dada
"I don't want unanimated furniture. I like them to have a soul, to tell a story," says Shanghai-based French interior designer Thomas Dariel and founder of Maison Dada. The furniture brand is inspired by the 1920s art movement Dadaism. In its latest collection, it has collaborated with Israeli-born designer Arik Levy to create a range of tables that look to Ming dynasty China for its ancestral DNA. "This project with Maison Dada is an observation and a reaction to the relationship between Europe and China in the last 50 years," said Levy.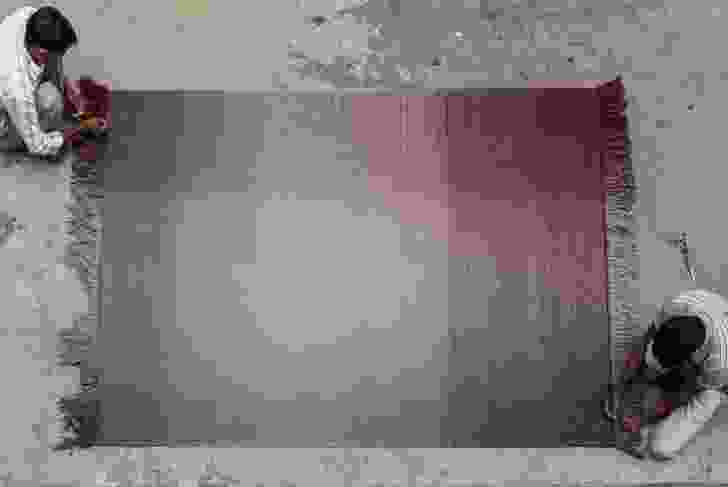 Shade by Begüm Cana Özgür for Nanimarquina
Originally designed in 2015 by young Turkish designers Begüm Cana Özgür, the Shade rug collection made by Barcelona-based Nanimarquina, which launched in 2017, now includes a new colourway, which evokes "the sinuous skies of stormy sunsets. The handmade flat-weave rug collection consists of two gradients – one vertical and one horizontal – which converge to create a well-rounded diffusion of colour. The collection is inspired by "magical moments in nature" such as dawn, dusk and nightfall. "The surface releases a sense of tranquility and well-being that is balanced by the penetrating vibration of colors," said Özgür.
nanimarquina.com. Distributed in Australia by Mobilia.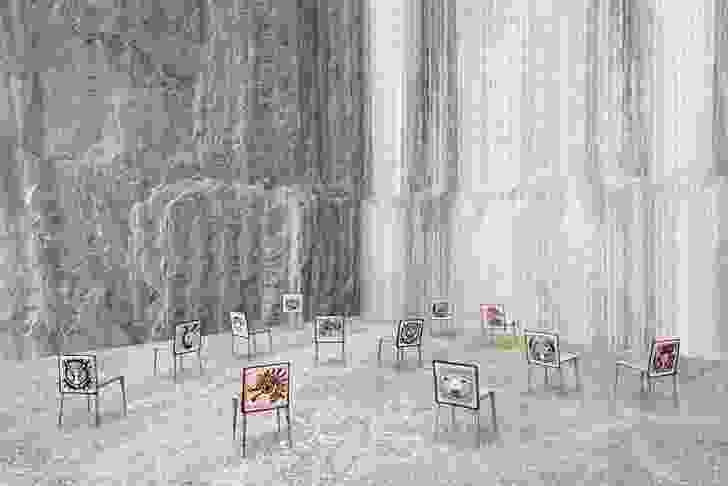 Horoscopes by Missoni Home
These textile panels depict the 12 symbols of the Chinese zodiac reproduced from the works of Italian artist Piero Zuffi. In the 1980s, Missoni founder Ottavio Missoni purchased a set of boards by the artist, which featured the 12 zoomorphic figures along with ideograms designed with geometric precision and in bas-relief. The textiles can be made from printed cotton satin or embroidered with the reverse side in tones of variegated grey.
missonihome.com. Distributed in Australia by Spence and Lyda.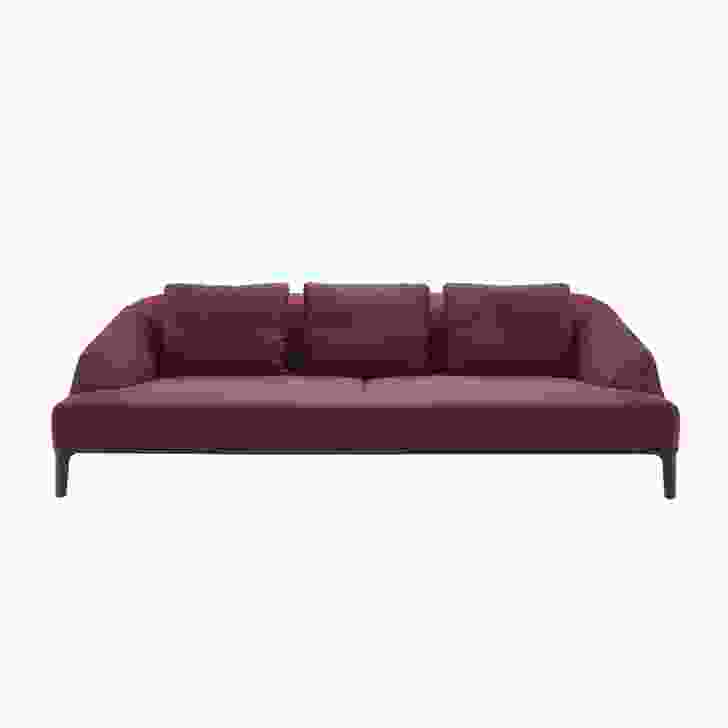 Sintra by Noé Duchaufour-Lawrance for Ligne Roset
Sintra by French interior architect Noé Duchaufour-Lawrance is his first sofa for Ligne Roset. "An object is naturally obliged to respond to a need, without creating others. From this absolute necessity, it must be a vehicle for meaning and emotions," said the designer. "This is the angle from which I approach the design of an object." The sofa combines a classic base with unique elegance and a strong personality.
ligne-roset.com Distributed in Australia by Domo.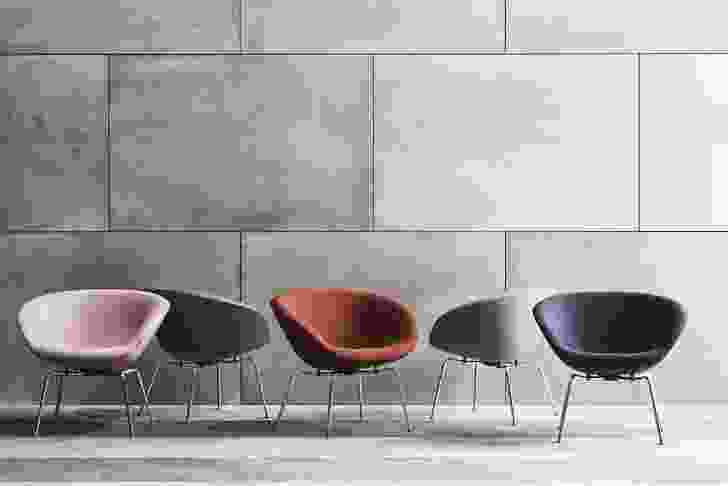 The Pot from Fritz Hansen
Designed in 1959 by Arne Jacobsen, the Pot chair was created alongside the famous Egg and Swan chairs for the SAS Royal Hotel in Copenhagen (itself designed by Arne Jacobsen). Fritz Hansen is reintroducing the chair, now made with modern materials for improved comfort. The chair can be upholstered in a range of fabrics and leathers with a chrome or dark brown powdercoated steel base.
fritzhansen.com. Distributed in Australia by Cult.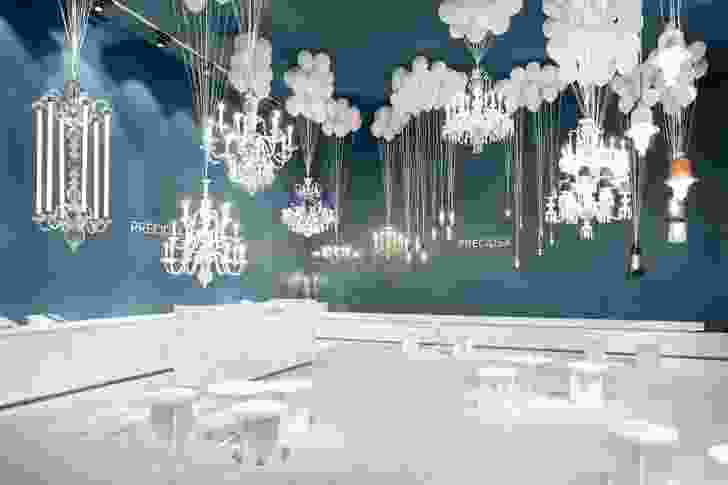 Preciosa Lighting
Since 1724 Preciosa Lighting has been making chandeliers in a small mountainous region of the Czech Republic known as Crystal Valley, the oldest known glassmaking area of Bohemia. But in 2018, it became one of the new exhibitors at Maison&Objet in Paris. Its new collection of chandeliers comprises historic designs, contemporary colours and new interpretations. The company has also launched new pendants designed in collaboration with designers including Geometric by Ekaterina Elizarova. The pendant is made through two types of glass cutting and three surface finishes.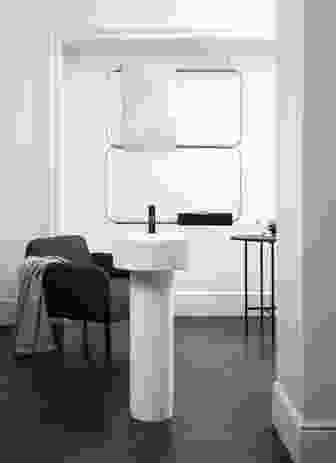 Nudo by Mut Studio for Ex.t
Nudo is a multifunctional wall-mounted or hanging bathroom fixture designed by Spanish duo Alberto Sànchez and Eduardo Villalòn of Mut Studio. The light an airy metal structure, in black or brass, can be used as a dividing panel or towel hanger. It can be combined with accessories such as mirrors, container trays and leather pockets to form a shelving system or vanity mirror. Nudo is Mut Studio's first collaboration with Ex.t.
Related topics