Bolonia collection from Isimar
Inspired by Bolonia, a unique virgin beach in southern Spain, this collection includes outdoor furniture that would be perfectly placed in a beachside restaurant or hotel. The organic and smooth lines of the Bolonia collection imitate the waves that the sand creates at the Bolonia dune, a natural monument since 2001. As a result of the nature-inspired design, the Bolonia collection is elegant and very comfortable, perfect for relaxing in both outdoor and indoor spaces.
See more at the Isimar website.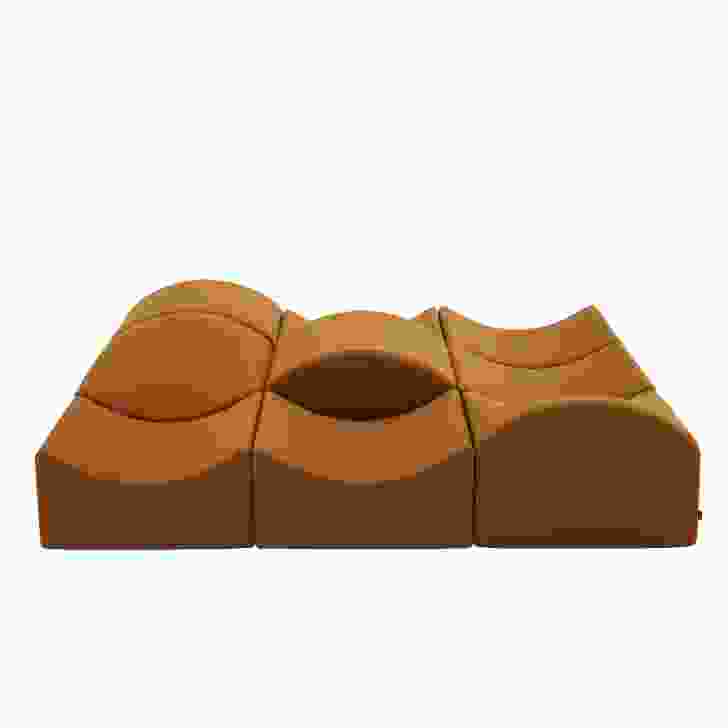 Asmara sofa by Ligne Roset
Asmara, designed by Bernard Govin, is a modular sofa characterized by wavy, almost-retro concave shapes that voluptuously embrace the human form. Broken into several elements, Asmara can be constantly rearranged. The seat consists of five separate modules: convex, concave, small backrest, large backrest and semicircular table. The most common composition consists of two convex elements, six concave elements, three small folders and one large folder.
See more at the Ligne Roset website. Ligne Roset is available in Australia through Domo.
Aura outdoor armchair by Jardin Desire
Designed by Célia De La Fontaine, this timeless, simple chair is perfect for an outdoor terrace or deck. Available in a sunny orange colour, the chair features armrests and a high back for user comfort. French brand Jardin Design specialise in highly crafted indoor and outdoor furniture with simple design.
See more at the Jardin Design website.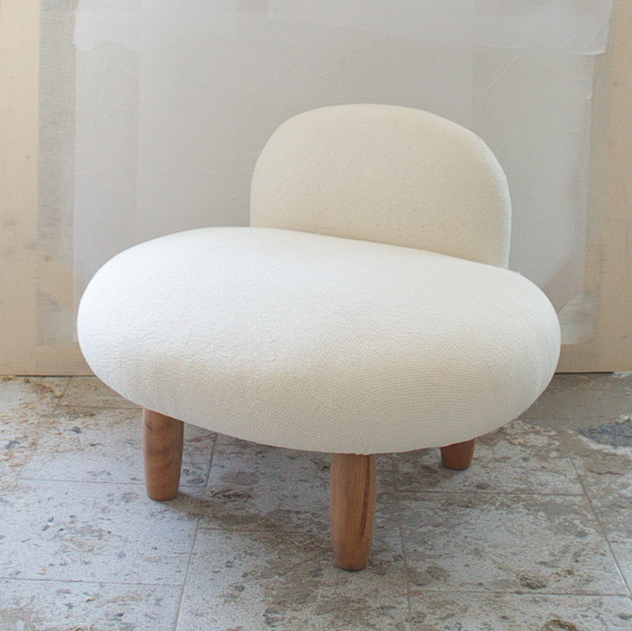 Galet low chair by Tinja
Handmade in Tunisia, the Galet low chair appears like a soft and inviting cloud to sit upon. Its sturdy woodturned timber legs contrast against the seat's soft white upholstery, making the Galet low chair a memorable furniture piece. The brand Tinja is inspired by the Tunisian landscape and releases small collections of furniture made by hand. Each piece represents typical skills of certain regions of Tunisia, from pottery, basketry, weaving and woodturning.
See more at the Tinja website.
Blok shelves by Darkroom
These freestanding shelving units are both sculptural and functional and available in a series of different heights and uses. Handbuilt in the UK from colour-stained ash veneer and available in bespoke colours, the Blok shelves are intended to stand out and be noticed. Darkroom's work is influenced by the Bauhaus, the Post Modernists and ancient tribes of the world.
See more at the Darkroom website.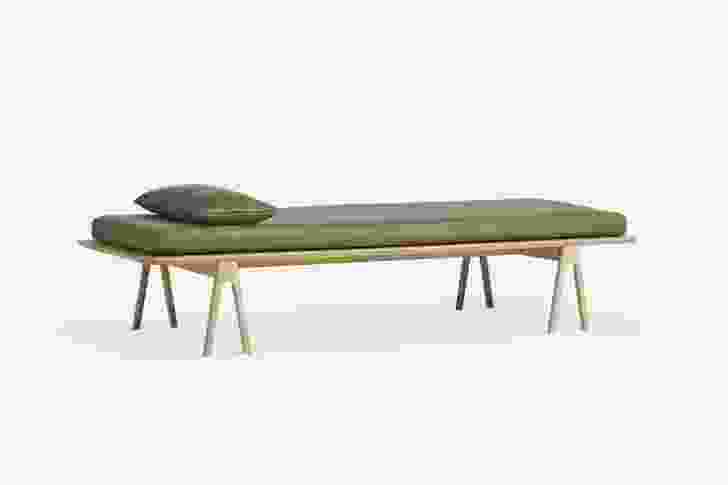 Level daybed from Woud
The Level daybed, designed by MSDS Studio, features a leather mattress in moss green colour. The subdued colour embraces the distinctive shades of nature and adds a delicate lightness to its construction. Level is inspired by sawhorses and their simple arrangement, appearing as a sheet laid across a pair of legs, topped with a mattress. "It is intended to fit into the informal contemporary interior, while communicating stability, comfort and craft," says MSDS Studio.
See more at the Woud website.
S3 coffee table by Atelier Galerie LOB
The S3 coffee table completes Atelier Galerie's Serendipité collection in a spirit of lightness and transparency. Represented in satin black and brass version, the perforated metal coffee table can be customized with a exterior paint to make it suitable for outdoor use. Atelier Galerie is a French design workshop that aims to "express ideas through an object, explore the limits of various materials and create emotion and dialogue with furniture." They're also committed to reducing their carbon footprint – a crucial goal in today's environment.
See more at the Atelier Galerie LOB website.
Junit Lighting from Schneid Studio
The Junit light is a modular pendant lamp that consists of eight different elements. The units are turned from high-quality ash wood and painted in a German workshop, not far from Schneid's studio. The elements of the Junit series come in a natural, clear finish and each in different colors. The bulb complements the colourful form with its oversized, milky glass and users can choose the colour of the lamp's cable. German studio Schneid uses natural materials, striking colours and bold shapes, and uses local manufacturers to create "mindful" and sustainable products.
See more at the Schneid Studio website.
See Cassie's Maison&Objet day one highlights here and her day three highlights here.
Related topics