Milan is this week playing host to one of the most important events in the design world.
The Milan International Furniture Fair sticks out on the calendar as the leading venue for designers from around the world to showcase new products. Now in its 56th year, the fair is the largest of its kind, with this year's edition expected to attract more than 300,000 visitors from 165 nations.
From 4 April visitors have been treated to a kaleidoscope of innovative furniture and lighting design ideas, presented by 2,000 exhibitors. Thousands of new products will be unveiled before the fair finishes on 9 April.
Here are a few standouts: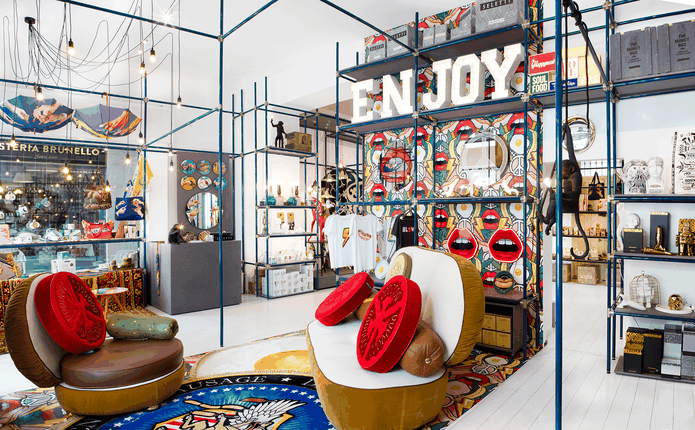 Hotdog and Hamburger by Studio Job for Seletti
From the Amsterdam-based Studio Job, this sofa and a chair collection brings fast food in contact with furniture. The hot dog and hamburger, iconic images of American pop culture, have been transformed into actual furniture, creating "fast food furniture".
The hot dog bun forms the structure of the sofa, while the sausage is a cushion. Likewise, the hamburger resting on its bun becomes a seat, a pickle turns into an armrest and a slice of tomato acts as a backrest.
Studio Job is well known for its irreverent designs, including the Banana Lamp, which has also been reinterpreted as part of this new collection. "We went bananas on fast food furniture," said Job Smeets, one half of Studio Job.
Australian supplier: Space Furniture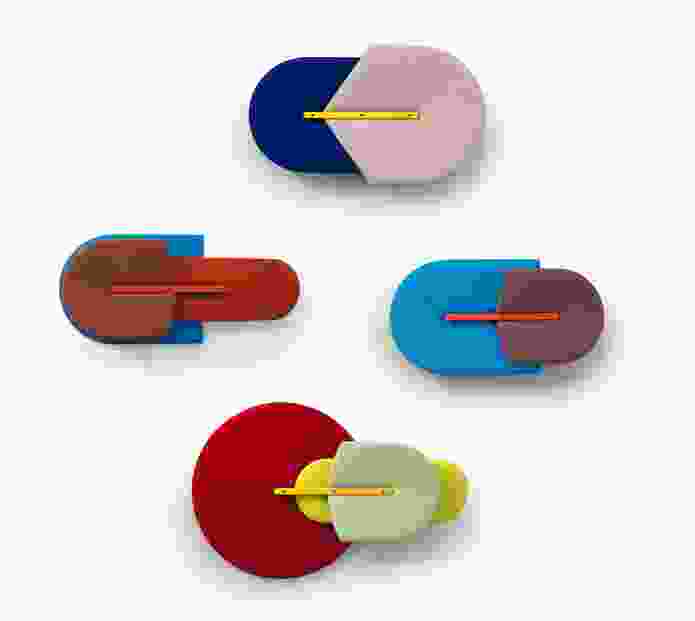 Beetle by Mut Studio for Sancal
Inspired by a visit to the entomology rooms of a natural science museum, Mut Studio designed these sound-absorbing panels to evoke the image of a beetle. But while the museum's insect displays were "terrifying", Mut Studio designed their own beetles to be beautiful and harmless.
By helping to resolve the uncomfortable problem of background noise, this product aims to find the right balance between sound dissipation and decoration.
Sancal have created 12 variants of the product by configuring the six panels of each beetle in different ways. The beetles' stands are made of oak and can be tinted in a range of colours.
Australian supplier: Ke-Zu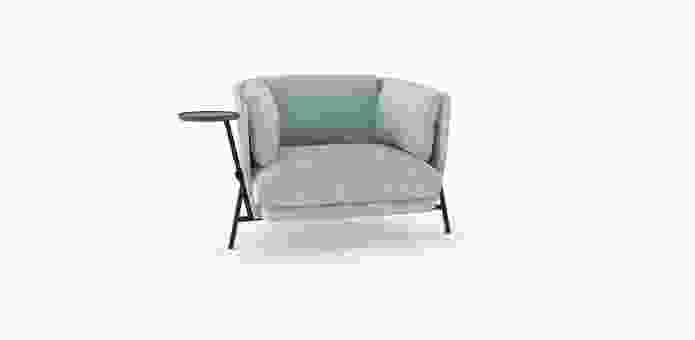 Cradle design by Neri and Hu for Arflex
This Arflex armchair draws from the rich lineage of Italian furniture, known for its bold sculptural shapes, as well as from the modernist sensibility that demands an honest structural expression.
Designed by Neri and Hu the chair features triangular elements that bring attention to the process of construction. Rather than conceal the framework, the elegantly crafted supporting elements themselves become the highlight of the piece.
The cowhide strap that rolls up around the rigid frame is fixed between the steel structures of the feet, creating a cradle and a harmonious relationship between the materials.
Australian supplier: Poliform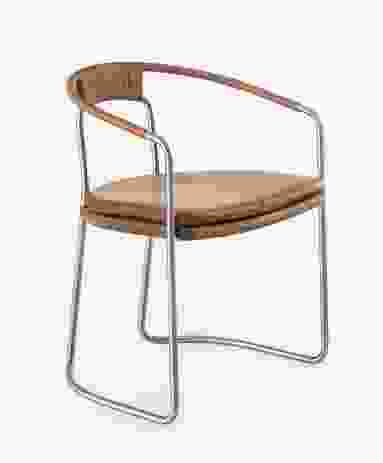 CB-450 Geometric Side Chair from BassamFellows
From Connecticut-based design firm BassamFellows, this chair elegantly combines a variety of materials in a single design.
It features an ergonomically shaped seat carved from solid walnut and a lightweight pellicle of Vienna caning. The nickel- or bronze-plated tubular steel is wrapped with fine-grain leather for a comfortable touch and to conceal all welds, joinery, and seams.
To create the cane seat, BassamFellows collaborated with a small Verona-based workshop specialising in the restoration of antique collectible cane-formed furniture. Woven cane's tensile properties endow the Geometric Side Chair with a responsive support for the sitter.
Australian supplier: Living Edge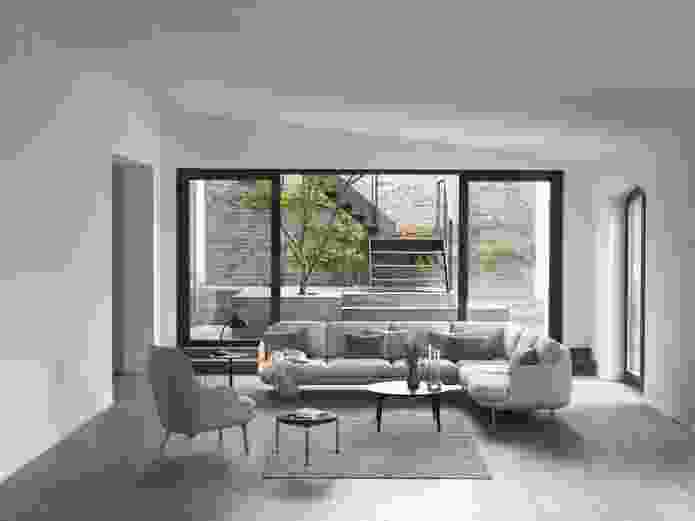 Lune by Jaime Hayon for Republic of Fritz Hansen
Lune is a Danish word referring to a certain coveted, ideal temperature and the feeling that everything is just right. This new modular sofa from Republic of Fritz Hansen is designed to make the user feel that way.
By Spanish artist-designer Jaime Hayon, the sculptural and curvy Lune sofa aims to capture the intersection of clean Nordic aesthetics and southern elegance by pairing playful design with Fritz Hansen's renowned quality.
The functional, modular system offers a range of configuration options, from a straight two-seater to larger L-shapes, along with chaise lounge options.
Australian supplier: Cult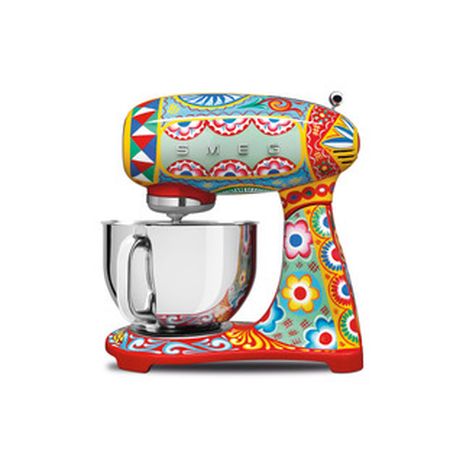 Sicily is my Love, a Smeg and Dolce and Gabbana collaboration
This new collection of small appliances from Smeg showcases the unmistakable style of Dolce and Gabbana and epitomizes the symbols and traditional artworks of Sicily, the home of Domenico Dolce and Stefano Gabbana.
Toasters, coffee machines, kettles, blenders and stand mixers are richly decorated with the fruits and symbols of Sicily – think golden lemons, prickly pears and bright red cherries – framed in triangular "crocchi" motifs.
Tama Living sofa by EOOS for Walter Knoll
The feeling of arrival. Relaxing at home on the sofa after a long day. Enjoying a glass of good wine or a discussion with friends. These are the moments this sofa is designed for.
Designed for Walter Knoll by EOOS, Tama Living features soft, elegant cushions spread out lavishly. The upholstered elements seem to float on delicate solid wood blades.
Side tables featuring the best saddle leather nestle up against the upholstery and a tray made of solid wood and saddle leather offers a place for a glass of wine.
Australian supplier: Living Edge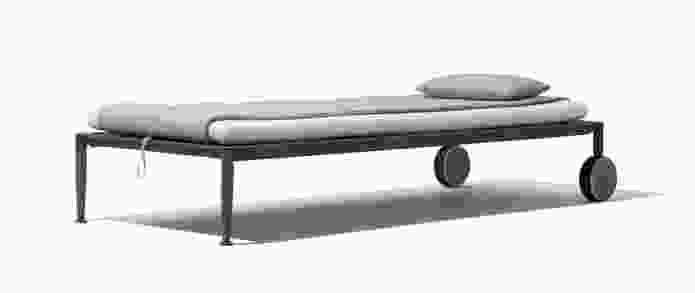 Gea beach lounger by Chi Wing Lo for Giorgetti
This elegant beach lounger, designed by Chinese architect Chi Wing Lo, is part of Giorgetti's first outdoor collection.
The top of the lounger is in birch plywood and Abonos oak veneer, while its frame is protected in stainless steel and painted in carob colour.
Wheels on the head make the lounge easy to move and a manual mechanism enables the adjustment of the lounger to four different incline positions for the backrest and three for the footrest.
Australian supplier: Space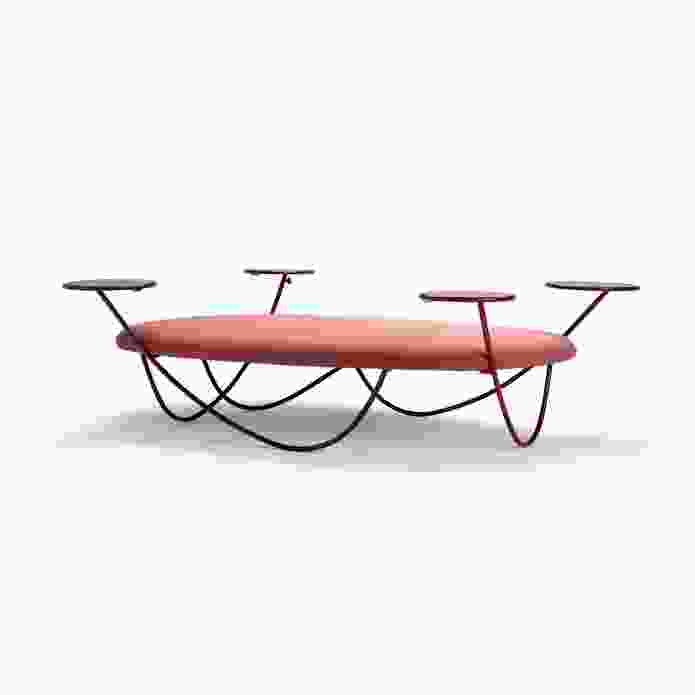 Dune by Front for Offect
This otherworldly looking creation, designed by Swedish design studio Front for Offect, offers a new response to the changing needs of work places and public spaces. Dune has been developed for when the need for informal meetings intersects with the demand for relaxed seating.
Designer Anna Lindgren, one of the members of Front, said Dune could seat up to eight people but retained a sense of lightness. "Dune is so airy it almost appears to levitate," she said.
Dune's legs not only support the asymmetrical seat, they also rise above it to hold four table tops that are all equipped with USB sockets.
Australian supplier: Cult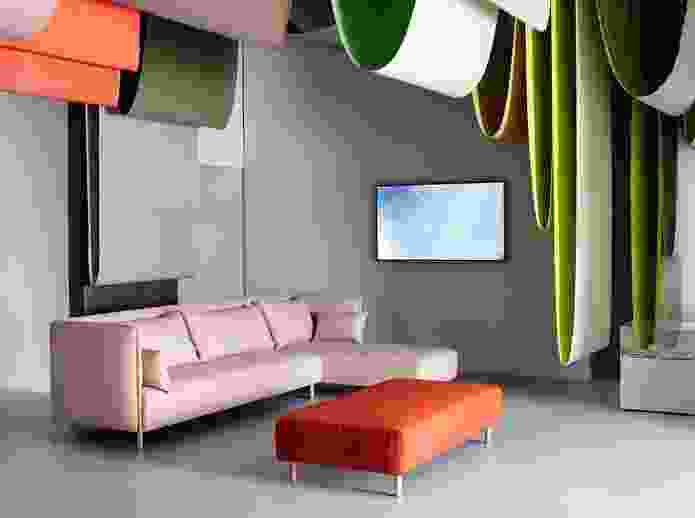 Colour Form Sofa Group by Scholten and Baijings for Herman Miller and Maharam
This new collection from Dutch duo Scholten and Baijings continues the designers' exploration of light, shadow, the geometry of form and colour.
Presented as part of the exhibition "Chromatography: The Colour World of Scholten & Baijings", the Colour Form Sofa Group is made up of multiple lounge seating pieces. It includes two- or three-seat sofas with or without arms, a club chair, ottoman, bench, sectional, and a distinctive tête-à-tête.
"We create options and possibilities because a product is produced and reproduced many times," Scholten said. "We want to give a feeling to each one that it could be unique."
Australian supplier: Living Edge
Related topics