Reminiscent of the traditional Queensland house in both form and materials, the Hill End Eco House presents a modest face to its quiet street of vernacular dwellings. A recycled timber trellis shades a north-facing deck that sits above a garage enclosed with timber battens. The layering of timber screens and shaded thresholds offers an informal openness while providing relief from the northern sun.
An original timber-and-tin worker's cottage once occupied the site, and it was in this cottage that the design for a new sustainable house found its humble beginnings. While the removal of an existing dwelling to make way for a new house may to many seem counterproductive, Conrad Gargett Riddel and Peagram Builders have turned this to their advantage, carefully deconstructing the original Queenslander and reusing 80 percent of its materials in the new building.
In addition to recycling the existing house, many sustainable initiatives have been employed, including active systems such as on-site water treatment and storage, photovoltaic cells and a sophisticated resource monitoring system. These systems complement a passive design approach incorporating generous eaves and operable sunshading, strategically placed openings ensuring natural lighting and maximizing cross-ventilation, and the use of thermal mass to heat or insulate the house.
Materials were chosen for recycled content, low embodied energy, durability and low toxicity, and, wherever possible, were locally sourced and manufactured. The project is clearly an exemplar for how we should be making more sustainable buildings, but it is also a memorable suite of spaces for living, offering both a private refuge and a connection to its river-edge setting.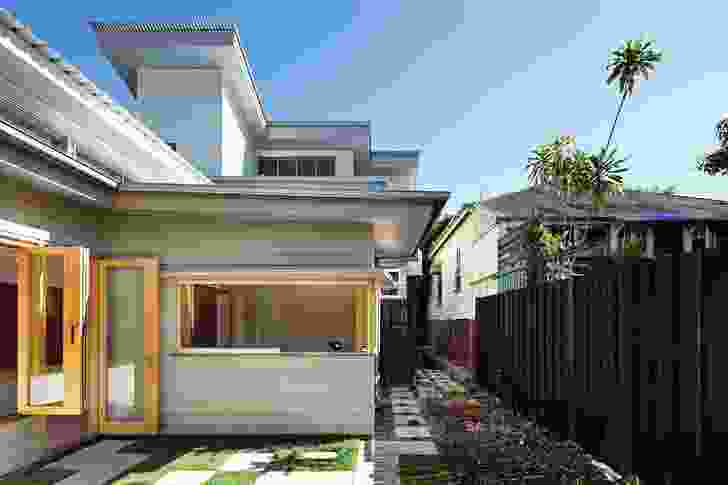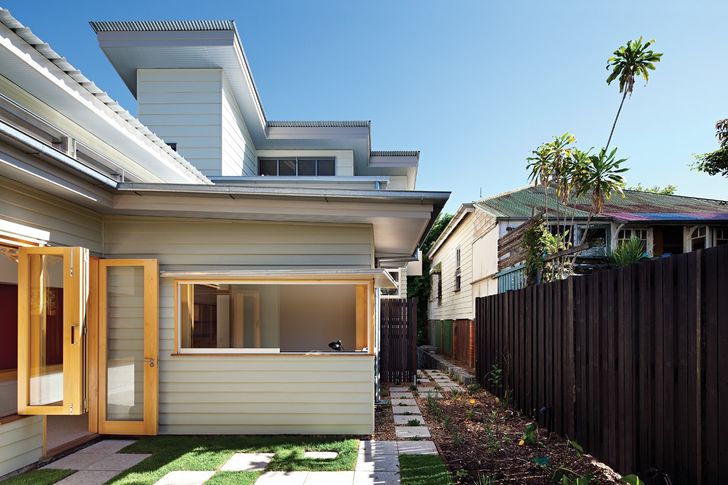 As the shaded entry threshold leads into the house, a contemporary leadlight window composed of recycled glass from the original dwelling illuminates from the west and a timber stair leads up to a linear gallery space. The gallery is a widened hall with a large window opening onto a sunlit courtyard – its low sill creates a place to sit under the shade and protection of a generous eave. This gallery space acts both as a place to sit and enjoy the garden and as the circulation spine for the house. From the gallery, the dwelling's lushly vegetated setting unfolds as the eye is drawn through the open-plan spaces of the house toward the Brisbane River. Allowing light and ventilation into the centre of the forty-metre-deep site, the central courtyard organizes the house into two distinct volumes, one to the north addressing the street, the other to the south addressing the river. At each end of the circulation spine, a solar chimney captures daylight and draws warm air out of the house through high-level openings.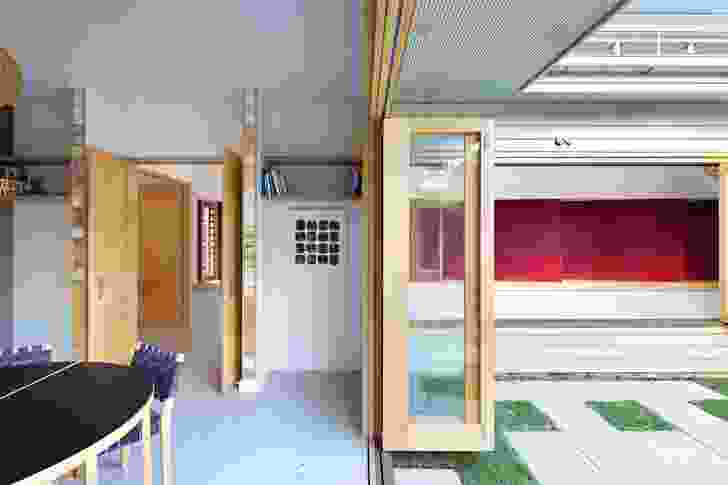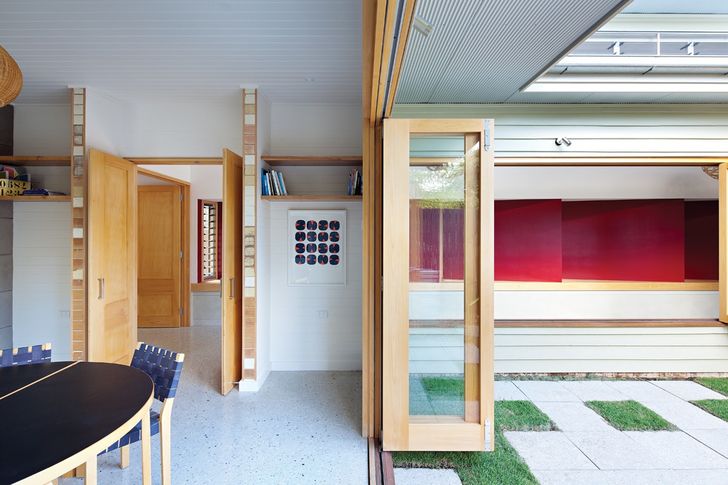 The north and south volumes work independently to create several zones for sleeping, living and working, endowing the house with the flexibility to accommodate a nuclear family, several generations of one family or even a home business. At the northern end of the site, two bedrooms on the upper floor can feel secluded or connect through views to communal spaces via operable timber louvres. The main floor of the southern volume holds interchangeable living and dining spaces. This affords the occupant further flexibility to define the use of each space according to seasonal change. The living/dining space, open to the central courtyard, employs a concrete slab floor and an external reverse-brick-veneer wall to offer a warm, sun-filled living room in winter and a cool dining room insulated from the sun in summer.
From the circulation spine, an open timber stair provides access between the three floors of the southern volume. A rafter from the original house is reused as a handrail and a carefully composed screen of reclaimed timber battens forms a balustrade. This stair leads up to another bedroom, which enjoys a view out to the river and overlooks the double-height river terrace below. The stair also leads down to a pair of subterranean rooms providing a cool retreat from hot, humid Queensland summers. A small rainwater-filled plunge pool and less formal terrace are situated at the southern edge of the house, where the site falls away to the river and the vegetation takes over.
The street facade gives few clues of its impressive sustainable credentials, or indeed, the experience of space throughout the house. While the occupants will no doubt be aware of their home's sustainable virtues, its primary identity is that of an old Queenslander, respectfully reincarnated as a suite of light, open, flexible spaces in a lush riparian setting.
Products and materials
Roofing

Recycled timber roof frame; Custom Orb steel sheeting; recycled polyester bulk insulation.
External walls

Recycled hardwood stud frames and weatherboards; fibre cement sheeting.
Internal walls

Reverse brick veneer, natural limewash finish; USG Powerscape lining boards, no-VOC paint finish; recycled VJ tongue-and-groove boards.
Windows

Finlaysons plantation Qld hoop pine joinery, low-e glass; Qld hardwood window sills; water-based, low-VOC finish.
Doors

Finlaysons plantation Qld hoop pine joinery with low-VOC clear finish.
Flooring

Recycled hardwood framing; tongue-and-groove blackbutt flooring; concrete mixed from recycled fly ash and reactive magnesium.
Lighting

T5 fluorescent; compact fluorescent; LEDs.
Heating/cooling

High-efficiency PV panels linked to main grid; solar hot water; natural convection; thermal mass of concrete floors; ceiling fans; operable sunshading; gas heating to supplement passive heating; Ecovision monitoring.
External elements

Rainwater tanks; greywater treatment plant.
Kitchen internal walls

Bauwerk Uber blockwork core-filled with eco-concrete, rendered in natural limewash; Powerscape sheet linings; Rockcote Ecostyle paint.
Kitchen flooring

Blackbutt tongue-and-groove flooring finished in satin 'Bona Traffic'.
Kitchen joinery

CaesarStone benchtops; plantation hoop pine ply cabinetry; Classic Ceramics Crystal Mosaics splashbacks in 'Olive' and 'Bamboo'; spotted gum custom handles; Blum Tandembox drawers; Blum Cam-Adjustable door hinges; hinged door with Blum Tandembox and Blumotion pantry unit.
Kitchen lighting

Warm white T5 light; Ceelux D08 ceiling lights.
Kitchen sinks & tapware

Brodware sink mixer; Oliveri sink; Rainman Biopure water filter tap.
Kitchen appliances

St George oven; Highland six-burner stovetop; Blanco dishwasher; fridge by owner; Qasair President rangehood.
Kitchen doors & windows

Finlaysons Envirowood doors, Intergrain Ultraclear Interior clear finish; Madinoz sliding door flush pulls; Centor sliding door hardware; KR Lucas Blue Spec lever hardware; Finlaysons Envirowood hoop pine windows.
Kitchen furniture

Harry Bertoia chrome wire chair.
Kitchen other

Hunter Pacific Typhoon ceiling fan; Reece Plumbing rainwater tanks; Brad Walker Agencies pre-filter for tanks; White International water pumps; Stand Alone Power Supplies photovoltaic panels and solar inverter.
Bathroom internal walls & ceiling

Core-filled fully tiled blockwork with eco-concrete (in lower bathroom); Villaboard and Powerscape sheet linings; Classic Ceramics Santosa wall tiles; Classic Ceramics Crystal Mosaic feature wall tiles in 'Olive' and 'Bamboo'; Rockcote Ecostyle paint.
Bathroom flooring

Hanson Terracrete 'Icelandia' with Tec-Eco reactive magnesium additive (in lower bathroom); 100 percent recycled hardwood framing, tiled in Flor Gres Ecotech in Ecolight (in main bathrooms – 70 percent recycled content).
Bathroom joinery

CaesarStone 6600 Nougat benchtops; plantation hoop pine ply cabinetry; wall tile splashbacks; Blum Metabox drawers; Blum Cam-Adjustable door hinges.
Bathroom lighting

T5 lamps in mirrored cabinets; LAD Group model 110 ceiling lights; Liberty wall light (in lower bathroom); Ism Objects Robo pendant lights.
Bathroom tapware & fittings

RAM Park basin mixer (in lower bathroom); Brodware Program Stik basin mixers (in main bathroom and ensuite); Brodware City Stik shower (in lower bathroom); Scala hand shower and rail; Scala extended hob bath mixer (in ensuite); Brodware shower tapware (in ensuite).
Bathroom sanitaryware

Whitestone Hox basin (in lower bathroom); Rogerseller basins (in main bathroom and ensuite); Fowler Newport Icon Iduct toilet (in lower bathroom); Fowler Newport Cube toilet (in main bathroom); Fowler Seido toilet (in ensuite); Stylus Newbury Island bath (in ensuite).
Bathroom accessories

Tecknobili soap dispenser; Madinoz towel rails, toilet roll holders, robe hook; Scala shelves (in lower bathroom).
Credits
Architect

Conrad Gargett Riddel
Brisbane, Qld, Australia
Project Team

David Gole, Emma Scragg, Simon Boundy,
Consultants

Builder Rob Peagram
Door and window frames Finlaysons
Engineer Bligh Tanner
Interiors Riddel Architecture
Joinery C&R Cabinets
Landscape consultant Arno King
Landscaping Deicke Richards
Lighting Light and Design Group, Image Lighting

Site Details

Location Brisbane, Qld, Australia
Building area 320 m2

Project Details

Status Built
Design, documentation 6 months
Construction 24 months
Category Residential
Type New houses

Source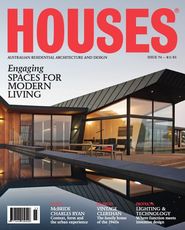 Related topics