All of Australia felt the profound sadness of loss on Black Saturday. And, thanks to an at-times over zealous media, we shared the trauma in high definition and real time. Yet those who were not there cannot know the experience and cannot judge how people responded in the aftermath. We can only accept that many might choose to leave and never return, and wonder at those who say "this is home," who stay and rebuild.
Hillside Habitat was designed to replace a home near Kinglake that was lost to the 2009 fires. It's a testament to this not-knowing that the house is not a sophisticated bunker, as many of us might have imagined a "survivor's" house would be. Instead, this house sits lightly in the landscape and opens up to the hills and trees that burnt so quickly and violently on that terrible day.
Sometime in the afternoon, and only ten minutes after the owners fled with their two beloved Great Danes, the old house was lost. By the end of the day, only three of the forty-three houses on that road remained. And somewhere in between, architect Juliet Moore, whose house was one of the three not to burn, was winched to safety by helicopter. Remarkably, despite having lived only a few hundred metres apart, the architect and her future clients met for the first time in the days after the fire, as residents gathered together and prepared to go back to their homes, or where their homes had been.
Undoubtedly Black Saturday was horrific, but out of this tragedy has come a beautiful architectural project that is worthy of discussion. This house is not about loss or fire or fear, but about a way of life and a love of nature. Its design has drawn on the architect's and clients' shared experience, not of the fire, but of the place.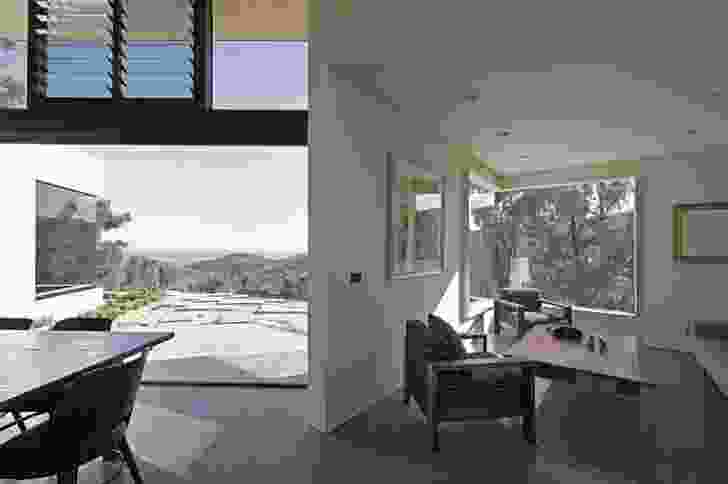 Rooms have been arranged at odd angles. They sit together like a cluster of small buildings, joined by a perimeter wall that is constructed mostly of floor-to-ceiling glass and brought together under a single, floating, flat roof structure. Each room provides a different perspective on the landscape, with large windows and glass walls looking out to the towering gums of Kinglake National Park in the foreground and the Mornington Peninsula coastline in the distant south, hazy on the horizon. The scars from two years ago are still visible – dead trees, blackened trunks, patchy undergrowth – but, as is the wonderful way of the Australian bush, there is already an abundance of new growth.
The location of the original house, nestled just below a ridgeline, might have provided a terrifying perspective on the advancing firestorm. Now it offers a box seat for watching the recovery all around, from the first shaggy green regrowth on the trunks of the eucalypts to the emergence of saplings and the return of animal populations.
The outward views afforded by generous glazing are reciprocated by a wash of natural light throughout the interior. And, although each individual space is clearly delineated from the next, the feeling is very much of an open-plan dwelling. Doors to bedrooms and bathrooms can be closed, of course, but other spaces are more like "zones" than "rooms." A drop in ceiling height marks out the cosy TV room, for example, and the dining room at the heart of the home is really just an interstitial space with a large table and chairs (and, on a clear day, a sixty-kilometre view to Arthur's Seat). When artificial light is needed – this must be rare during daylight hours – illumination can be controlled for each zone, allowing for a multitude of moods and settings. Lights hidden on top of each "room" are directed up onto the hoop-pine-ply-clad ceiling, creating a warm but indirect glow that approximates daylight.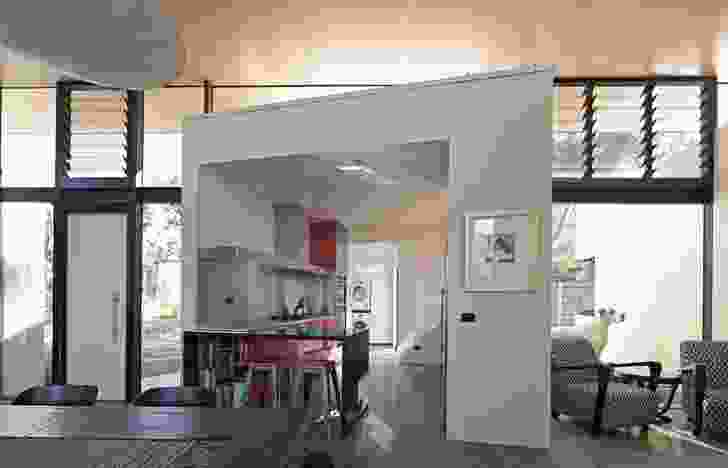 Although fire didn't shape the design in any major way, the building code, with its emphasis on fire risk, did have an impact. In addition to the requirement for toughened laminated glass, some windows had to be raised a minimum of 400 mm above the floor slab. Rather than fight against this, the architects set a datum at this height and furniture was custom-made to match. Happily, the code didn't prevent the inclusion of a full-height window into the dogs' outdoor run, allowing all four members of the family – two human, two canine – to stay close at all times.
Juliet and fellow architect Ben Edwards call their design response "biophilic," which they define as having a "love of life or living systems" and building from "the connections that human beings subconsciously seek with the rest of life." It can be said that the fires of Black Saturday were not of the landscape, but were an external phenomenon – something that happened to the landscape, to the trees, to the animals, just as they happened to the people who lived amongst them – a catastrophic day amongst years of happiness, shared by all living things. Although this house is a product of the former, it is much better described as a celebration of the latter.
Products and materials
Roofing

Bluescope Klip-lok roofing, Colorbond 'Seaspray'.
External and internal walls

Painted Dulux AcraTex and low-sheen acrylic, half-strength 'Handmade Linen'.
Windows and doors

Aluminium-framed windows and doors by Alspec, black powdercoated finish.
Flooring

Diamond-polished concrete.
Lighting

Reggiani Sombra Trimless recessed adjustable downlight; Compass 3505 fixed recessed pinhole fitting.
Kitchen

Siemens microwave oven, pyrolytic oven, warming drawer; Highland gas cooktop; Qasair rangehood; Fisher and Paykel Iridium stainless steel single-drawer dishwasher; Liebherr fridge; Zip filter tap; KWC kitchen mixer; stainless steel brushed finish and slab stone benchtops; white laminate joinery; Coreten steel cladding.
Bathroom

Grandangolo vanity basin (ensuite and bathroom); Zucchetti basin and shower mixers; Caroma overhead rain shower; Kohler overhead showering panel; Grohe Rainshower Eco hand shower; Roca wall-hung WC pan; Grohe Rapid SL low-level frame and cistern.
Credits
Architect

Edwards Moore
Fitzroy, Melbourne, Vic, Australia
Project Team

Ben Edwards, Juliet Moore
Consultants

Builder Greg Scott Constructions
Engineer Meyer Consulting
Lighting Euroluce

Site Details

Location Kinglake West, Vic, Australia
Site type Suburban
Building area 150 m2

Project Details

Status Built
Completion date 2011
Design, documentation 6 months
Construction 9 months
Category Residential
Type New houses

Source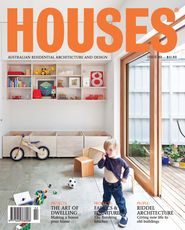 Related topics