The Hobart City Council Planning Committee voted on 10 December to recommend that the council adopt a review of building height standards in central Hobart. The ABC reports that the vote was accompanied by a motion by mayor Anna Reynolds that lowered the highest limits in the scheme from a possible 75 metres to a maximum of 45 metres.
The council commissioned local architect and urban design consultant Leigh Woolley to review Hobart's building height scheme in 2017. The brief tasked him to consider appropriate maximum height limits for central Hobart and Sullivans Cove, to identify important protection planes and view lines for inclusion in local planning schemes, and to "define the urban context of central Hobart."
The Building Height Standards Review, available here, lays out a highly detailed scheme to to maintain Hobart's natural and urban "amphitheatre" around an intense urban centre.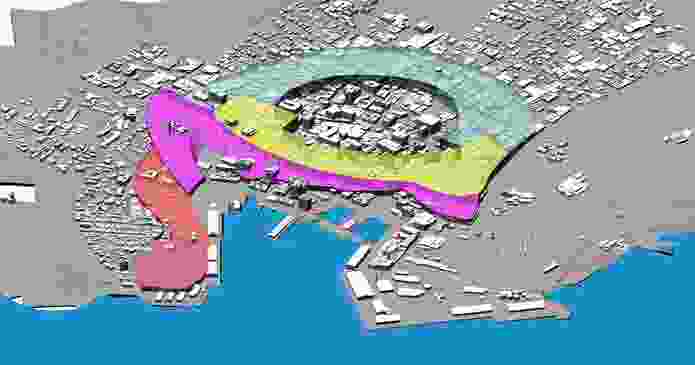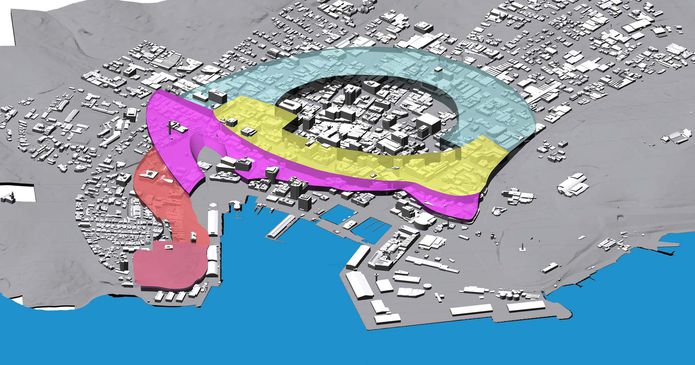 The review recommends splitting central Hobart into several height control planes – the "cove floor," an "escarpment zone," a "cove face zone," a "inner hills zone" and the Battery Point edge. The cove floor would retain existing height limits – nominally 12 metres to 18 metres. The escarpment zone would rise from a maximum of 18 metres on the Sullivans Cove side to 30 metres. Rising above this area to a maximum of 45 metres would be the "cove face" zone. The "inner hills" zone would rise from 18 metres to 45 metres. The limits are not inclusive of each site's natural rise.
The review also includes built form controls for the city's inner core. It does not suggest imposing a flat height limit over the area, but rather a more sophisticated regime of building envelopes determined by amenity, townscape and heritage permissions, as well as protected viewing cones. It says that "certain blocks can conceptually accommodate development above the current amenity building envelope (45 metres). This potential is, however, progressively limited above 65 metres." Council planners noted in their report on the review that building heights of 75 metres would have been possible in some locations without intersecting with primary view cones.
The review was published in September for public comment. Of the responses received by the council, 86 percent were in favour of absolute height limits in Hobart's planning schemes.
In its report on the review and the submissions made on it by the public, the council's planners recommended a 60-metre height limit over the inner core. The ABC reports that mayor Anna Reynolds successfully made a motion at the planning committee meeting on 10 December that this be lowered to 45 metres.
The full council will vote on the planning committee's recommendations on 17 December.