There is an art to seeing architecture – by "seeing" I mean perceiving and unpicking the layers of meaning and intention that accumulate around a work of architecture, as distinct from a mere building. I was reminded of this, and of the reviewer's role in exposing those hidden layers, during a recent visit to the Holiday House by BKK Architects.
Some buildings make it easy to dig deep, projecting their "architecturality" (you won't find that word in the dictionary, but you know what I mean) loudly and from a great distance. Other works of architecture sneak up on you and try to pass under your radar, while quietly going about the business of serving their occupants' needs. The Holiday House is of the latter persuasion and I think this betrays an evolution and new maturity in the product of this accomplished design studio.
Many previous houses by BKK Architects have been shaped around a repeated diagram, the choreography of a linear sequence of arrival, entry and sudden spatial revelation. These earlier houses would channel you from arrival into a fixed entry point, which would be a moment of compression, and then lead you into the "bam" – the abrupt point where the house would suddenly "explode" around you, to use practice director Julian Kosloff's colourful imagery. Julian and the team at BKK Architects have built entire houses around that singular diagram, and while its vestiges remain at the Holiday House, something more multifaceted is going on here.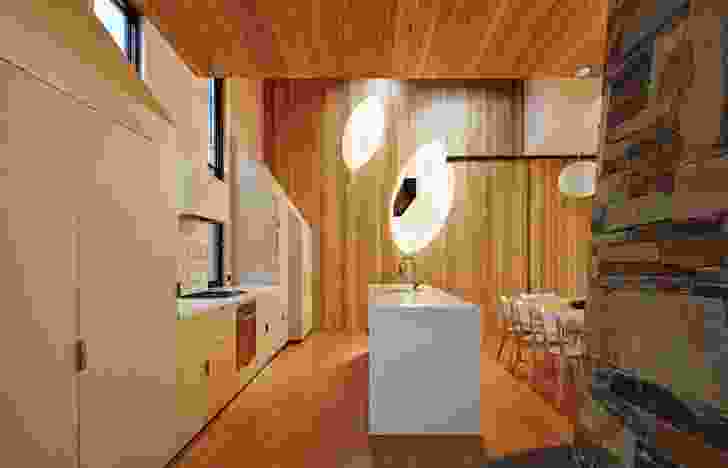 The entry is signified by the generous carport, which is connected to the house by a continuous roof with two circular cut-outs that draw the eye to the front door. Moving through this pinch point does indeed lead to a point of revealing, spilling you out into the living room, which is dominated by a large stone fireplace. However, the house doesn't reveal itself entirely from this vantage point, and there is much more to discover as you move in and around it.
The room you first land in is just one of four "centres of gravity" in the plan, the other three being the kitchen/dining area, the north-facing outdoor terrace and the rear family room that leads to the backyard (the bedrooms were conceived as secondary, utilitarian spaces). These important focal points are arranged as "pauses" on a rambling, nonlinear journey through and around the house. Considering them in plan, they would appear like a constellation, formed of moments of potential occupation.
By stamping this pattern on the sinuous plan, the designers show that they have considered the house from many different angles – the formal arrival sequence is just one of them. While earlier houses by BKK Architects may have existed as the embodiment of that one central narrative, this is a house of many narratives, presenting different faces to different angles of approach.
Central to the designer's conception of the house has been a deep understanding of the differences between north and south, and indeed this is a house with a distinct recto and verso. Views within the house are layered, with a view through one room revealing a view into another, and yet another room or the landscape beyond that. The views out to the north are different from the views out to the south, and externally the two faces of the house have different characters. The exterior is clad in radial-sawn boards, finished to present two faces: a simple coat of oil on one and a stain on the other, giving the facades two distinct characters
that will evolve differently as the building ages.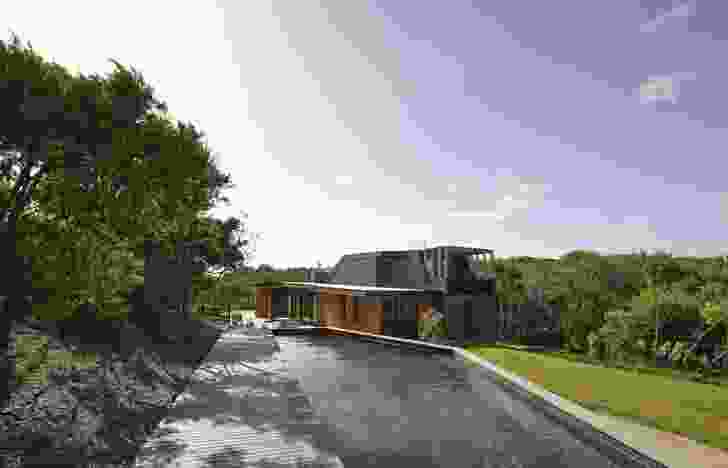 The stories of the north and the south are also borne by the landscape, designed by Eckersley Garden Architecture. The emphasis on "garden" in the studio's name, as distinct from the more dispassionate "landscape," is telling: the Holiday House is surrounded by spaces and plantings that are arranged into a garden, and not just a landscape. As with the interior, the garden is characterized by multiple paths, allowing multiple vantage points of, and approaches to, the house. On the south, one of several paths takes the visitor through a remnant tea-tree grove, a nod to the site's past.
The Holiday House punches above its weight. When visited, it feels far more expansive and quite a lot bigger than its modest dimensions and drawings would suggest. Time spent wandering around the property also serves to emphasize the layered complexity of what at first appears to be a relatively simple work of architecture in a pleasant garden setting. As the evolution of a thriving design studio's body of work, it represents an important step, and it will be interesting to see where BKK Architects goes from here.
Products and materials
Roofing

Stramit Monoclad in Colorbond Ultra 'Night Sky'.
External walls

Shiplapped silvertop ash from Radial Timber Sales.
Internal walls

Plasterboard in Dulux 'Vivid White'; shiplapped silvertop ash lining.
Windows

Capral 425, 625 and 900 Series black anodized frames.
Flooring

Blackbutt tongue-and-groove flooring from Tait Timber with Osmo Polyx Oil Raw matt finish.
Lighting

Flos Glo-Ball pendant light and Compass Box suspension light, both from Euroluce; Dark at Night 12-25 black glossy ceiling lights.
Kitchen

Fisher and Paykel fridge; Smeg oven and cooktop; Qasair rangehood.
Bathroom

Reece, Rogerseller and Bette fittings; wall tiles from Academy Tiles; wall and floor tiles from Artedomus.
Heating / cooling

Hydronic heating.
Other

Castlemaine slate fireplace.
Credits
Architect

BKK Architects
Melbourne, Vic, Australia
Project Team

Julian Kosloff, Simon Knott, Tim Black, George Huon, Jane Caught, Stephanie Bullock, Madeleine Beech, David Sacher, Julian Faelli, Phil Moloughney, Simon Linardi
Consultants

Builder Layton Builders
Building surveyor Group II Building Surveyors
Land surveyor Marcus Kalkman and Associates
Landscaping Eckersley Garden Architecture
Quantity surveyor Cost Planning and Economics
Services engineer BRT Consulting
Structural engineer Irwinconsult

Site Details

Site area 370 m2
Building area 240 m2

Project Details

Status Built
Design, documentation 12 months
Construction 12 months
Category Residential
Type New houses

Source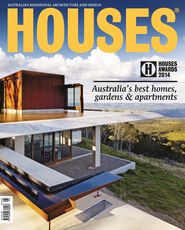 Issue
Houses, August 2014
Related topics