Boutwell Draper is the only commercial gallery in Sydney to support architectural exhibitions, holding one at the beginning of each year. The 2011 exhibition looked at the concept of "home." Nineteen of Boutwell Draper's artists as well as nineteen practising architects were asked to contribute to the exhibition, called Home: Real And Ideal. While the artists' works come largely from the imagination or from an abstract idea of home, the architects tended to be more literal. They were invited to contribute two A1-sized works, one being the "real home" (finished or unfinished) and one being the "ideal home." Many did just that and presented two images of projects, one completed and one still in the drawing phase.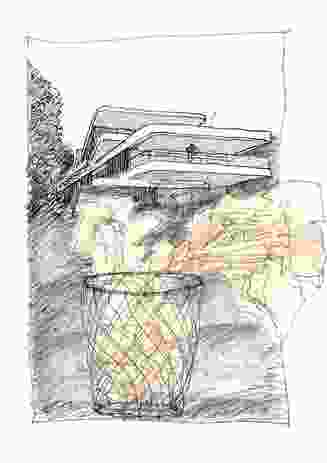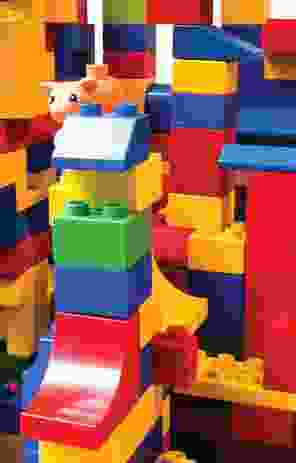 However, some were more imaginative, like Luigi Rosselli, whose ideal home consisted of a sculpture protruding from the wall and taking the shape of a metal waste basket filled with beautiful sketches of unrealized houses. DRAW's contribution also involved lateral thinking, its real house being an image of the architects in their home, and its ideal house being a child's construction made with Lego. "In 'Momentary Home' we tap into the unconstrained mind of a child as fertile territory for exploring notions of the ideal," they explain. LAVA, on the other hand, took the whole concept of home and turned it on its head. As well as presenting an ideal home – called "Home of the Future," an artificial sky dome where nature and technology combine on the rooftop of a new shopping mall in Beijing – LAVA also presented a work called "Hotel of the Future," the implication being that for some, a hotel can be a home.
Guest curator Piero Chiefa comments: "The exhibition is about the idea of home as an ideal place. This is not about houses, this is about home – that sense of belonging. We all have a concept of home that is very personal. For some people home is a house, connected to a particular place. For other people it is the colour of the sky. It's to do with how nomadic or how settled you are in your life."
Artist David Ralph also challenged the idea of home as a fixed building – his painting of a campervan, with satellite dish on top, provides an idea of the travelling home. "A campervan can be an ideal home from a nomadic point of view and it's a vision that really reflects Australia," says Chiefa. "It's got a satellite dish and it can go everywhere." Meanwhile, Ingo Kleinert's work in iron and aluminium, rusted and presented on a flat canvas, literally turns the materials of construction into an art piece. Richard Woldendorp's amazing aerial photography, the chosen work capturing Fletchers Lake (north-west of Mildura, on the New South Wales side of the border) presents home as a landscape, a particular Australian vision that can mean home.
Given Australia's obsession with property, this exhibition appeals to the broader community, not only architects, and that is its true strength. The idea of home is extremely personal and is universally relevant. And from the architectural community's point of view, the commitment of co-curators and gallery owners James Draper and Susan Boutwell to exhibiting architecture is laudable.
Source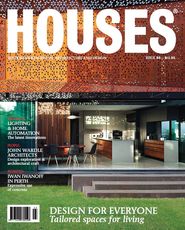 Related topics