Hopes Powerhouse Museum Ultimo could stay
The NSW government's contentious plan to relocate the Powerhouse Museum from Ultimo near Sydney's CBD to Parramatta in Western Sydney could result in the museum's collections being shared between the two sites.
In April, the NSW government said the relocation plans "could include keeping some Powerhouse presence at the current site in Ultimo."
The government also said it was "committed to building a truly iconic museum on the Parramatta Riverbank site," which was selected as its preferred site in April 2016.
In February 2015, the NSW government announced plans to sell the current site of the Powerhouse Museum in Ultimo, part of the Museum of Applied Arts and Sciences, for an estimated $200 million, which would be used to fund the construction of a new museum in western Sydney.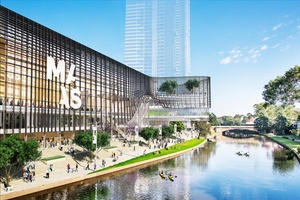 The announcement attracted a swathe of criticism. An open letter urging the government to reconsider waa signed by 178 prominent public figures, including architect Penelope Seidler, former premier Bob Carr and former director of the Art Gallery of New South Wales Edmund Capon.
"Nowhere else in the world are governments moving major museums away from the heart of their cities," the letter reads.
Architect and now City of Sydney councillor Philip Thalis wrote, "It is commendable that the government is proposing major cultural institutions in western Sydney, particularly in centres like Parramatta.
But to sell the Ultimo Powerhouse is wrong-headed – a mishmash of wedge politics and bad policy."
He also pondered, "Couldn't the museum be in both Parramatta and Ultimo? The Museum of Applied Arts and Sciences collection has well over 500,000 objects, with only a fraction on display. Surely there's enough material for an expanded Powerhouse with two genuine bases, each with its particular focus. After all, many such major institutions around the world occupy multiple sites in inventive ways."
The Legislative Council of the NSW parliament began a parliamentary inquiry into the proposed relocation in June 2016. The inquiry heard the cost of constructing a new museum facility in Parramatta could be between $600 million and $800 million.
The government will soon begin a process of community consultation on a detailed business case for the new facility in western Sydney.
Even if the existing Powerhouse Museum does not remain, the current site could be kept as a cultural facility. Arts minister Don Harwin told ABC Radio, "One of the things I've said to the people overseeing the project is, 'Look if you can find a way of using the Ultimo site as some sort of cultural space, and if the state can afford it […] we'll listen to it.'"