Chris and I returned to Australia in 1999 after a stint in the United Kingdom working with various architects. There was also an Olympics about to take place, so we thought it might be a good time to come back to Sydney and see what was going on.
We both found jobs and bought a house in Forest Lodge that was in such a bad state that the real estate manager wouldn't go in – he just stood on the street, told us the door was open and let us go inside. It smelled of nicotine and had what appeared to be bloodstains and satanic writing on the walls. We had grand plans and no money, so we made it liveable and kept working away at our day jobs until we had enough money for a home improvement loan.
Meanwhile, a friend was living in a small single-storey worker's terrace around the corner from ours in Hordern Street, Newtown. He always had plans to do something to his house and eventually he asked us if we'd like to work with him to renovate the place. We always thought our house would be the first project we'd get to work on, but he beat us to the punch and suddenly the moonlight practice Welsh and Major Architects had its first project.
We had no real plan to start up a practice at this stage. We were still in BC (before children) mode and slowly realizing that we were now grown-ups and might have to make some decisions about our future at some stage … but not just yet.
A couple of robberies on Hordern Street helped galvanize our friend into action. Security was obviously high on the agenda, as was the need to use as much of the available site as possible.
As the site was so narrow, building the house out to the street edge was critical. We didn't want to just build a blank wall; we wanted some sort of articulated, breathable wall, which would give something back to the street while providing light, air and security. The house had no north elevation and the original section of terrace was at the eastern end of the site. This meant that light and air had to come from the south, through the street wall, and from the west, which opened to a small courtyard bound by a remnant stone wall from a stable that once sat on the site.
The breakthrough came when our friend, an engineer who worked on much larger projects, mentioned industrial precast concrete panels as an option. Setting up an articulated steel frame, we used what were effectively precast offcuts as the basis for the wall system, broken up proportionally to link the new interventions to the old parts of the house.
While the house was in construction, local graffiti artists Dmote and Snarl turned up and asked about the colour we used on the vent panels and if they could rework their piece on the adjacent wall of the old part of the house. Their new piece finished the street composition perfectly. (Their work has since been painted over, but if you're reading this, guys, we'd love to have you back for an update!)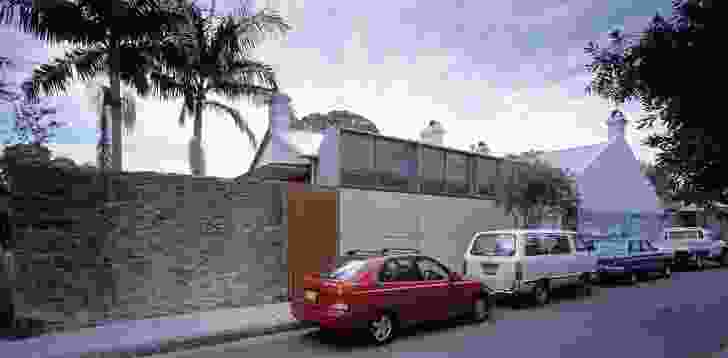 We finished the Hordern Street house and Chris and I kept working our day jobs. In 2003 we entered it in the Australian Institute of Architects awards, where it was visited by the jury (there wasn't a formal shortlist process back then). This in turn got it a feature story in the Sydney Morning Herald's Domain supplement. That story then reappeared in a feature publication called 50 Amazing Sydney Homes , which led to the house being one of twelve projects selected to be part of an exhibition entitled Alts + Adds about this "new" residential typology.
After moving in, our friend called us one day to say that he had found a note in his letterbox from someone who said they loved his house and could he pass their number on to the architect. That note was written by a couple who were cycling past and liked the place so much that they left the note. They became clients and the house we subsequently designed for them ended up winning the first Australian Institute of Architects' New South Wales Chapter Small Project Award in 2007.
The feedback we got from that house was enough to make us realize that we could have a go at starting our own practice. There was enough work to give it a try, so I resigned from my job and set up shop on 15 January 2004. Chris continued working at her paying job for a little longer (by now there was an extra mouth to feed), before there was enough work for both of us. We were off and stumbling.
We went on to design another house for our Hordern Street friend and his partner and we are still working with the pair who cycled by. The success of Hordern Street also led to other friends asking us to work on their homes, which in turn won a few awards and featured in a few print and online publications. One thing led to another and we are still here sixteen years later.
Credits
Architect

Welsh + Major Architects
Sydney, NSW, Australia
Project Team

David Welsh, Chris Major
Consultants

Builder JBC Constructions

Site Details
Project Details

Status Built
Category Residential

Source