The University of Newcastle has unveiled designs of a flagship building for its proposed science, technology, engineering, mathematics and medicine (STEMM) precinct at the Callaghan campus.
The $200 million project will include the main building by Lyons and EJE Architecture, as well as surrounding precinct works.
The large four-storey building will be designed to create a "horizontal icon" with the campus's bushland setting. Its spatial arrangement will merge areas of teaching and learning with research to enable students and researchers to interact freely.
"The building's design enables occupants to be within relative close proximity to one another both physically and visibly," said EJE director Anthony Furniss. "This is vital to the success of the interdisciplinary research and learning in STEMM."
Lyons director Neil Appleton added, "We were interested in designing a building that had everything on show. Rather than research disciplines and teaching being hidden away, we've designed a very transparent, open and accessible environment that encourages students to explore the building, move freely and interact with researchers and academics.
"Its uniqueness is in its flexibility, allowing for the blending of disciplines and barriers between students and staff to be broken down."
The building will include a large circular atrium within a square floorplan and spaces that reach out into the landscape with views to the bushland and Indigenous landmarks.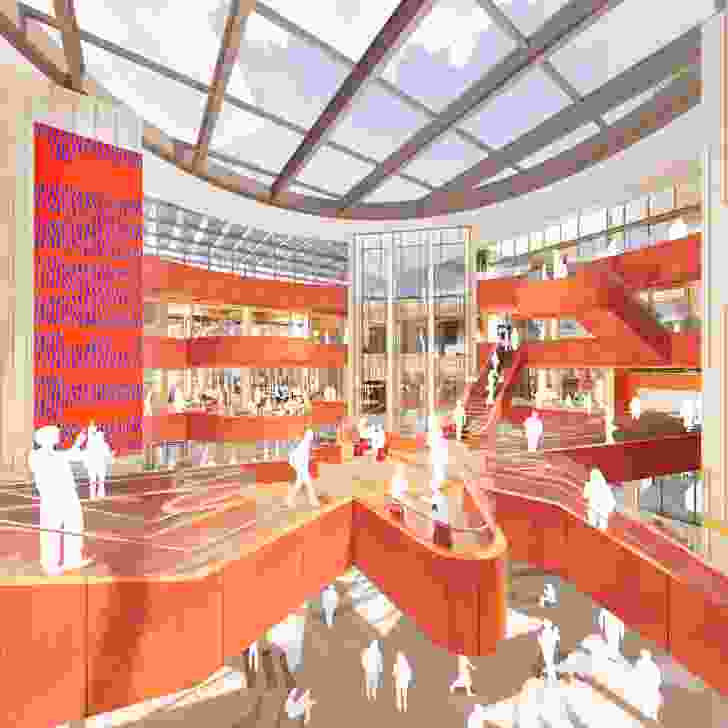 The design will use engineered timber and high performance double glazing in its aims to achieve a six-star Green Building Council of Australia rating.
The university's STEMM precinct will also include additional new buildings redevelopment works.
Vice chancellor Alex Zelinsky said, "Longer term, we have ambitions to accommodate leading STEMM companies within our new campus precinct, and to embed work-integrated learning into every undergraduate degree we offer."
Lyons and EJE were appointed to design the STEMM building in December 2018. The two practices also designed the university's NeW Space building in central Newcastle. "In creating the concept, our vision was broadly similar to when we developed NeW Space," Appleton said. "To create a memorable and much-loved architecture that represents the University's strategic aspirations to the world. In this case, it's about creating a creative locus for STEMM learning, research and development."
The STEMM building is due to open in 2023.
Related topics