The labyrinthine, brick-paved and canal-edged streets of Ghent, Belgium, are lined with architectural gems built as long ago as the twelfth century. Some of the most imposing ones – churches and castles with crow-stepped gables and the odd gargoyle – have been renovated. Others, like the Market Hall, an impressive synthesis of some of the city's architectural vernacular, have been entirely re-interpreted.
With Tijl Descheemaecker and Indra Janda's 137 m² condominium on the northern outskirts of the city, architects Maarten Vanbelle and Dries Vens faced both conundrums. They needed to build around a near-century-old structure and they wanted to reinterpret its style for a more modern and striking configuration.
"The original idea was to build three houses on one plot, but this was challenged by the Department of Urbanism. So we started looking for another roof shape. The plot has a peculiar shape with a kink in it, so we decided to follow that," says Vanbelle. The ensuing project – which resulted in making a house in which the kitchen is a focal point – took four years to complete and is a testament to imaginative, architectural problem solving.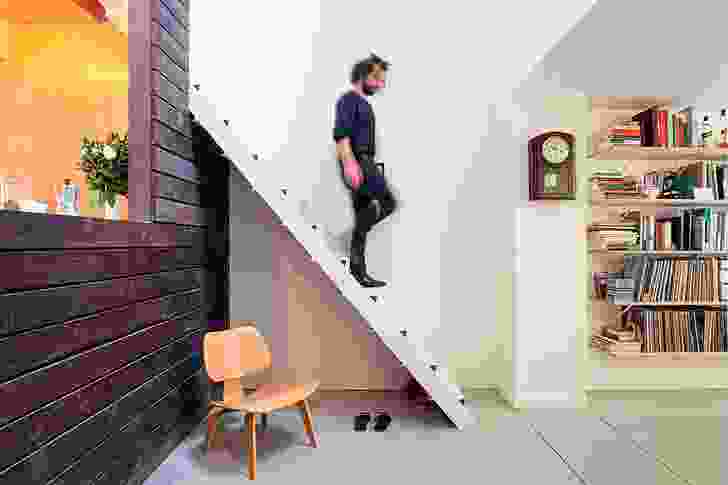 As one walks in from the street, straight into two confined corridors edging what appears to be the back façade of another house, the initial reaction might be one of puzzlement. As Vanbelle says, "nothing suggests any sense of the space which hides behind this façade."
One of the alleyways – flanked by a sliding door that is the entrance to the kitchen – flows into a spacious and well-lit living room with French doors that open onto a small, well-tended garden.
When viewed from the lounge, the structure one has just walked alongside reveals itself as a house within a house: a construction slightly raised from the living-room floor, its façade made of dark wooden planks reminiscent of a cabin in the woods. It supports three levels and in the centre of the structure within a dwelling is a large window: a portal into the core of the house – the 11.4 m² kitchen. "The kitchen is often the heart of a house and we wanted it to be that way," says Vens. It's also an aesthetically interesting and striking design element: a quirk that lends the home the look of a Maurits Escher lithograph. But Vens insists the only inspiration at play was solving a spatial problem in the old structure.
By raising the kitchen 40 cm off the ground, encasing it in this second building and creating several windows and openings into the lounge, the staircases and the other floors above, the architect kept the cooking area well lit while also connected to the outside. Inside the kitchen, the surfaces are kept light and bright, a complete contrast to the dark wooden exterior.
"You're apart from the rest of the house in a different atmosphere but, at the same time, you are connected with the street, living room, upper floors and garden," says Dries. "It acts as both a separating and a binding element."
Source
The World
Published online: 13 Nov 2013
Words: Federico Monsalve
Images: Tim Van De Velde
Related topics