Above Nagoya, Japan, D.I.G Architects and Nawakenji-m have built a small house located on a steep slope. In typically abstruse Japanese fashion, the 2011 dwelling was conceived as a bubble that alights on a pit carved into the land, which then opens out to the sky, fastens to the earth and sets a sail. The architects have taken this concept and turned it into a tiny 89-square-metre house that perches on (or does it snuggle into?) a cliff. A small triangle of land barely big enough for a car separates the house from the road.The external form of the house is a three-dimensional tessellation of metal weatherboards that ignore rectilinear constraints. The result is somewhere between an alien spacecraft that has crash-landed and an enlarged, faceted gem – sharp, angular and striking.
The client simply wanted a life with nature nearby and the beautiful townscape in the distance. The architects' response to the brief was to create a habitat generated by the natural form of the cliff; it digs in and hangs on, precariously, to the land below. The excavation creates a solid floor anchored to the earth with the front of the house lifting up and out to embrace the city below. The architects refer to this excavation as a "dent," and the lifting part of the house as a 'sail'. Intriguingly, this approach allows the house to float and be anchored simultaneously – think hot-air balloon as its basket touches down, or a diver about to spring.
Internally, the geometric games continue. At the lower level, a rectangular kitchen and skewed living area force a bathroom to be wedged into the corner – but in a good way. The sunken bath and the shower in the angular room have narrow views over the city via a glass door onto the external terrace that the bathroom shares with the living areas. Tucked between the kitchen and the solid earth, with a tiny slot window, is Space 1, the sleeping space. Floating above the living area is a broad platform identified as Space 2 for which the architects freely admit, "there's no function assigned for the moment." It is this attitude that is part of the charm of this awkward, exciting and challenging building. It is an exercise in ambiguity: equally solid and light, simple and complex, straightforward and chaotic. This is a house captured in a moment between anchoring and flight.
Source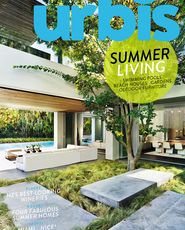 The World
Published online: 30 Jul 2013
Words: Tommy Honey
Images: Sakashita
Issue
Urbis, February 2013
Related topics