At first sight, this structure in France's Massif Central appears to serve no purpose and accomplish nothing of any obvious practicality. The harsh pinewood floor slopes in the same angle as does the extinct volcano underneath it; sleeping, eating – and certainly playing a good game of marbles – would prove nearly impossible, if not fatal. The back wall deconstructs into a spill of planks that shoot back towards the Puy de Serveix mountain with dramatic flair.
There is no door. There is no glass on the only opening. To enter you have to kneel and, once inside, you are exposed to the wind, which can be vicious. The only attempt at comfort is a bench so jagged it would work only for a fakir or a petite contortionist. So what, then, is the point of it?
Italian architect Francesca Bonesio and French photographer Nicolas Guiraud put together the Sloping House within a national park as part of an ongoing series of inhabitable sculptures; micro-spaces entirely conceived for their surroundings.
The pair and two others spent two days in 2012 labouring to build the twenty-square-metre dwelling, which is accessible to anyone tramping in the park. They did so at an altitude of 1500 metres, in incessant rain and light snowfall, and stalked by what Bonesio insists were "menacing wild cows." Under such conditions, they might have aimed for a functional and practical alpine shelter, but the Sloping House doesn't quite work that way.
"Poetry always comes in unexpected ways," says Bonesio from her studio in Paris. Guiraud elaborates: "The idea is to create a view [from inside the shack] that you never would have paid much attention to."
The installation is basically a viewing platform for a slice of horizon preselected for its beauty – and, in that way, this building works irrefutably well. The downhill façade is home to the strategically placed opening. When one is sitting at a certain angle to it, the undulations on many of the opposing hills meet the edges of the planks on its window frame, creating a subtle transition between exterior and interior.
The grassy knolls, snow-covered in winter and dotted by cows year-round, fill between half to two-thirds of the lower frame. It's as if the Sloping House had been built by a pastoral painter to create a view of the world.
Guiraud mentions "narrative potentials" when asked about the motivation behind this blend of architecture and art. One can also read the Sloping House as an exercise in relational aesthetics (the theory behind artist-constructed social experiences) or point to similarities with the human sculptures of Alberto Giacommeti in the way the concept of a shelter is stripped to its basics and the materials become almost as important as that which they are trying to represent. Yet it is Guiraud's fleeting comment about spirituality in nature, and the ability to disconnect and do absolutely nothing while in this makeshift dwelling, that is most enticing.
"Architecture nowadays is almost always 95 percent technique and 5 percent poetry," says Bonesio, whose day job sees her designing commercial projects. "Ninety-nine to one!" interjects Guiraud. But they both agree that, when you build on a small scale, you can "isolate and intensify the poetry part, and that … is the basis of what we aim to do".
Source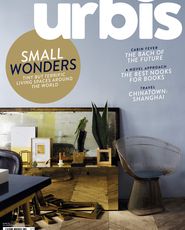 The World
Published online: 26 Sep 2013
Words: Federico Monsalve
Images: Atelier 37.2
Related topics