Architecture and the population of Brisbane have always seemed to me something of a mismatched couple. Pockets of society may talk and breathe design, and architecturally merited structures do indeed dot the suburbs and influence the city skyline, but an exhibit solely dedicated to architecture was, I thought, a somewhat over-zealous project. When I first saw the large poster advertising Hot Modernism flapping against the side of the State Library, I was sceptical.
A number of visits to Hot Modernism: Building Modern Queensland 1945–75 later and I must confess my ignorance. Not only due to my lack of insight into the plethora of the state's postwar architecture, but also because on each occasion I witnessed great numbers of people of all ages reading, watching, interacting and commenting as they participated in the exhibition.
Curated by Dr Deborah van der Plaat and Dr Janina Gosseye from the University of Queensland's School of Architecture, who worked in collaboration with Kevin Wilson and Gavin Bannerman from the State Library of Queensland, Hot Modernism grew out of an Australian Research Council Linkage Grant. The outcome of this grant is not solely the exhibit, but also a book of similar name due to be published in late 2014, as well as a digital archive that provides a database of buildings and architectural firms of the period.
What I think is clever in this exhibit is the overviewing of architectural history and design that uses these cultural and artistic endeavours to subtly inform contemporary Queensland society. Hot Modernism has been curated as a means of explaining the past, but it also emphasizes the importance of preserving that past: a somewhat salient and extremely topical message in present-day Queensland. Tracing a lineage from the mid-1940s through to the mid-1970s, the exhibit examines a selection of Queensland housing alongside private and public infrastructure, with a sizable percentage of the display dedicated to two of Brisbane's modernist icons: Job and Froud Architects' 1961 Torbreck apartments, and the Jacobi house designed by Hayes and Scott in 1957.
At the literal core of the exhibit is a full-scale model of the Jacobi house, providing an interactive means of understanding modernism. Yet this aspect of the experience feels of secondary importance when compared to the drawings and models that line the walls and sit under glass in various cabinets. A remarkable feature of the exhibit is the abundance of original material on display – an intentional decision that went some way to determining which buildings were to be chosen as representative of Queensland's modernist architecture.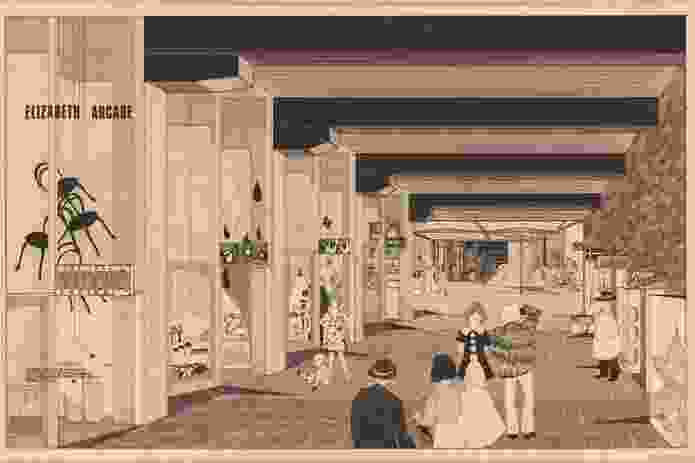 The inclusion of these prized materials results in an experience that blends the inspiration afforded by a museum with the interactive mechanisms of a learning centre, and this experience is then situated within the reserved and quiet confines of the State Library. And somehow, these three differing influences inform and inspire – adding, I suspect, to the event's popularity.
Similarly, the employment of these curatorial devices provides a greater means of exploring and understanding the state's mid-century subtropical architecture. A clever curatorial strategy was no doubt essential to building interest in – let alone educating about – Queensland's modernist architecture. The intention of the exhibit, as outlined by Dr Gosseye, was to build community awareness of this design period, an awareness that the curators hope will grow into a general appreciation for the work. This objective explains the subtle social dialogue written into the exhibit.
The exhibition's intention is stated as "an opportunity to reflect on and rethink our present-day cities and their future." Recognizing that the general public may have misunderstood the cultural and historical significance of the architecture of mid-century Queensland, Hot Modernism provides a regional discussion on past mistakes, and in doing so suggests that lessons can be learnt from such mishaps.
Geographically, the choice of architecture in Hot Modernism is not limited to Brisbane: it stretches as far north as Townsville, showcasing buildings such as the Eddie Koiki Mabo Library at James Cook University, stage one of which was designed by James Birrell in 1968. The Gold Coast is also featured through the inclusion of various buildings, most of which have since been demolished. It is here that another theme in the exhibit becomes apparent: more than one or two buildings featured in the exhibit have, in relatively recent years, been demolished.
On inspection of the headings throughout the exhibition – "Urbanism and Infrastructure," "Climate and Regionalism" – it becomes apparent that much of today's debates about the expansion of Queensland's cities and the ever-increasing urbanization of the state have already been the subject of discussion generations earlier. Conclusions drawn by the likes of Karl Langer in his 1944 publication Subtropical Housing, who saw in the promotion of a car culture a threat to public amenity, feel prophetic.
As both a teaching aid and a cultural spokesperson, Hot Modernism acts as a means of engaging with these ongoing debates. The exhibit does greatly aid in the understanding of particular houses and pieces of modernist infrastructure, but its true benefit is the reverence it bestows – both culturally and historically – on a period in Queensland architecture and design that is all too often, in this fiscally-driven climate, being forfeited in favour of superficial and short-term decision making.
Related topics