There is something archetypal in the French bistro. Accurate or otherwise, it typifies the western world's fanciful imaginings of life on the Rive Gauche, becoming a symbol of France's culinary, social and literary traditions. This particular archetype was the starting point for L'Hôtel Gitan in Prahran, the newest offering from acclaimed chef Jacques Reymond, who has been a fixture of Melbourne's food scene for more than thirty years.
The project is something of a family affair – having retired from his eponymous restaurant in 2013, Reymond partnered with three of his four children – Nathalie, Edouard and Antoine – in this new venture. To bring the project to life, the Reymonds commissioned SJB Interiors. It was not the first time they had worked together – the firm had also designed the interiors at Jacques Reymond in Prahran and Arintji in Federation Square.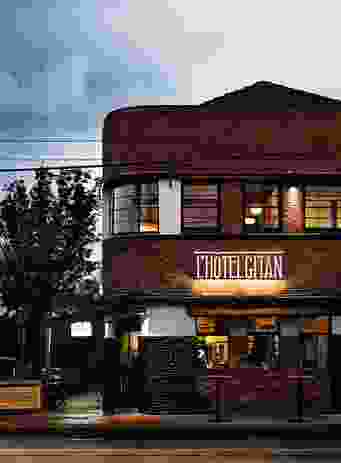 Built in 1939, the art deco building had lived a number of lives before L'Hôtel Gitan, each bringing a new coat of paint. Fortunately, much of its original charm lay dormant underneath. "Through all of these owners, the building had experienced a lot of alteration, transformation, modification – but they had never stripped it back to the bricks," says Leo Terrando, associate at SJB Interiors. "When we started to demolish the interior, we realized that the building was quite different from what we had expected."
The brief called for a warm, welcoming and relaxed French-style bistro. While Reymonds's reputation is built upon fine dining, he sought to create something different here. "They wanted something more popular, something where people could call in for a drink or lunch or a snack. The idea was to create something informal," Terrando says.
At the heart of the brief was an important question: what makes a French bistro? As a native Frenchman, Terrando was well placed to respond. "It's about the finishes – carpet, metal, art deco patterns, French light fittings, bistro chairs, banquettes," he explains.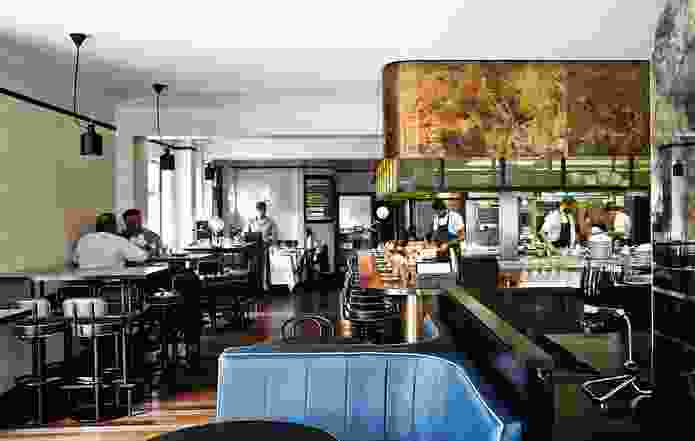 The spatial planning within is carefully executed. The casual bar is located at the front of the space, with a central kitchen and dining room beyond. The zones are united by a consistent aesthetic but subtly differentiated. In the bar, blue upholstered booths and high tables with stools range along the brass-topped counter, in front of a wall of custom cream and black geometric tiles. A mirrored column, its surface seemingly mottled with age, adds texture.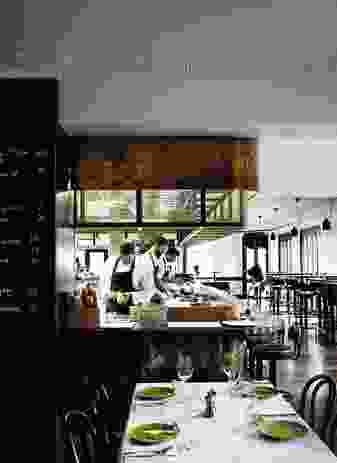 The expansive kitchen at the centre of the space makes clear that this venue prizes substance as much as style. "They wanted an open kitchen, but not just one where you can see people cooking. The idea was that you can sit in front of the chef and he can almost cook on your plate," Terrando says. A timber bench skirts the kitchen, providing some of the best seats in the house. The designers have skilfully balanced the sense of openness and enclosure, wrapping the overhead shelves in shiny brass mesh. SJB's skill with fine details is evident here, too – spaced along the timber counter are small sculptures of the L'Hôtel Gitan typography cast in relief. It is a playful touch.
The dining room combines walls of subtly variegated polished plasterboard with a floral art deco carpet. A display of burnished copper pots and other culinary artefacts graces the rear wall, while porthole windows frame views of the street. The carefully planned lighting scheme is on display here. Delicate wall lights, like miniature crinolines with black seams, adorn the walls, while quirky Amy Winehouse lamps – all glossy black and brass – are dotted here and there.
While these public spaces are thoughtfully resolved, SJB's work really shines in the private spaces at the rear of the dining room. First, there is the jewel-like private booth. Encased in finely detailed stained glass, it was originally the hotel's reception desk, but it had been relegated to a storage space in the previous fitout. "We realized that it was too pretty to be kept as an electrical cupboard," Terrando says. "The stained glass is beautiful – when you've got something like this, you've got to work with it."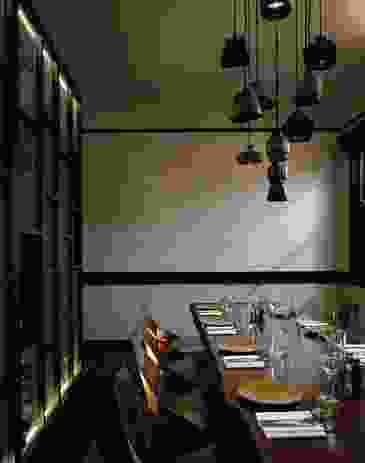 The same deft touch is evident in the Copper Suite, the small private dining room between the dining room proper and the preparation kitchen at the rear. A rattan wine display defines a compact rectangular space that is home to a rough-hewn redwood table. Copper appears on the chairs made from folded steel planes and again in the cascade of almost-mechanical pendant lights above. Geometric-patterned carpet revisits the motif of the tiles behind the bar.
"I'm pleased with how well all the finishes go together. I like the idea that, when you look through a space, you can see the elements that make it up. The finishes are all working together; they're not competing," Terrando says. It's a strategy that works well, resulting in a welcoming space that is infused with the mood and character of the archetype without becoming an ersatz reproduction; rather, an antipodean sibling to the classic French bistro.
Products and materials
Walls

Waterstone Polished Plaster from Bishop Decor. Ceramic tiles in kitchen and bar splashback from Academy Tiles. Ralph Lauren Coco De Mer wallpaper from Radford Furnishings.
Flooring

Recycled ironbark timber floor. Custom-design rug from Rugs Carpet & Design. Marmoleum linoleum from Forbo.
Lighting

Tom Dixon Lustre light system from Dedece. Silo Trio pendant by Zero from Great Dane. Amy table lamp from Sydney Lighthouse. Miconos Tavolo table lamp from Artemide. Collection Cargo Appliques from Boyac. Crystal Bulb table lamp and light from Cafe Culture + Insitu.
Furniture

Copper Real Good Chair from Blu Dot. Pipe bar stool custom-specified from Cafe Culture + Insitu. Custom-made table by SJB Interiors.
Other

Antique mirrors. Brass mesh shelving. Custom-made banquettes with Lustrell in French blue upholstery from Warwick Fabrics. Custom-made banquettes with Brochier in Traditional Gypsy Fabric from South Pacific.
Credits
Design practice

SJB Architects and Interiors Melbourne
Southbank, Melbourne, Vic, Australia
Project Team

Andrew Parr, Leo Terrando, Adam Jensen, Stephanie Siladi, Felix Filbert
Consultants

Builder Leeda Projects
Building surveyor Florencig Smith Building Surveyors
Engineer Perrett Simpson

Site details

Location Melbourne, Vic, Australia
Site type Urban
Category Interiors
Type Restaurants

Project Details

Status Built
Completion date 2014
Design, documentation 3 months
Construction 5 months

Source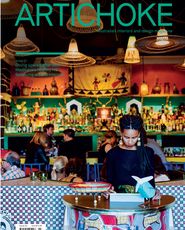 Issue
Artichoke, September 2015
Related topics