Milan has its secret places. Unlike Rome, Florence or Venice, in Milan you need to know where to go and what to look at: gardens are hidden in courtyards, important buildings in narrow streets. Therefore, Palazzo Segreti, or "palace of secrets," is the perfect name for a new hotel located in a nineteenth-century building in Via San Tomaso, close to Piazza Duomo and just a few minutes' walk from the famous La Scala Opera House.
Architects Antonio Brizzi and Babette Riefenstahl, an Italian-German duo based in Milan, are well experienced in furniture and interior design, having previously designed apartments, shops and showrooms. Asked to design a modern, comfortable hotel with an atmosphere that would make guests feel at home, they chose a clean, elegant style. "We worked especially on materials, colours and light," explains Brizzi. The importance of these three elements is evident. Each of the eighteen rooms has every comfort but they differ from one another in shape and size, colours, furnishings and materials, while lighting lends a special touch.
A modern entrance, in oxidized metal, stands out from the neoclassical facade and leads you into a hall with high ceilings. Here, grey concrete walls and an ancient wood floor have been set against dark iron furniture. A huge picture by contemporary artist Vanessa Beecroft covers a long wall. An agreement with the famous Lia Rumma Gallery makes this possible – the art will change over time. A lift or staircase leads you up four floors over eight-hundred square metres. Grey hallways with a soft, dark atmosphere are illuminated by shots of light, an effect created by lighting designer Davide Groppi.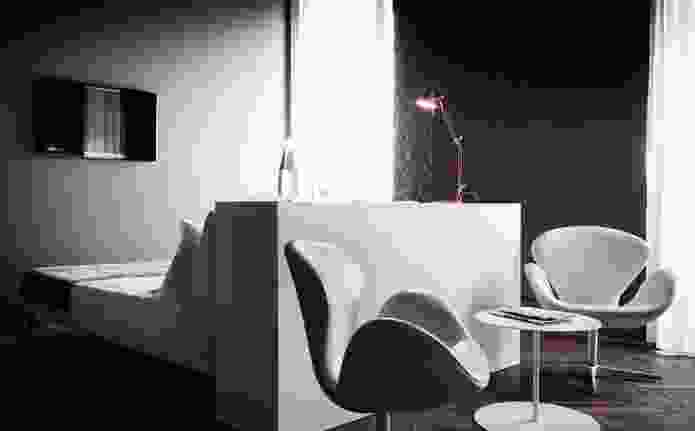 When you reach the rooms, each is a surprise. The ancient wood flooring changes with the colours of walls, concrete, fabrics, furniture. The result? Some of the rooms are bright, some dark, some modern, some classic, or even romantic. The bathtub might be in the bedroom (or the bathroom), the bedroom might flow into the bathroom, or the rooms might be completely separate. Many colourful furniture pieces such as beds and upholstery, tables and chairs by Cappellini and Fritz Hansen give a personal touch and make you feel as if you are in an Italian home furnished with true Italian design pieces.
Experienced in real estate and marketing, owners Roberta and Francesco Tibaldi wanted to create a hotel with a true Italian character. And, with the help of Brizzi and Riefenstahl Studio, they have succeeded, creating an elegant, design-focused establishment.
Palazzo Segreti isn't just the latest hotel in Milan. It is the perfect place to stay whether you are travelling for business or for pleasure.
Source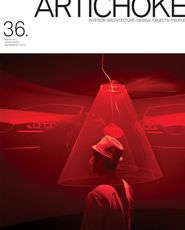 Issue
Artichoke, September 2011
Related topics