GHD Woodhead have designed a 28-storey hotel in central Adelaide, to be built on the site of a heritage-listed bank.
The hotel, to be operated by multinational hospitality company Hyatt and developed by Singaporean property developer Chip Eng Seng, will be constructed at 51 Pirie Street on a site currently occupied by former State Bank of South Australia, which was constructed in 1927.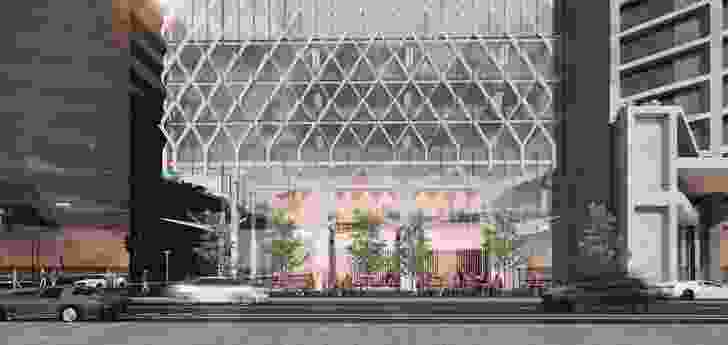 The bank is heritage-listed as part of a broader townscape listing. The South Australian Planning Commission approved the demolition of the building in April, arguing in its assessment that "since the time of its original construction, a number of developments have occurred on the land which have diminished the integrity of its original heritage value."
Alterations to the bank since its initial construction include the removal of all internal finishes and a brutalist concrete extension.
The proposed Hyatt Regency hotel will hold 295 rooms and be built at a cost of approximately $180 million. It will feature 750 square metres of event space, café, club, pool, fitness centre and rooftop bar.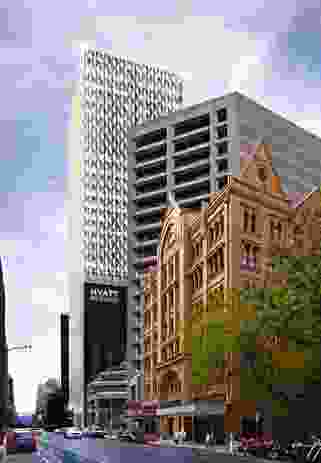 Michael Hegarty, GHD Woodhead's national practice leader, said, "The new 28-storey tower is designed with a veil of external solar shades to protect guests from the occasionally harsh and intense sun that can occur during Adelaide summers.
"Our shading structure still allows winter sunshine to penetrate and provide passive heating in the cooler months."
The City of Adelaide did not agree with the decision to permit the building's demolition.
The SCAP State Commission Assessment Panel report noted that the council iterated "that the Heritage Impact Assessment […] rightly calls for the retention of the Local Heritage Place (Townscape) through Development Plan provisions, and that the demolition of this listed building fabric is therefore not consistent with the clear intent of the Development Plan."
However, the panel concluded, "given the erosion of original heritage value of the building through its alterations over the years, its removal is necessary to facilitate the proposed development."
Related topics