A proposed hotel tower designed by Cox Howlett and Bailey Woodland could become Perth's tallest building, if approved.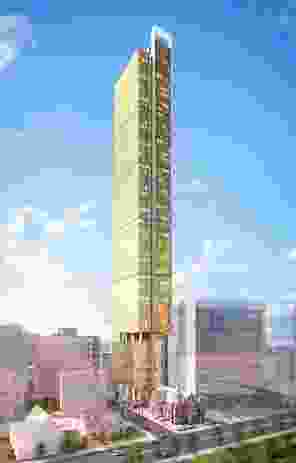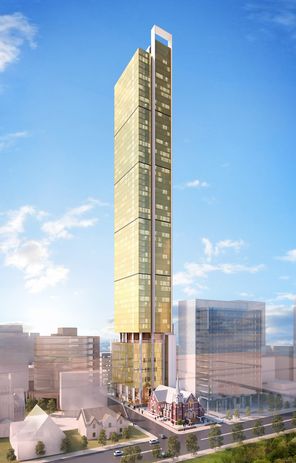 The 62-storey, 249.5-metre hotel will be situated north-east of St Andrews Church on the eastern end of St Georges Terrace. The church will be restored and adapted to include a restaurant for hotel patrons and the public.
The project has been proposed by Singaporean developer Fragrance Group – the same developer behind two proposed towers in Hobart set to be the city's tallest buildings.
The hotel will comprise 60 serviced apartments, 485 hotel suites, a podium including a level of dining services, a level of wellness facilities, retail spaces, a pool and gym and three levels of car parking.
Cox Howlett and Bailey Woodland's design statement said the tower's form "consists of two elements, one being a single wrap feature, encompassing two-thirds of the north-south facade; the other [is] a simple glass box adjacent on the western side."
The upper element of the tower will be narrower than the podium and is "centred on the church's axis – matching its width in a manner of respect. It is also set back from both the west and east boundaries."
The building will feature expressed vertical mullions in an anodized finish and a champagne-coloured facade.
The podium of the tower will be a "box within a box," comprising an outer skin of clear glass and an inner layer of ochre-coloured glass.
"The ochre acknowledges the red brick earth tones of the St Andrews Church without replication […] The translucent outer skin provides a 'soft' contract to the historic church, with the depth of the podium facade muting reflections."
According to a WA Government Development Assessment Panels (DAP) document, the tower will "infringe Perth Airport's prescribed airspace by more than 60 metres, requiring the application to be referred to Airservices Australia, the Civil Aviation Safety Authority and the Department of Infrastructure and Regional Development for assessment and approval."
The maximum height for the is 100 metres. However, Perth's City Planning Scheme allows the Council to award bonus plot ratio for a range of reasons including heritage conservation, public benefit and provision of new residential uses.
Tthe City of Perth Design Advisory Committee supported "the awarding of 20 percent bonus plot ratio for the proposed public space and pedestrian link and conservation of the St Andrews Church, and the awarding of 30 percent bonus plot ratio for the provision of a new special residential use (high quality hotel)."
The City of Perth was expected to make a decision on the outcome of the development application on Thursday afternoon.
Related topics