The motto of the early-twentieth-century suffragette movement – "deeds not words" – aptly describes architect Kate FitzGerald's approach to architecture. She's the founder of Whispering Smith, a staunchly feminist architecture firm that was born out of her childhood experiences of working on a farm, and a stint in Western Australia's mines during a break from her architecture studies.
After graduating, Kate moved to Perth with her partner, landscaper Matthew Johnston, and the couple renovated two apartments for profit before buying this suburban block in Scarborough (with Kate's father as an investment partner). They retained the existing dwelling and developed plans to build two new homes, one of which is now complete. "We did this because we're never in control of what our clients might want," Kate says. "As architects, we can talk about solutions, but we thought it was better to build one. This is what change and a sustainable future could look like: we are all about making architecture more affordable."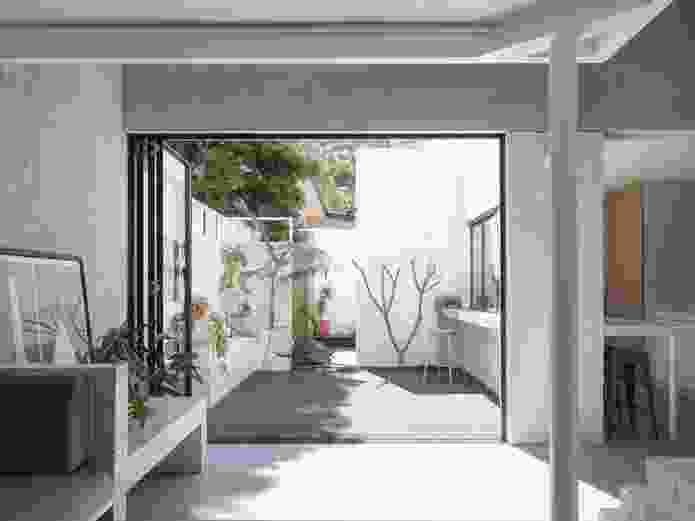 Kate doggedly challenged local council regulations and state government development codes, and worked through the sequentially prescriptive requirements of the land titles office and lenders to gain permission to build the one-bedroom House A at the front of the block.
Once the build commenced, they began renovating the original house to meet the subdivision requirements, and they plan to build House C at the rear. Kate admits the four-year process has been difficult and at times frustrating, but says that the results are worth the effort, and the knowledge they've acquired will be used to benefit others.
House A is unusual because of its location and appearance: it sits close to the front boundary and presents a near-blank concrete facade to the street. Steps lead up to the dark-clad recessed entry and front door, but once over the threshold, the space explodes with natural light, thanks to a private sunny courtyard and soaring ceilings that amplify the space, despite building's diminutive footprint.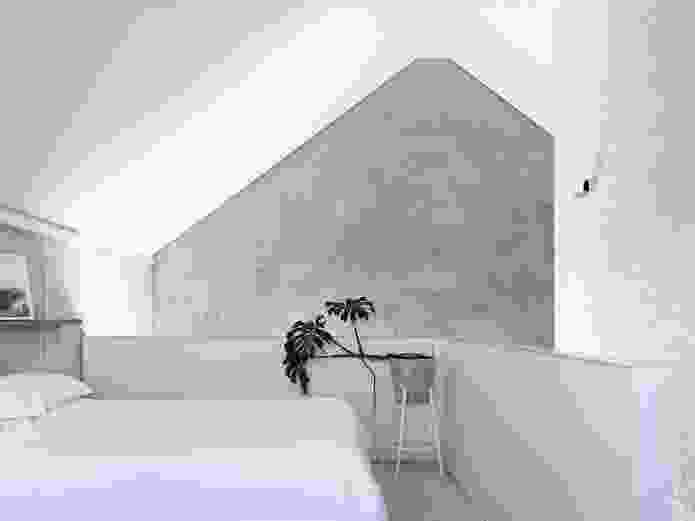 The kitchen and living space open to the courtyard; a small study/reading nook beside the kitchen (which could be repurposed as a bedroom later) leads to a service court with an outdoor shower, worm farm and rainwater tank concealed below the decking.
The living area is deliberately modest at just three metres wide, and leads to a compact laundry tucked around the corner. With a shower recess and second toilet, this space encapsulates all that is clever about the project. Custom steel shelving, steel-framed windows recessed into the precast concrete walls, and a laundry chute from the mezzanine bedroom above are just some of its smart features.
"For me, there is a real understanding of how everything has its place in our house, and everything feels great," Kate says. "I fought for this outcome, and to create a house that is both open and private."
That feeling is especially evident upstairs, where the bedroom and bathroom are open to the living space. Large windows take in views across the neighbourhood toward the Indian Ocean and capture the prevailing breeze.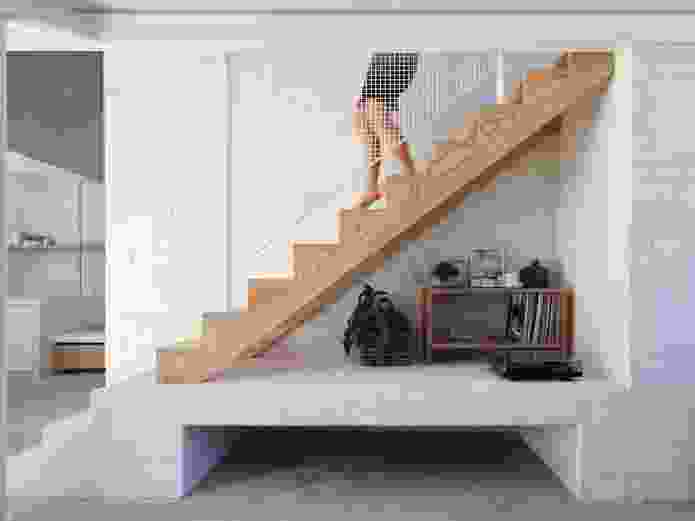 "There are no doors in this house apart from in the downstairs toilet," Kate says. "The spaces are separated by lots of corners and turns like in a Luis Barrag á n plan."
The project relied heavily on the couple's professional skills and labour, as well as the input of trusted friends who were builders and tradespeople. "It helped that Matt was on site all the time and carried out a range of trades such as tiling, pouring the concrete benches and installing the brass detailing," Kate says. "He was the glue that made it come together, because he can do so many things."
And while she agrees that it's not usually possible – or responsible – for architects to experiment so boldly on clients' projects, she believes that the profession needs to demonstrate greater leadership around housing that is accessible to more people. Backing up their claim, the couple welcomed more than 2,000 visitors to House A during Open House Perth in 2017, which had the added benefit of allowing them to gauge public reactions to their vision.
"I was prepared for people to say they thought it was sterile, intimidating or that it didn't fit with the street, but most people were thrilled by what we have achieved here," Kate says. "People said to me: 'Thank you so much for doing this; this represents a much-needed change in Perth.'"
With its carbon-neutral status (the couple plans to install solar panels and storage batteries this year), its economical approach to spatial planning, choice of sustainable materials (the concrete contains a high content of recycled slag), and novel approach to increasing density in the suburbs, the house is both a political statement and a prototype.
In 2018, Whispering Smith plans to unveil a series of architect-designed homes to promote that good and sustainable design can be achievable for all. "If custom-designed houses are our calling card as architects, we've lost the battle already," Kate says. "We are dancing a tightrope around doing what's right and doing what's good."
Products and materials
Roofing

Lysaght Klip-Lok in Colorbond 'Surfmist'; SIPs Industries structural insulated panels.
External walls

Hanson tilt-up concrete, burnished; recycled bricks in Bauwerk Lime Paint; custom recycled jarrah battens from The Recycled Timber Company; Ampelite Easy Click PC translucent sheeting in 'Opal'.
Internal walls

Hanson tilt-up concrete, burnished; recycled bricks in Bauwerk Lime Paint.
Windows and doors

Viridian Comfort Plus and clear laminated glass; custom steel frames in Steelplex powdercoat from Wilding Welding; Zebratti hardware in 'Matt Black'.
Flooring

Hanson concrete in Lithofin stain-stop.
Kitchen

Joinery by Raw Edge Furniture; Bora downdraft cooktop; Miele oven; Fisher and Paykel dishwasher; Astra Walker mixer; white concrete benchtops by M&B Johnston Building and Landscapes.
Bathroom

Brodware Yokato vanity mixer in 'Natural Brass' and Nero shower mixer in 'Matt Black'.
External elements

Custom concrete steppers by M&B Johnston Building and Landscapes.
Other

Massproductions furniture from District; tiled and steel furniture designed by architect and made by M&B Johnston Building and Landscapes and Wilding Welding; Guy Eddington Design Donny stools.
Credits
Architect

Whispering Smith
Fremantle, WA, Australia
Project Team

A political prototype: House A Words Rachael Bernstone Edit History Change list Add new House A sits close to the site's front boundary, presenting a near-blank concrete facade to the street. House A sits close to the site's front boundary, presenting a n
Consultants

Builder Talo Construction
Engineer Burdett and Goodison Structural Engineers
Landscaping M&B Johnston Building and Landscapes
Lighting Alti Lighting

Site details

Location Perth, WA, Australia
Site type Suburban
Category Residential
Type New house, Residential

Project Details

Status Built

Source