When you start with a portrait and search for a pure form, a clear volume, through successive eliminations, you arrive inevitably at the egg. Likewise, starting with the egg and following the same process in reverse, one finishes with the portrait. – Pablo Picasso
This
observation by Picasso is a neat analogue for the House Chapple by Tribe Studio Architects. The "portrait," in the initial sense, was an inherited home, a modest bungalow on one of those amazing Sydney streets that seem to roll right off the edge of the land and into the water. The home had belonged to the parents of one of the clients, so was familial and familiar. Consequently, the relationship of that client to the house was complex. The house held rich associations of memory and family history, but was a rabbit warren of dark rooms. Architect Hannah Tribe and the client tried to evoke the sense of its original configuration for me. "I think every room had at least two doors, didn't it?" says Hannah. Her "successive eliminations" have such an assured sense of inevitability that the house does not feel like a renovation at all. Hannah and the clients have gently uncovered Picasso's egg.
At the outset, the clients were open to a range of possibilities, including full demolition of the original structure. There was also the potential to replicate the gigantic scale of some recent, neighbouring houses by adding levels and additional floor area. That neither of these options was pursued speaks volumes of the clients' uncommon commonsense and the architectural intelligence of Tribe. Hidden in the house's maze of walls were two strong alignments that defined an eastern wing and a western wing, and allowed the centre of the house to be gutted from front to back. This linked two very important spaces in the house: a sunroom, perched on a beautiful sandstone wall at the front (the street side), and an inset deck, carved out of a more solid brick volumetric expression at the rear.
The sunroom is bright and gloriously sunny and strongly framed by its white timber fenestration and striped canvas awnings. A thick sill allows you to sit with your back to the sun and gaze eastwards to the harbour, across Vaucluse, and out to the open ocean. Its more introverted complement at the rear – the deck – is trimmed with glossy ceramic tiles that capture and intensify the glancing light that intermittently strikes the house from the west. These thresholds cap each end of a central space that places living, dining and cooking in a long, lean line that infinitely expands the spatial sense of a modest house. The ceiling is vaulted in three distinct parts, gently insinuating the placement of functions below.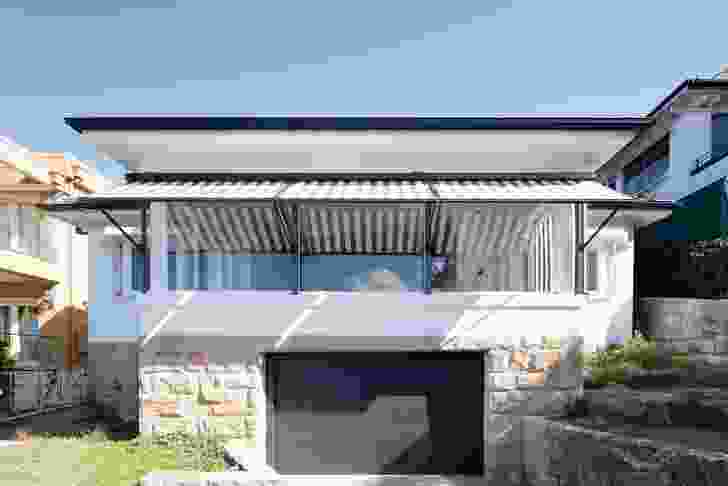 On each of the flanking eastern and western wings runs a simply arranged suite of bedrooms and wet areas. The original bedrooms with their timber bay windows are lovingly retained at the front corners of the house. A subtle painted wainscot hints at their "historical" sensibility. The soft pink of the main room looks like the reflected blush of the raucous crimson bougainvillea outside. All the new doors and windows are trimmed with generous, flush-profiled architraves and skirtings. Hannah notes that the plasterwork in old houses does crack and traditional joinery conventions have their place, they just don't need to be overly ponderous in their detailing.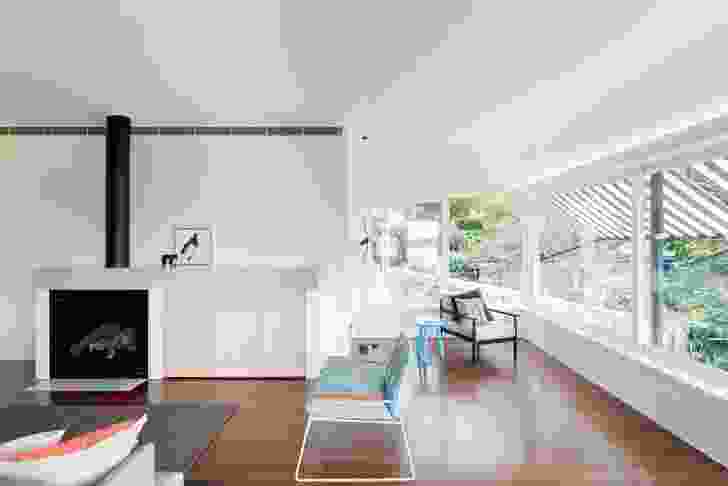 A new bedroom and a study hold the rear corners of the house – the study opening onto a sheer rock face that supports the neighbouring house, which at a magical moment around midday literally "glows" light into the study space.
This housing model – a central living space held by the private spaces of the house – is such a tremendously good one for suburban living that I cannot fathom why it is so rare. Generally, people open their lives and their selves to all sides through thoughtlessly excessive glazed openings that then require boundary fences or pitched battles with neighbours to secure the privacy that supports daily life. Hannah tells me that the clients never wanted fences – they weren't there originally, they don't want them now. They have a house that through the humble yet rich craft of its very fabric forms an armature for domestic life.
When Hannah explains that Tribe has come to consider its residential projects as a form of "nonfigurative portraiture," I think again about Picasso's observation, particularly the second half. The original family home has been whittled down to its essential "egg," and now the life of the clients' family will add the accretions and layers that will characterize its new portrait – the subtle translation of a "family resemblance" rendered in architectural terms. This is one of the most beautifully humble and considered renovation projects in an affluent inner suburb that I have seen in a very long time.
Products and materials
Roofing

Colorbond Custom Orb in 'Woodland Grey'.
External walls

Austral dry-pressed common bricks (seconds), painted.
Internal walls

CSR plasterboard, painted; Easycraft custom V-joint skirt detail, painted.
Windows and doors

Wilkins Windows timber-framed windows and doors, painted; Madinoz flush pulls and Brio flush bolts, both in satin stainless steel.
Flooring

Timber with Feast Watson Espresso Walnut stain.
Lighting

Anibou Artek 330S pendants; Mondoluce Moby external lights; Inlite Delta Light Vice Versa wall lights.
Kitchen

Smeg gas cooktop, oven and fully integrated dishwasher; Qasair concealed rangehood; Leibherr fridge; Oliveri undermount sinks; Franke kitchen mixer; Carrara and Corian benchtops; white polyurethane and Tasmanian oak veneer joinery; Madinoz stainless steel joinery pulls.
Bathroom

Duravit Scola basin; Astra Walker Icon tapware; Contap Industries tapware; Starck 3 wall-hung toilet suite; Kaldewei Saniform Plus bath; Bisanna Tiles charcoal hexagonal floor tiles.
Heating/cooling

Markilux electronic striped blinds from Simple Studio; Velux skylight; Toshiba airconditioning.
External elements

Re-used existing sandstone paving; Bisanna Tiles pool coping, sawn and sealed finish; oiled blackbutt timber decking.
Other

Eames chairs and Nonn Soul dining table from Living Edge; Jardan Deep Nook sofa, Seb chair and Olba low table; Armadillo and Co Herringbone rug in charcoal/limestone and Meadow rug in chartreuse/lichen.
Credits
Architect

Tribe Studio
Sydney, NSW, Australia
Project Team

Hannah Tribe, Miriam Green, Ricci Bloch
Consultants

Builder JLS Construction
Engineer Cantilever Consulting Engineers

Site Details

Location Sydney, NSW, Australia
Site type Suburban
Site area 767 m2
Building area 228 m2

Project Details

Status Built
Design, documentation 12 months
Construction 12 months
Category Interiors, Residential
Type Alts and adds, New houses

Source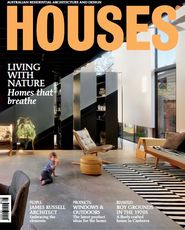 Issue
Houses, October 2013
Related topics