Students from Monash University Art Design and Architecture (MADA) have created seven wearable designs inspired by some of Melbourne's iconic residential architecture.
The project is the third instalment of an annual design studio, called Wearing the City, which challenges students to transform Melbourne's notable architecture into wearable form.
"This year's theme of private homes opens the door to some significant Australian architecture and a reinterpretation by some bold young design talent," said Callum Morton, Head of Fine Art at MADA.
The students' designs use the body as a site and take their cues from the architectural shapes, forms and structures of the houses, which are then recreated in textile form.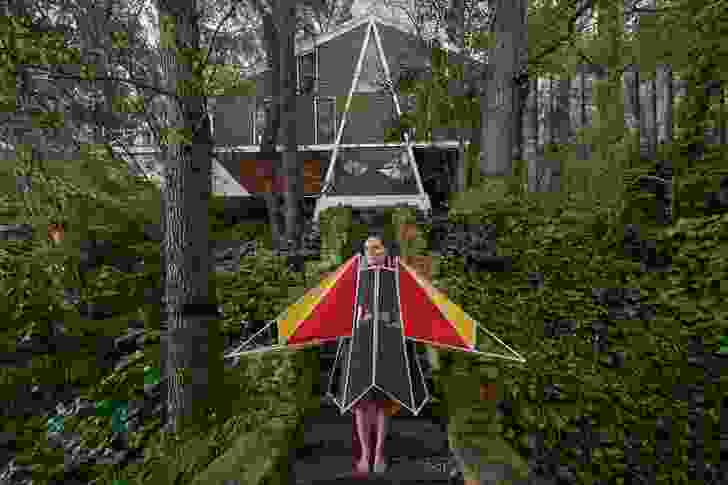 The Wearing the Private City designs are:
Gottlieb House (Wood Marsh) – Aryan Azizkhani, Rifat Muharram
Lyon Housemuseum (Lyons) – Jackson Bleasby, Sam Cudlipp
Walsh Street (Robin Boyd) – Shenwei Yu, Xiaoyi Sun
Hill Street House (Roy Grounds) – Ambrose Zacharakis, Bianca Horsley
River House (Peter McIntyre) – Miau Teng Tan, Daria Tolotchkov
Smith Great Aussie Home (Cassandra Fahey) – Phoebe Kramer, Alex Jeanne Macdonald
Fitzroy Sheetmetal Factory (Kerstin Thompson) – Daniela Tinios, Emma Berton
The fashion creations will go head to head in a catwalk contest to be held at the MPavilion designed by Studio Mumbai on 12 November at 5pm. The creations will be judged by a panel including Callum Morton, Naomi Milgrom (founder, MPavilion) and Martin Foley (Victorian Minister for Creative Industries).
Wearing the City is inspired by a legendary 1931 costume ball of the Society of Beaux-Arts Architects in New York. More than 20 of the city's pre-eminent architects of the time dressed up as a building they had designed, including William Van Alen as the Chrysler Building. It's a tradition that lives on in many of New York's architecture schools.
Related topics