It seems so long ago now, really. In 1996, Rowena Marsh and I were living in, and working from, our Elizabeth Bay Seidler apartment, absorbing Harry, and trying to survive as young, naive but enthusiastic architects. We were, respectively, thirty-four and thirty-one years old, expecting our first child and getting deep into debt.
Unbeknown to us, though, the stars were aligning. A "young architects" issue of an architecture magazine, which featured our practice, had landed on the breakfast table of a couple who were passionate about art and architecture. They wished to build a house on a newly subdivided piece of land – a rare commodity in Sydney's Woollahra – and invited us to take part in a limited design competition, which we were fortunate enough to win. This was our first "big" commission, and gave us the break we so desperately needed. We are still indebted to the clients – known as the Art Collectors – for believing in us and persevering through the trials and tribulations of building a new home, of which there were plenty.
We were very "green" when it came to the politics of council planners, neighbours, developers and "wannabe" politicians, at times floundering and seeking guidance from others. Our belief in good design, dislike of authority and conservatism, and stubborn determination – qualities and beliefs that were also held by our clients – got us through, but it took time and we did not start building until three years after being engaged.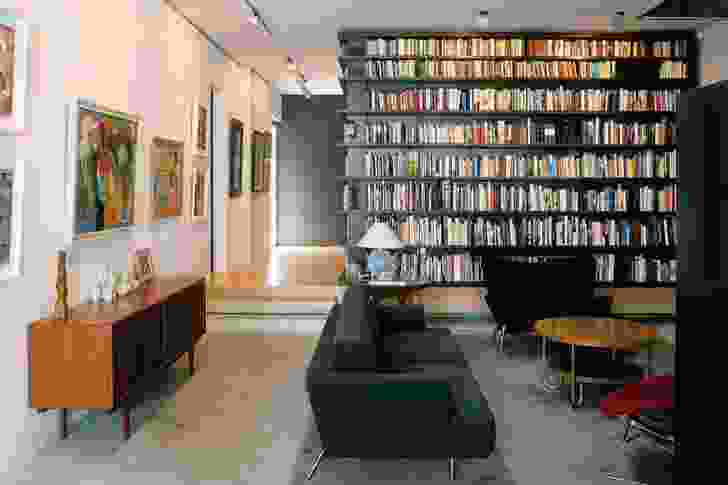 The whole project was drawn by hand, pre computer-aided drafting, with reams of butter paper and drafting film, litres of Rotring ink, boxes of clutch pencil leads and packets of razor blades used to scratch out mistakes or make revisions. Our days and nights were spent leaning over drawing boards; nine-to-five working hours and weekends didn't mean much. Oh, how things have changed! Looking back, I must admit there was a real simplicity to the design and drafting process, which is evident in the drawings we produced. Our main focus was the design and getting it right. Many sketches were drawn and models made, even a 1:50 model that looked like a modernist dollhouse.
We were fortunate to have clients who understood design and wished to work closely with us, and we enjoyed many discussions with them about finish and detail. These discussions continued into the construction stages – topics included the mixing of half- and quarter-strength paints to achieve the correct tonal composition, and even tile grout that had to be the right colour grey for the gridded wall tiling so that it would have the appearance and subtlety of an Agnes Martin painting.
An obvious and important part of this dialogue with the clients was the placement of the artworks within the house, as well as getting the lighting right, which was a wonderful learning curve for us. We were even privileged to work with artist Sarah Robson, who was commissioned to create the pool sculpture.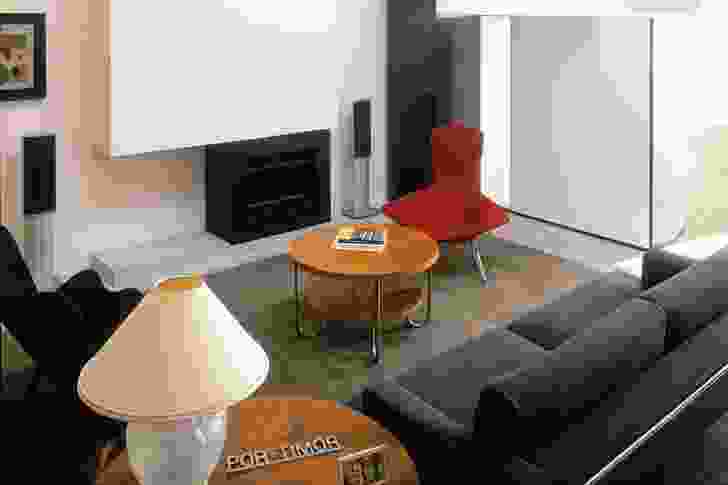 The building of the house led us to a relationship with Berg Bros, a building company made up of a Finnish-Australian family that had worked with the likes of Murcutt. The building of this house was a massive experience that was both exciting and frightening. We learnt so much, and we were lucky to have the guidance of the Berg Bros team. I remember the sheer exhilaration when walking onto the site each week, a feeling that has dissipated over the years. Everything was new and challenging and it was ours – a feeling comparable to having your first child.
So the house got built, won some awards and got lots of press, which, luckily for us, brought us further great clients and projects. This is still an important project for our practice, and is a constant reference. Would we do it differently now? Well, yes, but I must admit the innocence of that episode is invaluable and won't happen again.
At the time of this project our practice was known as Marsh Cashman. Steve Koolloos joined us as a graduate around 1997, and worked on the house before leaving for Europe. On his return he rejoined our group, and had a star role in the photographic record of the house as a swimmer in the pool, unfortunately looking like a corpse at the bottom. Steve later became a partner, forming the triumvirate, and as they say, the rest is history. We have all remained good friends with the clients – the couple known as the Art Collectors – which is a testament to their willingness to work closely with us, and the open communication and solid working relationships formed during the design and building of our first big project.
This project was first published in Houses 90 as part of the First House series where architects revisit their first built commission.

Credits
Architect

MCK Architects
Surry Hills, Sydney, NSW, Australia
Project Team

Rowena Marsh, Mark Cashman, Steve Kooloos, Kent Elliot, Francis Falzon
Consultants

Builder Berg Brothers
Engineer Birzulis and Associates
Hydraulic engineer John Amey and Associates
Landscaping Barbara Schaffer Design
Planning City Plan
Quantity surveyor Value Consulting and Management

Site Details

Location Sydney, NSW, Australia
Site type Suburban

Project Details

Status Built
Completion date 2000
Category Residential
Type New houses

Source
Issue
Houses, February 2013
Related topics