From the street, Andrew Maynard Architects' (AMA) House House presents as a prim and proper Victorian terrace. Approach it from the expansive car park that flanks the terrace to the south-west, though, and the setting warps from nineteenth-century Australia to twenty-first century Japan: looming across the tarmac is a slim, three-storey, cedar-clad tower that wouldn't look out of place in inner-city Tokyo.
In some ways, the story behind House House is a familiar one – a professional couple had spent the best part of a decade living in a dark and tired terrace in the inner-Melbourne suburb of Richmond and wanted to make it more liveable. Two factors, though, make this a terrace alteration a little bit different from the norm. Firstly, it's not one terrace alteration, but two – the neighbouring house to the north is also owned by the couple's family, so they decided to tidy up both in one hit. Secondly, the house's location at the end of the terrace gives it a rare access to additional light and views, and means the new architecture is highly visible.
While some architects consider residential alterations and additions to be unglamorous, subsistence work, AMA seems to relish them. The practice has built an international profile off the back of a slew of these small, low-budget commissions. Typically playful, these projects combine clever spatial planning with a bold graphic aesthetic. They've been presented by the practice as a sustainable counterweight to Australia's standard, "bigger is better" residential model; a demonstration that spatially compact, inner-city housing can offer equal, if not greater, amenity than houses in the outer suburbs. In this respect, House House is vintage AMA.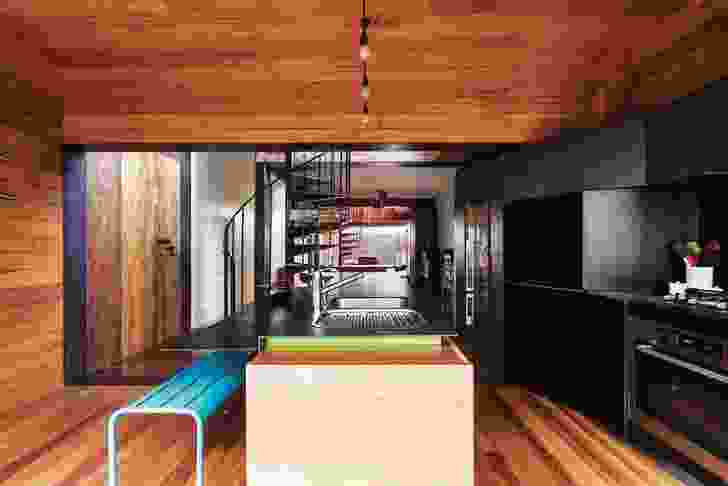 "We wanted to really engage with the urban," says Andrew Maynard of the project. "Instead of shying away, saying 'It's next to a car park,' we wanted to celebrate it. Our clients have lived here for ten years, they love it, so why not?"
Much like inner-city Japanese architecture, House House benefits from a blurring of the boundaries between public and private domains. At the top of the cedar tower is a huge picture window. Spanning most of one wall in the main bedroom, the window captures the activity in the car park below and superb views across the rusty roofscapes of central Richmond.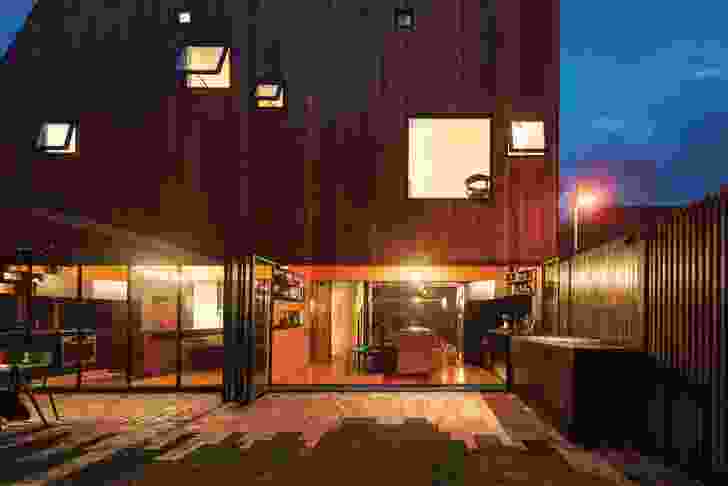 While it reads as a single volume from the car park, though, this three-storey addition spans both houses. A party wall divides it internally, but externally this division is optional – the backyard fence can be rolled back to create a shared, communal garden space (while the northern property is currently let, the hope is that eventually this house will be occupied by another family member). Hit-and-miss fence palings along the car-park boundary also create a degree of visual porosity, connecting the nominally private realm of the backyard to the public realm of the car park and allowing it to "borrow" a greater sense of space.
The new addition includes a kitchen, open-plan dining area, main bedroom and bathroom – most of which are clad internally with timber – for each house. Bar a lick of white paint and a few new fixtures and fittings, though, AMA has largely left the original buildings intact. A glazed light well contains a vertiginous spiral staircase that provides vertical circulation for the house, and this also divides the new components of the house from the old. "We call this the DMZ [demilitarization zone]," says Andrew of the light well with a wry grin. "It means you can really read the two bits of architecture as distinct from one another."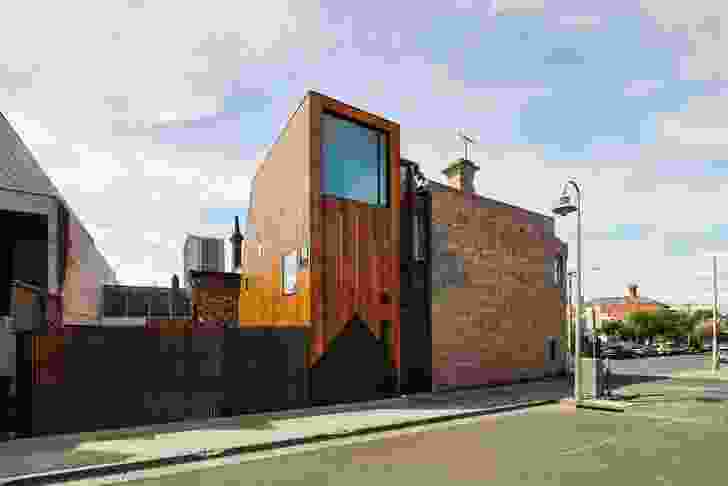 But while the boxy form and bold supergraphic of the new addition might seem radically different, or an import from foreign shores, it's also a hybrid of two Australian residential traditions. Much as the Victorian terrace keeps up appearances by addressing the street, the new elements of House House talk to the public space of the car park. It is the outdoor area, though, that is the most revealing aspect of the project. As Andrew says of AMA's approach, "Rather than let the outdoor space be the victim, we try and make it the aggressor." In House House, this is in part what has dictated the extension's compressed form. It's also reflected in the way the design forces internal living areas into the outdoor space to create the "indoor-outdoor flow" that has become conventional in Australian housing. Despite the building's emphasis on the urban, then, its defining value is actually suburban – this is architecture that's all about the backyard.
House House blends nineteenth-century civic decorum with twentieth-century garden city amenity in the boxy, pop package of Japanese "pet" architecture. It's a bit of a mongrel, really, which makes it all the more appealing and credible as an alternative to Australia's suburban norm.
In 2013, House House was recognized at the Victorian Architecture Awards, Intergrain Timber Vision Awards, Houses Awards and World Architecture Festival.
Products and materials
Roofing

Lysaght Klip-Lok roof decking in Colorbond 'Monument'; Lysaght corrugated roof deck, galvanized.
External walls

Tilling Timber Western red cedar V-joint cladding with oil finish; One Steel steel painted black; Boral marine-grade plywood with Cabot's exterior stain in 'Rocky Tundra'.
Internal walls

Boral plasterboard; Big River Timbers plywood spotted-gum veneer, steel, and Western red cedar V-joint cladding; Tilling Timber Victorian ash lining boards; Urban Edge Ceramics tiles.
Windows

ADS steel frames, painted; Architectural Window Systems aluminium frames, powdercoated; Viridian Thermotech clear double-glazed windows.
Doors

Lockwood hinges; Designer Doorware handles; cedar-clad, mirror-clad flush-panel doors, painted.
Flooring

Big River Timbers plywood, oiled; Tilling Timber spotted gum and Victorian ash, oiled; One Steel steel; Urban Edge Ceramics tiles; The Locker Group perforated-steel landing and steps, powdercoated.
Lighting

Hut pendant light by Under.
Kitchen

Miele oven, cooktop and extractor fan; Franke mixer tap; Abey sink.
Bathroom

Apaiser composite stone bath and basin.
Heating and cooling

Daikin airconditioning; Shade Factor external operable louvres; hydronic heating.
External elements

Recycled brick; timber battens to match existing plywood.
Other

Vertilux roller blinds; Enzie staircase; Ever-Solar solar panels/inverter.
Credits
Architect

Austin Maynard Architects
Melbourne, Vic, Australia
Project Team

Andrew Maynard, Mark Austin, Michael Ong
Consultants

Builder Sargant Construction
Building surveyor Anthony Middling and Associates
Engineer Coulthard Shim

Site Details

Location Richmond, Melbourne, Vic, Australia
Building area 291 m2

Project Details

Status Built
Design, documentation 12 months
Construction 12 months
Category Residential
Type Alts and adds, New houses

Source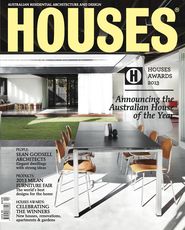 Issue
Houses, August 2013
Related topics