In every sense, the architecture of this house is about the landscape it sits within. The expanse of the sky and the sculptural mountain ranges to the east and west exert a powerful presence. Both the built form and the siting strategy are carefully considered responses to the way we connect with nature. This is a house for restful contemplation and personal regeneration. A serene, almost meditative atmosphere is created by connecting every space with the expansive landscape.
The landscape metaphor is evident in every move and across scales. Sited overlooking the creek that runs through the pristine valley, the house sits on a grounding platform. The tilting roof planes overhead are held in tension by the horizontal strength of this plane. Existing stone cottages have been adroitly drawn into the composition. Fine landscapes at the edges of the building reference life in the bush and the restrained composition of Japanese gardens. A meticulous attention to the materials and construction underpins the conceptual rigour of the designer.
The Award for House Alteration and Addition over 200m2 is supported by Centor.
Source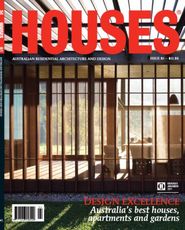 Issue
Houses, August 2011
Related topics