This house demonstrates a complete commitment from an architect and their client; its beauty is undeniable. Set against the towering mountain ranges that define the valley site, this sprawling farmhouse is simultaneously fragile and monumental.
The first and most lasting impression is of the roof form. Scaled to the landscape and designed to heighten the experience of its mass and drama, this folded-plane skillion floats across, gathers together and nestles up, creating rooms, connections and spaces with engagingly ambiguous levels of enclosure and function. The relaxed atmosphere of the country verandah is referenced through planning, materiality and effortless occupation.
This is a contemporary architectural interpretation of the Australian colonial idyll. By intuitively embracing this legacy, the designer has created an elegant yet beguiling utilitarian house that truly captures the spirit of the place.
Australian House of the Year supported by Cult.
Source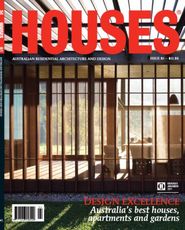 Issue
Houses, August 2011
Related topics