Nowhere better epitomizes Sydney's harbour-side living than Double Bay. With its network of leafy European-scale streets and cosmopolitan mixture of retail, hospitality and residential development, it stands out in contrast to its highrise peninsula neighbours of Darling Point and Point Piper. While these characteristics have given the area its credentials as Sydney's choicest location, it is not so renowned for its innovative architecture. Tribe Studio Architects' project for a family home in a quiet Double Bay street challenges the status quo in its conception, architecture and construction, resulting in an inventive model for contemporary dwelling within a traditional urban context.
Unlike the majority of new single-family dwellings built in the established areas of Sydney's east, House in Double Bay was conceived as a speculative development. This meant the design, construction and marketing of the property was focused on profit. While this changed some of the conventional architect/client dynamic for a house design, it did not mean a compromise on quality or invention. In fact, these conditions led Tribe Studio to a series of ingenious design responses that maximize spatial and material efficiency. The developer's brief was to design a house that would "appeal to the Double Bay market." Hannah Tribe, director of Tribe Studio, started the design process by asking, "How could we use the lessons of rationality and frugality to make a gracious Double Bay house?" This interrogation of the brief resulted in a design that has a strong interior focus conditioned by the "straightforward building envelope."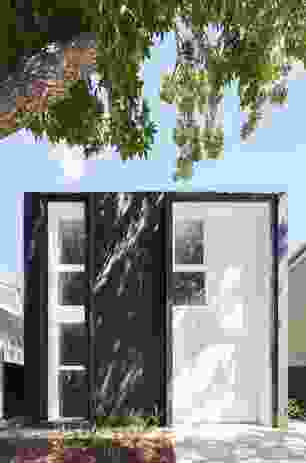 The street in which the house sits is a mix of late-Victorian terraces and 1980s and '90s development. The black-and-white facade is a quiet and subdued addition to the streetscape, with touches of quirky humour provided by "twinkling eyebrows." Hannah uses this expression to describe the window reveals clad in white timber and glazed tiles, which are contrasted with the gradated and grooved black cement-sheet cladding. These "eyebrows" animate the facade, providing a real "pop" and softening the severity of the black box. The long facade bears testament to the innovation built into the conception of the design. The house, divided into two-metre sections, was initially to be built in prefabricated modules. Although this method of construction was not used, Hannah states that the house embodies "flexibility in its design so that it could be delivered in different ways."
Breaking from the formal spatial model of the Victorian terrace, the Double Bay house is entered from the side. This not only provides greater privacy, it also results in a far more rational internal distribution of the space, minimizing long dark corridors. Beginning at the dusty pink entry door, the central circulation zone is formed around a service "T." Once again the architects have rejected outmoded ideas of spatial organization, locating the laundry just near the entry for the sake of efficiency. Not that this is apparent, as the laundry is concealed behind a datum of grooved timber joinery that defines the "T" and the walls of all the living spaces. Painted in a soft dove grey, it sets a Hamptons tone, strategically aimed at the tastes of potential buyers of the house.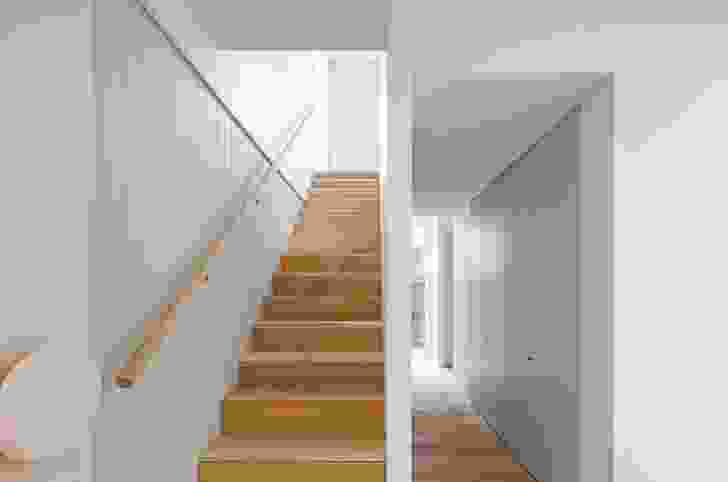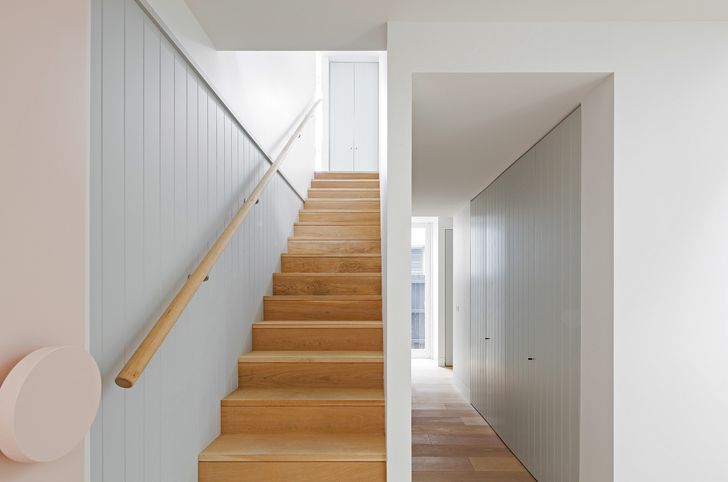 The modest scale of the house and the compactness of the plan are compensated for by the soaring light well in the living space. Set above the kitchen area, it allows light to flood down, providing visual uplift and drama. This tactic is reminiscent of Mediterranean courtyard houses and only adds further to the interior's permanent beachside holiday feel. A Carrara marble island is propped up on black stilts – a hallmark of the playful designs of Tribe Studio. This use of stone is the only concession to conventional luxury – or as Hannah joyfully states, "glammy glamour" – typically associated with these types of houses.
The upper floor replicates the rigorous super-efficient planning of the lower level. However, the materials are varied to reflect the more private nature of the sleeping areas. The wide-board oak floor is replaced with grey carpet and the timber wall panelling gives way to a simple painted white. This change of material register is also a design strategy used to maximize the budget on the more public living spaces. Both upstairs and downstairs are marked by snippets of views to the exterior, provided through the "eyebrows" that pop out on every wall. These glimpses are afforded no matter where you are in the interior, acting as small treats at every turn. While these windows are not large, they are extremely effective in extending the feel of the house outwards, their deep reveals reflecting the light inwards and upwards. What marks the interior of the Double Bay house is its surprising lightness.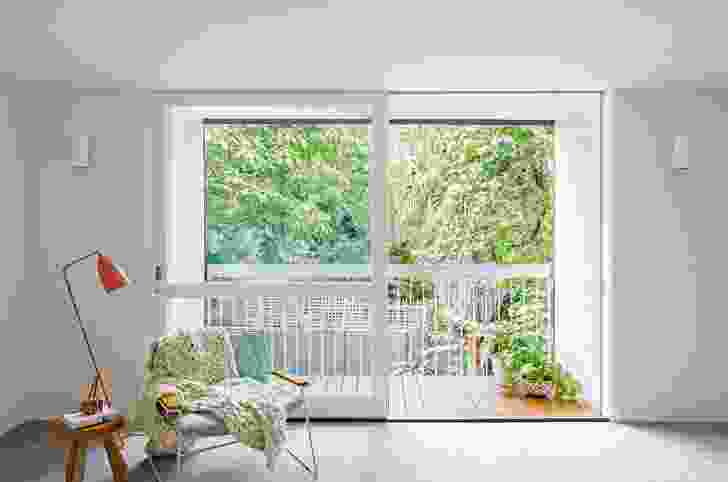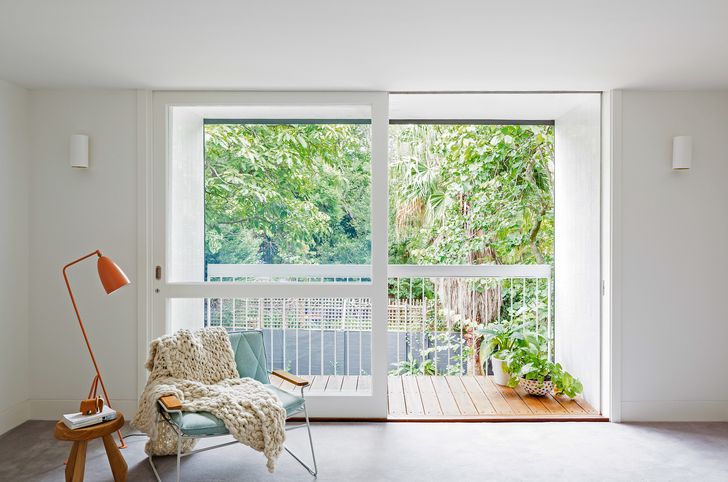 Tribe Studio was presented with a series of challenges that might have tripped up less able designers. The architects have capitalized on these challenges through a combination of rational planning, shrewd selection of materials and palette, and, above all, a mastery of light. Their innovative design has no doubt raised an eyebrow or two in Double Bay.
Products and materials
Roofing

Lysaght Klip-Lok in Zincalume.
External walls

James Hardie Scyon Axon and HardieTex cladding in Dulux Weathershield 'Domino'; Bisanna Tiles ceramic tiles in gloss white.
Internal walls

V-joint pine lining in Dulux 'Milton Moon'; CSR plasterboard in Dulux 'Natural White'.
Windows

Custom cedar window frames, painted.
Doors

Solid core doors, painted; Madinoz hardware.
Flooring

European oak timber floor from Precision Flooring; Tabou wool carpet in 'Valley Mist'.
Lighting

Flos Kap Surface wall light; TossB Disk pendant from Hub Furniture; Mondoluce Barro ceiling-mounted lights; Artek A110 and A330S pendants.
Kitchen

Artedomus Bianco Carrara honed marble; Astra Walker Icon tapware; Miele appliances; joinery finished in grooved polyurethane in Dulux 'Milton Moon'.
Bathroom

Astra Walker Icon tapware; Duravit Scola basin; Bianco Carrara honed marble from Artedomus.
Furniture

Dining chairs, accessories and floor lamps from Cult; Jardan Nook sofa, Fred coffee tables, Nash side table, North sideboard and Seb armchair; pots, ceramics and rugs from Koskela; Tait Valley Rocker chair.
Credits
Architect

Tribe Studio
Sydney, NSW, Australia
Project Team

Hannah Tribe, Miriam Green, Ben Wollen, Henry Berresford
Consultants

Builder Redwood Constructions
Hydraulic engineer Whipps Wood Consulting
Structural engineer Partridge

Site Details

Location Sydney, NSW, Australia
Site type Suburban
Site area 306 m2
Building area 200 m2

Project Details

Status Built
Completion date 2014
Design, documentation 12 months
Construction 9 months
Category Residential
Type New houses

Source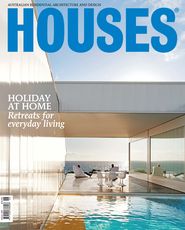 Issue
Houses, December 2015