A Loos-ian labyrinth: House McBeath
This small terrace alteration and addition by Tribe Studio is a delightful labyrinth of paths, stairs, voids and views, creating a series of memorable spaces.
Working on small historic residential properties can be a thankless task: the local council wants the street frontage improved; the client wants a small house made large, without overcapitalizing. The architect wonders what will sustain them through the two years of work from start to finish, what will make the project rise above a mundane task of cleaning up an old house.
In this tiny but clever project, Hannah Tribe and her team have not only designed to fulfil the brief and match the tight budget, they have also added a whole layer of whimsy. They have delivered a little house that is big on ideas and full of delight.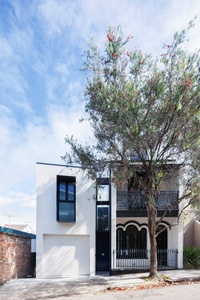 The dwelling presents to the street as a typical small, narrow terrace, with an additional, newer tower sitting next to it. Between the two components is a new entry door that conceals a sliver of enclosed space, six metres high. The added half of the house is turned gently and deferentially to the original building, and has an almost-invisible garage door at ground level and a simple boxed window above.
One enters a dramatic void in which the sky is overwhelming through the clear glass ceiling. Sunlight plays along the rough texture of the side wall to the original terrace house, and a sunken garden is visible ahead. A Peter Zumthor brass light is suspended high in the space and a strange, enclosed metal stair crosses from one side to the other, high in the void. This is possibly the best entry to a terrace house I have seen in Sydney.
The house is only two rooms deep at any point – turn left behind the garage to a kitchen/dining space, turn right to the living room in the old heritage-listed house. A concealed stair to upper levels had to be kept in its original location, and leads above the living room to a bathroom and guest room. From this point, one can continue up again to a small attic study, or go back across the extraordinary void to the main bedroom/bathroom in the new part of the house. The large bathroom is full of light; the bedroom looks towards a rear boundary line of tall bamboo.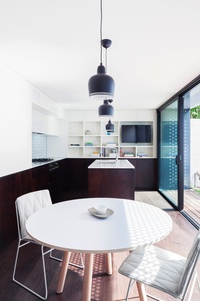 The ground-floor kitchen, set down a few steps from the hallway so that it is read by neighbouring properties as being at fence height, is a cool oasis, with three large doors that slide back to make a fully open space that feels much wider than it is. The room is orientated north to face a lush garden of granite slabs and herbs. The garden, by Pepo Botanic Design, is now wild, almost maintenance-free, an intense burst of growth surprising even Hannah, who had not seen it for some months.
This kitchen works well, with good spaces for two to cook and entertain others, and with a generous laundry concealed behind hidden doors. The room's modest height makes it cosy, but is a true contrast to the grim, low rear kitchen addition the house originally had behind it.
While each room has a delightful outlook, with glimpses west from McMahons Point to the harbour, it is the spaces between the rooms that really make this house a gem. Hannah admits she had not really considered Adolf Loos' Raumplan obsessions until she had completed this project. As Loos described his work:
"My architecture is not conceived by drawings, but by spaces … For me, the ground floor, first floor do not exist … There are only interconnected continual spaces, rooms, halls, terraces … Each space needs a different height … These spaces are connected so that ascent and descent are not only unnoticeable, but at the same time functional." (Shorthand record of a conversation in Pilsen, 1930.)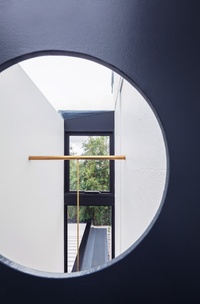 Every major space in this house is on a different level from any other. The entry is several steps below the living area and above the kitchen. In any given journey, say between the main bedroom and the kitchen, one crosses the house a number of times, over five different levels, with glimpses of views and sky five different ways. The surrounding neighbourhood is dense, with numerous mature trees and glorious harbour vistas, and this sense of surrounding pours into the house at every turn.
Hannah explains that the project had a torturous path to gaining local council approval, with conflicting strategies recommended by the council, and then numerous changes required in order to achieve approval. The client held tightly to a defined budget, so some delights have been designed out of the completed building (such as a green roof over the kitchen, which would have improved the outlook from the main bedroom above). But all projects have tales of lost opportunities and, ultimately, the house must be judged on what is finally built.
The labyrinth of paths and stairs and voids and spaces and views is the true delight of this house. Working on small projects can be a thankless task, and this contribution adds greatly to the morale of those who have high architectural hopes for small projects.