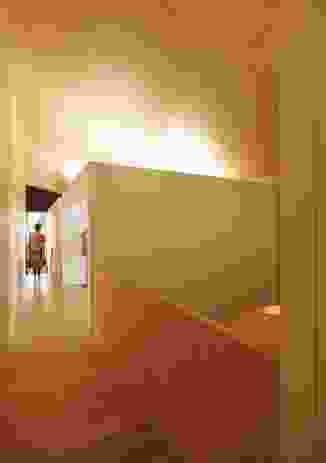 House Shmukler was conceived of as a series of boxes suspended in a large, shed-like space. The private spaces of the house – the bedrooms and bathrooms – hover over the public spaces. Each bedroom is expressed as a box, pulled apart from its fellows. This creates a series of double-height voids and the edges of the private spaces describe the public volumes.
The clean, white boldness of the house's facade offers visual respite in a street full of mixed architectural styles, from five-storey 1970s apartment buildings to Federation semis with hacienda renovations. Turning its back on this mixed-built context, the house looks inward to a series of interesting spatial experiences, from the alternating ceilings and voids on the ground floor to the lofty hall above and the intimate little bedrooms.
The site is long and narrow and faces north at the rear. So the challenge became: how do we bring light and air into the long, deep plan? Side penetrations are limited to below fence height, screening out the close neighbours and promoting entry of cool air. Operable skylights are concealed above the first-floor boxes, allowing light to bounce ethereally off them and into the interior.
The design of this house is experimental in its sustainability initiatives, using dramatic space and form as part of its passive heating and cooling system. Our clients have experienced one summer there so far, and reported that they were cool and comfortable during the heatwave.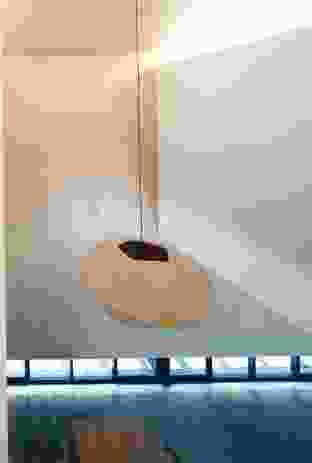 The ground-floor service spine and first-floor hall are organized to insulate the house from the belting afternoon sun, keeping living and sleeping spaces cool in summer. The house is designed to promote stack-effect ventilation, drawing cool air in down low and allowing it to escape through the operable skylights. In addition, ceiling fans are provided in the sleeping spaces. The house is fully insulated. Bedrooms are planned away from contact with the western wall, and away from contact with the roof. The volume of the house, in combination with the in-wall and ceiling insulation, is used to stabilize comfortable temperatures.
In-slab heating creates a radiant heat source, which gives a greater perception of warmth than air temperature change. The temperature is set low and augmented by gas heating. The overall strategy of the house, using multiple double-height voids, allows light to penetrate the depth of the long, narrow plan from the north and the sky, reducing the need for artificial lighting. Meanwhile, the mono-pitch roof minimizes the need for guttering and in-ground PVC piping, connecting rainwater to the under-deck tanks and water recycling system.
This house won the Sustainability and New House under 200 square metres categories of the 2011 Houses Awards.
Read "Shifting attitudes to sustainable living," a discussion related to this case study.
Products and materials
Roofing

Lysaght Custom-orb, Colorbond 'Surfmist'.
External walls

Lysaght Custom-orb, Colorbond 'Surfmist'; Austral Plywoods ply cladding, matt, 2-pac polyurethane clear finish; Radiata pine weatherboards, painted white.
Internal walls

Austral Plywoods 6 mm hoop pine plywood, matt, 2-pac polyurethane clear finish; CSR plasterboard, painted in Dulux 'Vivid White'.
Windows

Aluminium frame with black powdercoat and timber frame painted Dulux Lexicon, both from Window Solutions.
Flooring

Concrete, steel trowel finish; Killarney ash tongue-and-groove, satin polyurethane finish; oiled blackbutt decking.
Lighting

Tom Dixon beat pendants; Ango hanging wall pendant; Sunny Lighting wall lights; Cosmoluce wall lights.
Kitchen

Electrolux fully integrated fridge/freezer; Smeg stainless steel oven and cooktop; Miele fully integrated dishwasher; Qasair rangehood; Abey mixer; Oliveri sink; Hafele joinery pulls; Furniture Ply hoop pine plywood joinery, matt, 2-pac polyurethane clear finish; MDF joinery, painted Dulux 'Vivid White'; concrete benchtop.
Bathroom

Caroma Cube basin; Kaldewei Saniform bath; Dura bath; Tonic WC suite; Mizu showerhead; Brodware Dial tapware; Parisi joinery pulls.
Heating/cooling

Hunter Pacific Concept 2 ceiling fans; in-slab heating.
External

Real-Crete Outdoor Products concrete sleepers; recycled hardwood oiled timber and black powdercoated aluminium pool fence.
Source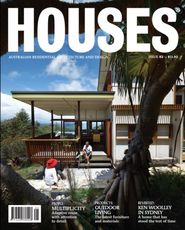 Issue
Houses, October 2011
Related topics