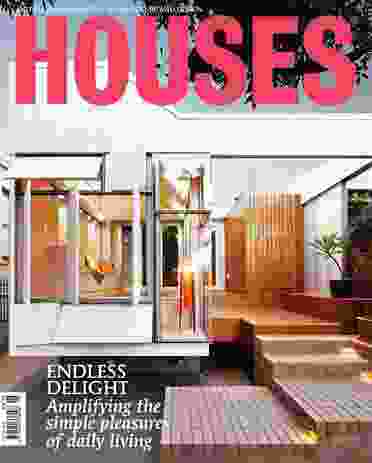 Creating a house doesn't have to be about making a grand architectural statement. It's often the small things – the design details – that make all the difference to how a home affects our everyday lives. A sunny corner nook to enjoy a morning coffee, a conversation pit that brings the family together or a protected courtyard ideal for an afternoon beer with friends – these are moments that can be enhanced by good architecture and interior design.
Issue 101 of Houses brings together residential projects that adopt a thoughtful approach to design, through intimate and careful detailing. The Clayfield House by Twohill and James comprises three architectural interventions to a Spanish Mission-style house in Brisbane. While subtle, these design moves amplify the simple pleasures of living.
In our cover project, Bellevue Terrace by Philip Stejskal Architecture, a set of deft moves improves the connection between the original 1890s house and the garden. This home "choreographs space in such a way that simple qualities of our surroundings become affective."
Of Kennedy Nolan's Westgarth House, architect Rachel Nolan says herself that it was "no great epiphany" to place a new living area down the southern boundary and open it up to views and the sun. However, when you read her client Bella Stagoll's thoughts on her experience of her new home, it is clear that this house is a wonderful place to be. Bella enjoys the "circle wall and the sliding doors that disappear so that the garden and living space become one … and dozens of other small design details."
Much of the work by Clare Cousins Architects has been alterations and additions projects designed to improve the amenity of existing homes. As Clare says, "our work begins with trying to identify the nuances of how our clients want to live." There is a focus on the fine-grain elements of day-to-day life to ensure homes are attuned to those who live in them.
Peter Stutchbury's West Head House, a home in which the architect and his family lived for many years, developed organically and through this, "we learn that a house can't be static if it nutures life." In this instance the design details were adapted over time to suit the needs of the family, and as with many other projects in this issue, they continue
to celebrate daily life.
Katelin Butler, editor
Follow Houses on Twitter, Facebook and Instagram.
Subscriptions and back issues: Print and Digital.
Source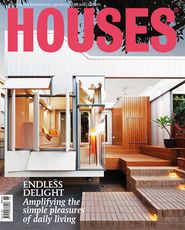 Issue
Houses, December 2014
Related topics