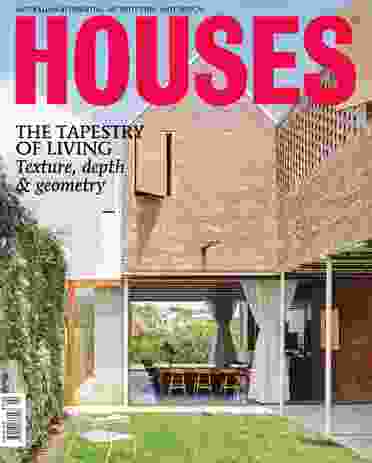 The idea of a house with two living zones is appealing to many, especially when it is a home to a large family. A formal living area is kept tidy, while the informal family room lends itself to a bit of mess. Alternatively, the secondary living zone might be an outdoor space, used intermittently as weather permits. Houses 103 features a number of projects with multiple living zones that are either distinct from one another internally or expressed as separate pavilions externally.
At the Taringa Pavilion by Nielsen Workshop with Morgan Jenkins Architecture a new outdoor pavilion has been attached to a nineteenth-century Queenslander. Externally, this new living space is clearly defined as new work. In a move that differentiates the new without rejecting the heritage of the existing, the open pavilion is clad in vertical boards, while the old house is clad in horizontal boards.
The Garden House by Tzannes Associates is a completely new house built as two brick pavilions. This idea stemmed from the cranked configuration of the site and assisted in organizing spaces to respond to the way the family would inhabit the house. The first pavilion contains the formal living and dining space, while the second houses everything else. Together they elegantly enclose and embrace the garden.
House McBeath by Tribe Studio presents to the street as a typical small, narrow Sydney terrace house, with a new, simple tower added next to it. This new component is offset from the old by a dramatic sliver of glazed space, six metres high. The tower contains a concealed garage at the front, and a new single-storey kitchen and dining pavilion stretches out into the yard at the rear. The two elements are united by a common colour palette, and the neutral boxed form of the addition turns gently to the original building.
In other alteration and addition projects, such as the Doll's House by BKK Architects and the Bower House by Andrew Simpson Architects, the new work isn't a separate pavilion, but its architecture is in deliberate contrast to that of the original home. These spaces are characterized by ideas of art, play and new geometries, injecting a fresh personality and often containing the more informal day-to-day living spaces suited to contemporary life.
Katelin Butler, editor
Follow Houses on Twitter, Facebook and Instagram.
Subscriptions and back issues: Print and Digital.
Source