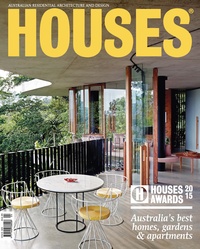 This is the first year that a home by an emerging architecture practice has won the Houses Awards' Australian House of the Year. Jesse Bennett Architect's Planchonella House in Far North Queensland is raw and honest, embraces its luscious rainforest environment and would be a delight to live in. This dwelling, which also won the New House over 200 square metres category, takes things back to basics, reminding us of the beauty of simplicity. The jury particularly enjoyed the idea that over time the house would recede into the landscape and be engulfed by the jungle.
Houses has always supported up-and-coming designers, with many first projects featured within the pages of this magazine. This year we introduced a new category in the Houses Awards to celebrate emerging talent. The twelve shortlisted practices in the Emerging Architecture Practice category are definitely ones to watch in the coming years. The winner, Archier Studio, also won the New House under 200 square metres category for the Sawmill House. Archier Studio's work shows a joyful sensibility that taps into one of the great advantages of being an emerging architect.
The projects recognized in the 2015 Houses Awards showcase an extremely high calibre of work from across the country. The West End Cottage by Vokes and Peters takes an "as much as necessary, as little as possible" approach to rework an existing Queenslander; Tower House by Andrew Maynard Architects rethinks the suburban house; Darlinghurst Apartment by Brad Swartz Architect gives maximum amenity to a small floor area of twenty-seven square metres; Cut Paw Paw by Andrew Maynard Architects suggests how we might use outdoor spaces in an inventive and playful way; House in House by Steffen Welsch Architects sensitively contributes to an area protected by a heritage overlay; and QV8 by Breathe Architecture supports the mantra of "housing people, not cars" in the conversion of a car park into apartments.
The Houses Awards, now in its fifth year, keeps growing but it is the remarkable quality of the dwellings entered that makes the program stand out. Congratulations to all shortlisted, commended and winning practices. Thank you to all our generous Houses Awards supporters – Cult, Artedomus, Artemide, Blum, Fisher & Paykel, Haymes Paint, the Heritage Councils of Victoria and New South Wales, Maximum, Think Brick Australia and Verosol. 
Alongside the announcement of the 2015 Houses Awards, this issue includes a selection of other great projects by Smart Design Studio, Virginia Kerridge Architect, Nixon Tulloch Fortey with Doherty Design Studio, Panov Scott and Shane Thompson Architects. We also revisit Allan Powell's Crigan House and profile the work of Tasmanian-based 1+2 Architecture.
Katelin Butler, editor
Follow Houses on Twitter, Facebook and Instagram.
Subscriptions and back issues: Print and Digital.