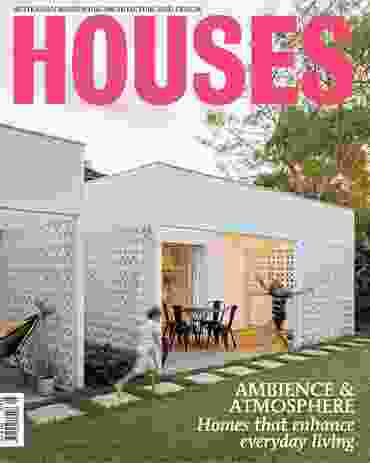 Simple box-shaped houses are not new in architecture – they became popular with the modernist movement in the early twentieth century. But how do you make a box interesting? Many of the homes in this issue are rectilinear in exterior form, with a strong street presence that might intrigue passers-by as to what is happening behind the bold facade.
The Francis Street House by architect Matthew Eagle is particularly intriguing. The Gold Coast home is not curious because of its shape; in fact, the boxy form is in line with the informal simplicity of the traditional fibro beach shack. It is curious because of its colour: black homes are not often seen in the context of "clarifying coastal light." The surrounding streetscape is "a muddle, assembled over time" – and this addition would definitely start a conversation with people passing by.
Similarly, Jackson Clements Burrows' May Grove proudly stands out in a Melbourne streetscape of predominantly single-storey twentieth-century bungalows. This home is also rectilinear in form and its facade is clad entirely in a sealed fibre cement sheet. Large custom perforations mark the entire width of the facade's lower half and a polycarbonate skin is fixed to allow light to pass through the perforations, "creating a radiating box and visual intrigue."
Two homes in this issue, Concrete House by Matt Gibson Architecture and Design and Balmoral House by Clinton Murray and Polly Harbison, use crisp, geometric concrete shapes to make a statement. In the former, an upper level comprising a concrete frame to a wall of glass is what catches the eye. In the latter, it is the arrangement of what appear to be solid volumes that grabs attention. Both these projects offer something new and satisfyingly different to the streetscape.
Camino House by Bosske Architecture breaks out from the boxy form and uses a chimney-like addition to reflect its suburb's history. This home has an "outward focus" that is simultaneously eye-catching and anchored in the tapestry of its suburban context.
Form isn't everything, but these projects give something back to their neighbourhoods and might start new conversations about architecture. In all cases, the bold exterior form gives way to inventive and spatially rich interior spaces for living.
Katelin Butler, editor
Follow Houses on Twitter, Facebook and Instagram.
Source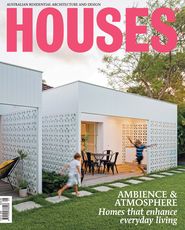 Issue
Houses, October 2015
Related topics