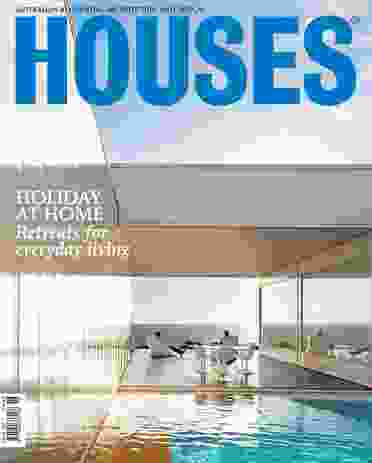 Each year as the summer holidays approach I start planning to get out of the city and recharge. Living in Australia, we are spoilt for choice in getaway locations. The variety of landscapes here is unsurpassable – we can immerse ourselves in the turquoise blue ocean of Far North Queensland, the red earth of Central Australia, the luscious green grass of the hinterlands and the greys of the southern seas. Beyond holidaying, responding to these undeniably awe-inspiring landscapes is one of the real delights of being an architect or designer in Australia.
Villa Marittima on Victoria's Mornington Peninsula by Robin Williams Architect, seen on the cover of Houses 107, offers a full view of the horizon along St Andrews Beach. The architect has carefully considered the theatre of arrival: a large polycarbonate front door slides open and as you walk up the inclining concrete floor, the impressive coastline is revealed. This re-creates the excitement of a child running up a sand dune to catch their first glimpse of the ocean.
Charles Wright Architects' The Edge is also set overlooking a beach, but in Queensland's tropical Port Douglas. A horizontal opening stretches from the living spaces at the east to the sleeping spaces at the west to capture the coastal mountain range to the south. The clam-like concrete form is cantilevered away from the hill so that the view can still be enjoyed from the public lookout above. This home is a place you wouldn't want to leave.
In the hinterland of Queensland's Sunshine Coast, Stealth House by Teeland Architects is intended to quietly disappear into the landscape. Perched on rolling green hills, just beneath a ridgeline, the house is the new home of a recently retired couple. Like Villa Marittima and The Edge, this is a place of retreat that celebrates its location and welcomes visitors to share in the delight of the Australian landscape.
Karen McCartney's exhibition Superhouse: Architecture and Interiors Beyond the Everyday explores the concept of the superhouse and the idea that what makes a house "super" is "a strong, uncompromising connection to site and nature." The exhibition features homes in Australia and around the world, and it is inspiring to see that many of the qualities of a superhouse are at the core of the homes in this issue.
Katelin Butler, editor
Follow Houses on Twitter, Facebook and Instagram.
Source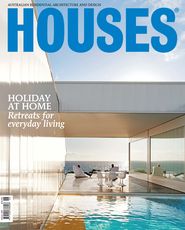 Issue
Houses, December 2015
Related topics