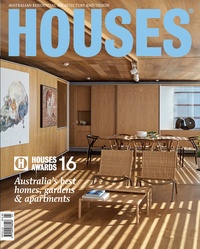 Last year was the first time that an emerging architecture practice was awarded Australian House of the Year at the Houses Awards (Planchonella House by Jesse Bennett Architect), and this year is the first time that the highest accolade has been received for the design of an apartment. Darling Point Apartment by Chenchow Little is a refined and joyful interior that reveals its beauty in the detail. This dwelling, which also won the Apartment or Unit category, demonstrates that an apartment can be "designed with the same warmth and sophistication as a detached house." The 2016 Houses Awards jury was particularly taken with the response to the brief, which called for a design that could house a significant collection of Australian art in a relatively compact space. This has been achieved with the use of moveable wall panels. Elements of surprise are also evident in the playful design of the bathrooms.
The other projects recognized this year further reveal the diversity of living in Australia. Naranga Avenue House by James Russell Architect, winner of the New House under 200 square metres category, presents a clear idea for shelter that responds to climatic conditions, and Deepwater by Tobias Partners, winner of the New House over 200 square metres category, embraces its dramatic Bondi Beach ocean-front location.
A sensitive approach to site is evident in all the winning projects, particularly Fairfield House by Kennedy Nolan in collaboration with Sam Cox Landscape, winner of the Outdoor and Sustainability categories. This project comprises small interventions that connect the house to the river and encourage a relationship to the spirit of the place. A compelling response to a heritage-listed building is seen at Bayside Fire Station by Owen Architecture, winner of the House in a Heritage Context category. Baffle House by Clare Cousins Architects and Project Zero by BVN, winners of House Alteration and Addition under and over 200 square metres respectively, give the impression of "living within a garden."
Finally, our winner of the Emerging Architecture Practice award, Rob Kennon Architects, is developing an impressive body of residential work that shows a deep understanding of the current Australian condition, both in and out of the city.
Congratulations to all recognized practices and thank you to our generous Houses Awards supporters – Cult, Artedomus, Artemide, Asko, Blum, Haymes Paint, Heritage Councils of Victoria and New South Wales, Knauf, Maximum and Think Brick.  
Alongside the announcement of the 2016 Houses Awards, this issue includes a selection of other great projects by BKK Architects, Neilsen Workshop and Morgan Jenkins Architecture, CplusC Architectural Workshop and Sparks Architects. We also revisit Enrico Taglietti's Evans House in Canberra and profile the work of Melbourne-based Edwards Moore.
Katelin Butler, editor
Follow Houses on Twitter, Facebook and Instagram.
Subscriptions and back issues: Print and Digital.