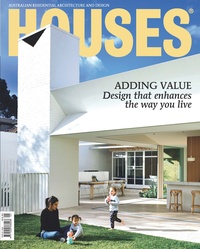 Do constraints and restrictions, such as difficult sites, small footprints and heritage overlays, inspire the creation of more interesting architecture? Architects are, by nature, problem solvers. Many of the architects featured in Houses 112 have not simply overcome challenges, they have turned these challenges into opportunities and in doing so have designed creative and innovative homes.
Inner-city sites often come with strict design constraints and Little O'Grady Residence by Ha is an example of this. Located on a blue-chip site with a heritage overlay and unforgiving dimensions, this home "[steps] in and out where required to accommodate the building program and onerous setbacks, [with] careful incisions admit[ting] light where possible." To accommodate a roof terrace within the height restrictions, the living room has been sunk below ground level by nearly a metre. 
It's not just alteration and addition projects that can face constraints. Rail House by Clare Cousins Architects is a completely new house, and the challenge here was that a metropolitan train line runs the entire length of the site's western boundary. In response to research and advice from an acoustic engineer, the architect designed a core-filled blockwork sound wall along the length of the site that borders the train line. The house tapers down from this wall so that sound passes over the top of it.
Another challenging site is that of Acute House by OOF! Architecture. This project takes on a forty-eight-square-metre triangular site, wedged between a wide suburban street and a narrow alleyway. The architect has used a "space mining" approach to design this home, and the result is an eclectic mix of room shapes and sizes.
Dornoch Terrace House by James Russell Architect emerged from the site of a nearly derelict squat. "Nurtured from a state of ruin," the house celebrates its past in a mural by prominent street artist Sofles, who agreed to return a piece of art to his former share house.
In this issue's Our Houses discussion, one of the clients for Day Bukh Architects' Dolls House describes how the architects "turned [their] original thoughts on their head and came up with fresh ideas and a creative solution" for their small site. Tackling challenges is what architects do best, and that's why engaging an architect can add so much value to a project.
Katelin Butler, editor
Follow Houses on Twitter, Facebook and Instagram.
Subscriptions and back issues: Print and Digital.