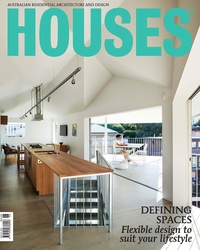 Spatial manipulation is the trick of the trade when it comes to architecture. With the continuing prevalence of open-plan living areas in Australian homes, there is often a desire to break down this one, large space into discrete zones or to build flexibility into the space that allows the compartmentalization of functional zones as required. 
The adaptation of space to suit varying needs was an important consideration in Maria Danos Architecture's design of the Luxe Ten apartment. Intended to be used for short-stay accommodation, this home needed to allow different guests to adapt the space to suit themselves. A centrally located drum made from a series of timber battens has been inserted into this otherwise open-plan apartment. The drum contains a study, but is also big enough to fit a fold-out divan. A curtain to this space provides an added level of privacy. 
Fitzroy Terrace by Adrian Amore Architects uses vertical circulation to manipulate space. The faceted form of a spiral staircase sits between the kitchen and dining/living area, and adjacent to a light well. This stair directs movement and breaks down the one large room, while also providing visual interest.
Sometimes it is the insertion of voids or courtyards that can break down or open up living areas. At Figr's Courtyard House, pockets of garden and terraces can either open up rooms to one another or close them off – depending on the weather and activities happening at any given time. With garden access for every room, this home makes use of the outdoors all year round.
At Brick House by Andrew Burges Architects, an internal topography has been created and this breaks down space. Although most rooms are open to one another, they are usually defined by three to four concrete steps. This is amplified with the insertion of voids and double-height spaces – an expansion and contraction of space is continuous throughout the home.
Although with more clearly defined rooms than the contemporary examples in Houses 113, the McDonald-Smith House by Kevin Borland maintains visual connections between spaces within the public zone. Interesting architecture comes from a playful approach to space and an inbuilt flexibility makes our homes more sophisticated and effective for everyday activities and tasks.
Katelin Butler, editor
Follow Houses on Twitter, Facebook and Instagram.
Subscriptions and back issues: Print and Digital.