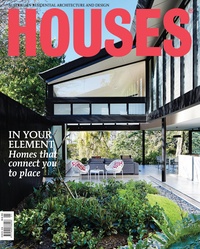 More and more apartment designs are landing in my inbox. Sometimes they are renovations of existing units; other times they are a collection of new townhouses where a single dwelling once stood. Of course, there is a huge variety in the quality of the architecture and interior design among submissions, but nevertheless, this reminds us that the Australian homeownership "dream" is slowly updating to suit twenty-first-century lifestyles. A new generation is investing in smaller spaces, closer to amenity. This shift, in which the distinction between a house and an apartment is beginning to dissolve, is reflected in the type of homes that we cover in Houses. In fact, this issue features three apartment or townhouse designs – and it could have been four or five, but we've saved a couple for the next issue.
The Waterloo Street Townhouses in Melbourne by DKO Architecture is an example of a completely new set of townhouses. In this case, five vertical units have been created in the footprint of a former industrial workshop. The aim here is to "create an answer to the question of density that is the opposite of generic: specific to this location, this site, this existing heritage building." This type of medium-density project is being produced by a "new type" of developer – one who understands the need for spatial quality, even when the floor area is small. 
In Perth, Simon Pendal Architect has updated a tired townhouse into a "boldly articulated and sincere interior that is theatrical, experimental and undoubtedly beautiful." Working with the existing dwelling, the architect has used deep contrasts in colour and volume to create a spatial play that energizes the sequence of spaces. The project is almost treated as an artwork in itself.
Another playful example of a new interior fitout for a rundown studio apartment is Bobhubski by March Studio. The client requested "a 1970s Japanese spaceship" and the result is a vibrant orange and crisp white space that is reconfigurable for various types of inhabitation. Although it is intended for temporary accommodation, there are plenty of takeaways from this project that relate to making a small home work hard while feeling generous and comfortable.
Promoting good apartment design is becoming more and more important as our cities increase in density. We might need to compromise on space, but that shouldn't mean we also need to compromise on comfort and amenity. 
Katelin Butler, editor
Follow Houses on Twitter, Facebook and Instagram.
Subscriptions and back issues: Print and Digital.