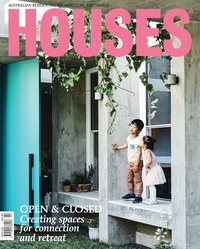 There is an inherent contradiction in a dwelling's need for both prospect and refuge. On the one hand, we want our home to be a private sanctuary and on the other hand, we want this same space to be bright and open. In inner-city and suburban Australia, architects are faced with the challenge of accommodating these opposing needs, which will become even more complex as density increases.
On my visit to Chenchow Little's Coogee House in Sydney, this need for privacy paired with the desire to embrace panoramic views across the Pacific Ocean was of primary concern to both the architect and the clients. Here, the solution was to create a tent-like structure: a private masonry core overlaid with a lightweight aluminium screen system that can be retracted in places. Between the two layers, a series of transitional zones contain external living areas, decks and stairwells. The occupants have the choice of remaining in the inner core of the building, with choreographed views outward, or engaging with the streetscape by using the more exposed spaces in the periphery zone.
This "veiling" or layered approach is also seen at Moving House in Melbourne by Architects EAT. On a leafy street in Kew, this house "appears faceless" in its composition of a white, rectilinear elevation clad in metal grille and translucent sheeting. But there is more going on in this house than this elevation lets on. To bring in northern light, parallel roof windows "rise up like extruded ship funnels" and large windows from the living area slide up and away to make the garden an extension of the interior space. To create privacy, the house doesn't simply focus in on itself, but rather, it "wears a disguise."
In Brisbane, at Kieron Gait Architects' Paddington Residence, a black timber screen wraps across the building. In places, the screen continues beyond the interior linings to create sheltered outdoor rooms that are open to the elements. On the first floor, a garden room extends from the main bedroom and "intensifies the sense of prospect and refuge, breaking only to frame a view of rolling hills and the distant city skyline." These screens not only afford privacy, they also provide shading from
the hot Queensland sun.
In each of these homes, screens are used in interesting and sculptural ways to play with levels of light and shadow, frame views and retain privacy, proving that prospect and refuge are not mutually exclusive.
Katelin Butler, editor
Follow Houses on Twitter, Facebook and Instagram.
Subscriptions and back issues: Print and Digital.