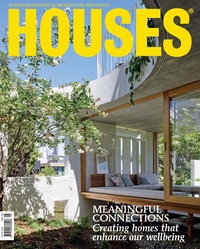 The indoor–outdoor connection is one of the most discussed and desirable aspects of residential architecture. We've also become indoor plant obsessed. But what are the reasons behind this desire to be connected with nature? "Biophilia" is a term first used by psychologist Erich Fromm in 1964 and popularized by biologist Edward O. Wilson in his 1984 book Biophilia. In basic terms it denotes the love of nature and living things, stemming from our biology and genetics. Related to this is stress reduction theory, proposing that natural environments encourage recovery from stress, while urban built environments can actually hinder the recovery process. Until recently there hasn't been strong scientific evidence that nature is good for your mental health – but that is now changing, and what is known as "biophilic design" is being used to respond to these studies.
Good residential design facilitates a meaningful relationship with nature, rather than just giving a tokenistic nod to the indoor–outdoor "seamless connection" trend. A project in this issue that achieves this beautifully is A Pavilion Between Trees by Branch Studio Architects. It began with a design scheme that worked around a silver birch, a desert ash and an heirloom pear tree already established on the site. The experience of the completed extension is focused on a connection with nature, with a series of platforms that gradually raise the floor level and create a subtly different relationship to the landscape in each section.
At Welsh and Major Architects' Annandale House, an unprogrammed space at the centre of the home is open to the sky, with a semi-mature fiddle-leaf fig planted in a hole in the slab. Natural light and fresh air come from above, but this space can be covered by a mechanically powered sliding glass roof. At Gibbon Street by Cavill Architects, the planted courtyard and green roof give the impression that the home might eventually be enveloped by nature and the sitting room is positioned to offer "a genuinely external experience." Waterloo House by Anthony Gill Architects overcomes a seemingly impossible challenge by making a connection with the outdoors within the tight constraints of a terrace house, including an outdoor bathroom complete with a basin and vanity. Similarly, an outdoor shower is contained within a Japanese-style courtyard at B.E Architecture's Armadale Residence, allowing the experience of a natural environment to become part of the daily routine.
Far from simply following a design trend, these indoor–outdoor connections add value to daily life and enable a relationship with nature that contributes to happier minds and homes.
Katelin Butler, editor
Follow Houses on Twitter, Facebook and Instagram.
Subscriptions and back issues: Print and Digital.